10 Great books set in Amsterdam
21st March 2021
Here are 10 of our favourite books set in Amsterdam – as rated by the TripFiction community and in no particular order. Come and join us on a tour of this fabulous city – both past and present. Click on the title to read more detail about any book.  And let us know whether our list matches yours…!  We would love to hear from you via the Comment box below.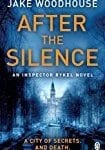 A body is found hanging on a hook above the canals of Amsterdam's old town, a mobile phone forced into the victim's mouth.
In a remote coastal village, a doll lies in the ashes of a burnt-down house. But the couple who died in the fire had no children of their own. Did a little girl escape the blaze? And, if so, who is she and where is she now?
Inspector Jaap Rykel knows that he's hunting a clever and brutal murderer. Still grieving from the violent death of his last partner, Rykel must work alongside a junior out-of-town detective with her own demons to face, if he has any hope of stopping the killer from striking again.
Their investigation reveals two dark truths: everybody in this city harbours secrets – and hearing those secrets comes at a terrible price …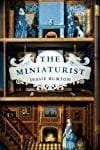 On an autumn day in 1686, eighteen-year-old Nella Oortman knocks at the door of a grand house in the wealthiest quarter of Amsterdam. She has come from the country to begin a new life as the wife of illustrious merchant trader Johannes Brandt, but instead she is met by his sharp-tongued sister, Marin. Only later does Johannes appear and present her with an extraordinary wedding gift: a cabinet-sized replica of their home. It is to be furnished by an elusive miniaturist, whose tiny creations mirror their real-life counterparts in unexpected ways . . . Nella is at first mystified by the closed world of the Brandt household, but as she uncovers its secrets she realizes the escalating dangers that await them all. Does the miniaturist hold their fate in her hands? And will she be the key to their salvation or the architect of their downfall? Beautiful, intoxicating and filled with heart-pounding suspense, The Miniaturist is a magnificent story of love and obsession, betrayal and retribution, appearance and truth.
Set in Amsterdam, the novel introduces Lotte Meerman, a Cold Case detective still recovering from the emotional devastation of her previous investigation. A tip-off leads Lotte to an unresolved ten-year-old murder case in which her father was the lead detective. When she discovers irregularities surrounding the original investigation that make him a suspect, she decides to cover for him. She doesn't tell her boss about the family connection and jeopardises her career by hiding evidence. Now she has to find the real murderer before her acts are discovered, otherwise her father will go to jail and she will lose her job, the one thing in life she still takes pride in . . .
Anneliese Vos, sixteen-year-old daughter of Amsterdam detective, Pieter Vos, disappeared three years ago in mysterious circumstances. Her distraught father's desperate search reveals nothing and results in his departure from the police force.
Pieter now lives in a broken down houseboat in the colourful Amsterdam neighbourhood of the Jordaan. One day, while Vos is wasting time at the Rijksmuseum staring at a doll's house that seems to be connected in some way to the case, Laura Bakker, a misfit trainee detective from the provinces, visits him. She's come to tell him that Katja Prins, daughter of an important local politician, has gone missing in circumstances similar to Anneliese.
In the company of the intriguing and awkward Bakker Vos finds himself drawn back into the life of a detective. A life which he thought he had left behind. Hoping against hope that somewhere will lay a clue to the fate of Anneliese, the daughter he blames himself for losing . . .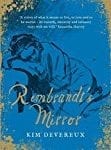 A stunningly imagined debut novel about the turbulent world of the master painter Rembrandt and the three women who shaped his life, seen through the eyes of his last great love and muse – a lowly housemaid
"Hendrickje, a girl from a strict Calvinist family leaves her provincial home to find work as a housemaid. She enters Rembrandt's flourishing workshop five years after the death of the great artist's wife, an event that continues to haunt him. It is a house full of secrets and desires, and Hendrickje soon witnesses a sexual encounter between Rembrandt and Geertje, his implacable housekeeper. She is shocked to the core by their intense carnality and yet, slowly, she is drawn to Rembrandt by the freshness with which he perceives the world and the special freedom he seems to possess. Rembrandt is a man of dark corners, strange passions and a ruthlessness born from his need to put his art first. An involvement with him could be her ruin or her liberty. Rembrandt's Mirror explores the three women of Rembrandt's life, and the towering passions of the artist, seen through the eyes of his last, great love, Hendrickje."
The Words in My Hand is the reimagined true story of Helena Jans, a Dutch maid in 17th-century Amsterdam, who works for Mr Sergeant the English bookseller. When a mysterious and reclusive lodger arrives – the Monsieur – Mr Sergeant insists everything must be just so. It transpires that the Monsieur is René Descartes.
This is Helena's story: the woman in front of Descartes, a young woman who yearns for knowledge, who wants to write so badly she makes ink from beetroot and writes in secret on her skin – only to be held back by her position in society.
Weaving together the story of Descartes' quest for reason with Helena's struggle for literacy, their worlds overlap as their feelings deepen; yet remain sharply divided. For all Descartes' learning, it is Helena he seeks out as she reveals the surprise in the everyday world that surrounds him.
When reputation is everything and with so much to lose, some truths must remain hidden. Helena and Descartes face a terrible tragedy and ultimately have to decide if their love is possible at all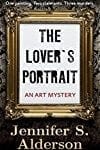 When a homosexual Dutch art dealer hides the stock from his gallery – rather than turn it over to his Nazi blackmailer – he pays with his life, leaving a treasure trove of modern masterpieces buried somewhere in Amsterdam, presumably lost forever. That is, until American art history student Zelda Richardson sticks her nose in.
After studying for a year in the Netherlands, Zelda scores an internship at the prestigious Amsterdam Museum, where she works on an exhibition of paintings and sculptures once stolen by the Nazis, lying unclaimed in Dutch museum depots almost seventy years later. When two women claim the same portrait of a young girl entitled Irises, Zelda is tasked with investigating the painting's history and soon finds evidence that one of the two women must be lying about her past. Before she can figure out which one it is and why, Zelda learns about the Dutch art dealer's concealed collection.
Giddy Amsterdam, staid Amsterdam. Empress, fishwife, lady of the night. Hero, artist, traitor, beggar. Visionary, Calvinist and clown. It is that timeless humanity of which this city sings.
In this volume Paul Vincent presents a compelling collection of prose fiction, memoirs and anecdotes centring on Amsterdam from the seventeenth to the twenty-first century. His selection offers a rare insight into the history and culture of the city. The subjects range from Rembrandt to the persecution of the Jews in World War 2, from barricades in a working-class district during the Depression to a writer's unhealthy obsession with a massage parlour. These eighteen newly-translated tales give the reader, and the traveller, a tantalizing glimpse of the Amsterdam that lies beyond the tourist guidebooks.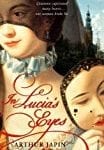 Through courtesan Lucia we hear tell of her life. She describes her peasant frivolities, her loving parents, how she comes to be educated, what friendships and employers augment her growth, and we mature with her.
Let us know (via the Comments box below) whether we have included your favourites!
And come and follow us on Twitter, Pinterest, and Facebook… we chat books and travel and lots more…