Talking Location With author Daniella Bernett – LONDON
29th September 2018
#TalkingLocationWith…Daniella Bernett, author of A Checkered Past.
On so many nights, as I sank into slumber's tender embrace, my dreams carried me to London. The city has always held a special place in my heart. Since I was a small child, I was immediately drawn to books, articles, films and television programs set in London or the United Kingdom. As you can imagine, I was over the moon on my first trip to the city. I knew exactly what I wanted to see and do. The minute I arrived, I felt as if I had come "home" because I had been there vicariously. All my senses came alive. I tried to absorb all the sights and sounds, and store them in my memory. I have since been on several visits to London, as well as other parts of the United Kingdom. I always enjoy dropping by well-loved haunts and am delighted to discover new places.
For me, setting is an important character all its own. One that helps to establish the tone and propels my stories. That's why when I started writing my mystery series about journalist Emmeline Kirby and jewel thief Gregory Longdon, my books had to be set, at least a good deal of the time, in London. I return once more to the city in A Checkered Past the fourth book in the series which deals with a looted Nazi painting, a former IRA commander and oh yes, murder.
Although the Underground system is wonderful, London is a city that is best appreciated on foot. As one ambles along the pavements, there is much to admire. The first thing that comes to mind is the grandeur of Buckingham Palace and the pomp of the Changing of the Guard, a dazzling spectacle steeped in tradition, respect and duty.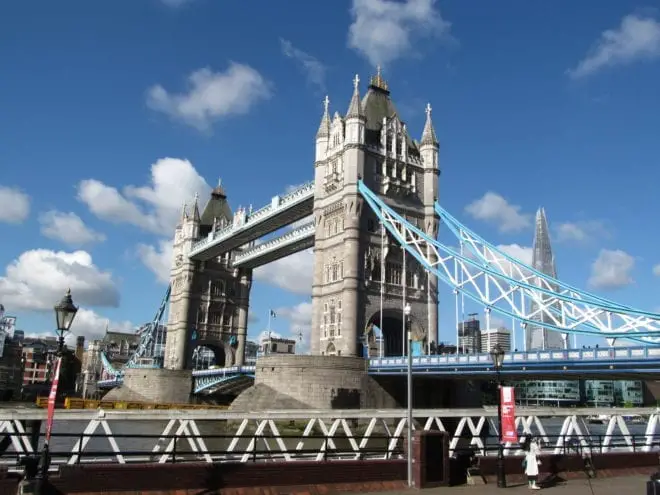 Then there's the diverse architecture, which ranges from medieval to ultramodern. One can travel down the centuries simply by tilting one's head toward the heavens and gazing at the intricate carvings and columns of such structures as Parliament, Whitehall's buildings, the Tower of London, Tower Bridge and St. Paul's Cathedral. All are imbued with gravitas and grace. At the other end of the scale, there are the sleek contours of the Spire, the 67-story glass-and-steel tower that stands sentinel over the skyline near Canary Wharf. An author is always interested in a good story and I'm no exception. I'm fascinated by the unique tales these structures have to tell about their period in history. Each is another thread that enhances the city's rich cultural tapestry.
Meanwhile not only is London a bustling cosmopolitan melding of commerce, government, arts and literature, it is an oasis of natural beauty. A plethora of parks, royal and otherwise, are scattered throughout the city. Regent's Park is lush and romantic with winding paths, where the long, flowing tresses of the willow trees dandle on the breeze, and swans send ripples shivering across the surface of the lake. You must not miss Queen Mary's Rose Garden. In June and July, the air there is laced with the intoxicating scent of full-blown blossoms with velvety smooth or ruffled petals. There's also a secret nook that I discovered. It's called St. Johns Lodge Gardens. A flagstone path beneath an arbor leads one into a circular "room" with sunken lawns, where one's footfalls are muted by a thousand blades of grass. The focal point is a pool with a statue of Hylas and the Nymph. In this intimate corner of verdant luxuriousness, my cares seem to float away into the ether and I'm lost to the world. Treasures abound as well in Hyde, St. James's, Green and Holland parks, ranging from palaces and Italian Gardens to preening peacocks out for a daily constitutional.
Now, it's only natural that as you're tramping about that you'd want to do some shopping. Covent Garden, Piccadilly, Oxford Street and Leicester Square are some suggestions. Aside from the permanent shops in Covent Garden, there are stalls set up in the covered center section. Each day, the market has a different theme. Mondays are my favorite because it is antiques. I've discovered some unique items that have interesting stories. If you're a tea lover (and who in Britain is not?), I recommend a stop at the Twinings shop on the Strand, which is directly opposite the Royal Courts of Justice (another architectural gem). The minute you set foot inside, take a deep breath and inhale the delicate aromas of teas from around the world. In the back of the shop, a friendly assistant is usually waiting to offer customers a refreshing sample of one of the teas to tempt your palate.
This reminds me. A trip to London would not be complete without partaking in that most gracious of traditions: afternoon tea. There are myriad places, ranging from the Ritz to cozy tea rooms, where you can indulge in as lavish or modest a repast as you like. I happen to like Café Richoux on Piccadilly with its forest green leather banquettes, red floral wallpaper, mirrors and marble tables. It's the perfect spot to share conversation with a good friend over a nice cuppa. Café Richoux also is a great choice for dinner. However if you're not in the mood for tea and would like to try a pub, I suggest the Churchill Arms in Kensington. You'll be pleasantly surprised to discover that the façade is literally dripping with flowers, a cascade of color and blooms.
To round out a full day of sightseeing, take in a concert at St. Martin's-in-the-Fields church in Trafalgar Square across from the National Gallery. The acoustics are divine (no pun intended). I enjoyed two Baroque concerts at the church. Tickets can be purchased in the gift shop.
I know it's been a bit of a whirlwind, but I hope I've piqued your interest in taking a trip to London. You won't be disappointed.
Thank you to Daniella for great tips for London!
Daniella Bernett is a member of the Mystery Writers of America New York chapter. She graduated summa cum laude with a B.S. in Journalism from St. John's University. Lead Me Into Danger, Deadly LegacyandFrom Beyond The Grave are the first three books in her Emmeline Kirby-Gregory Longdon mystery series. She also is the author of two poetry collections, Timeless Allure and Silken Reflections. In her professional life, she is the research manager for a nationally prominent engineering, architectural and construction management firm.
Do check out her website and connect with her on Facebook.  A Checkered Past, the fourth book in her series, is out now. You can buy her book through TripFiction 
Come and join team TripFiction on Social Media:
Twitter (@TripFiction), Facebook (@TripFiction.Literarywanderlust), YouTube (TripFiction #Literarywanderlust), Instagram (@TripFiction) and Pinterest (@TripFiction)