Five Great Books set in MUMBAI
11th August 2019
Mumbai (Bombay) is the latest city for us to visit in our 'Great books set in…' series. Five great books set in Mumbai.
"Mumbai is like Manhattan. There's a certain pace, a social life and the thrill of a professional life" Madhuri Dixit
The present day city was built on what was originally an archipelago of seven islands of Bombay Island, Parel, Mazagaon, Mahim, Colaba, Worli, and Old Woman's Island (also known as Little Colaba). The islands were coalesced into a single landmass by the Hornby Vellard engineering project in 1784. Bombay was renamed Mumbai in 1996, although many still refer to the city as Bombay.
Compassionate realism and narrative are vividly captured in this masterpiece. It is 1975 and India is in a state of flux, the location is an unnamed city by the sea (Mumbai?). A state of emergency has just been declared and the lives of three characters are thrown together – a spirited widow, and two tailors from a hill station – living in a tiny apartment with an uncertain future.
'In the early 80s, Gregory David Roberts, an armed robber and heroin addict, escaped from an Australian prison to India, where he lived in a Bombay slum. There, he established a free health clinic and also joined the mafia, working as a money launderer, forger and street soldier. He found time to learn Hindi and Marathi, fall in love, and spend time being worked over in an Indian jail. Then, in case anyone thought he was slacking, he acted in Bollywood and fought with the Mujahedeen in Afghanistan . . . Amazingly, Roberts wrote Shantaram three times after prison guards trashed the first two versions. It's a profound tribute to his willpower . . .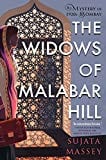 Bombay, 1921: Perveen Mistry, the daughter of a respected Zoroastrian family, has just joined her father's law firm, becoming one of the first female lawyers in India. Armed with a law degree from Oxford, Perveen also has a tragic personal history that makes her especially devoted to championing and protecting women's legal rights. Inspired in part by a real woman who made history by becoming India's first female lawyer, The Widows of Malabar Hill is a richly wrought story of multicultural 1920s Bombay as well as the debut of a sharp and promising new sleuth, Perveen Mistry.
Annawadi is a slum at the edge of Mumbai Airport, in the shadow of shining new luxury hotels. Its residents are garbage recyclers, construction workers and economic migrants, all of them living in the hope that a small part of India's booming future will eventually be theirs. But when a crime rocks the slum community and global recession and terrorism shocks the city, tensions over religion, caste, sex, power, and economic envy begin to turn brutal. As Boo gets to know those who dwell at Mumbai's margins, she evokes an extraordinarily vivid and vigorous group of individuals flourishing against the odds amid the complications, corruptions and gross inequalities of the new India
If you were to write a story set in Bombay, as the poet Jeet Thayil prefers to call the city now known as Mumbai in his outstanding debut novel, you don't have to work too hard. Much of it can write itself if you connect the dots of history: a city made of islands reclaimed by the British, a polyglot culture where all of India's languages, faiths and castes mingle, where the prevailing currency is money and its dreams are told, nay, sung, in those schmaltzy, kitschy Bollywood movies, and which lives on an edge, periodically blown up when terrorists set explosives, but returning to life the next day, resilient and resigned. The Independent
Check out further books to transport you to Mumbai
Join team TripFiction on Social Media:
Twitter (@TripFiction), Facebook (@TripFiction.Literarywanderlust), YouTube (TripFiction #Literarywanderlust), Instagram (@TripFiction) and Pinterest (@TripFiction)