GIVEAWAY: 3 copies of Your Still Beating Heart by Tyler Keevil – PRAGUE
11th October 2020
We are delighted to be able to offer you three copies of Your Still Beating Heart by Tyler Keevil as your giveaway this week – thriller set mainly in PRAGUE.
Are you in need of a heart-stopping thriller to take your mind away from weighty world issues?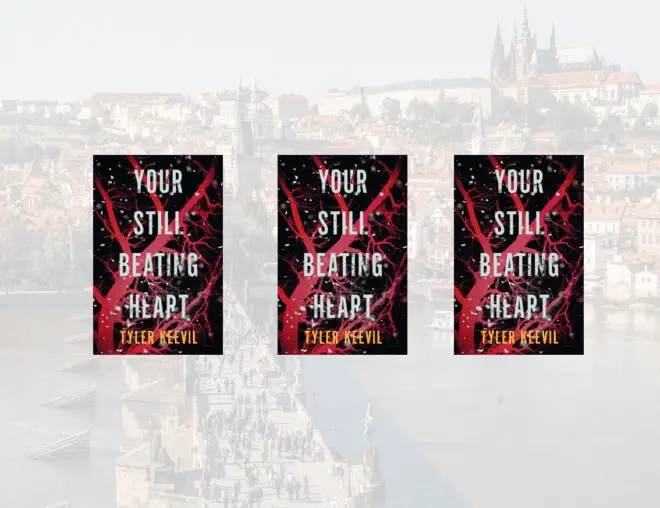 All it takes to change your life is a single moment.
A random stabbing on a London bus leaves a young woman widowed and detached from her previous world.
Stripped of a future that should have been hers, she impulsively books a trip to Prague – the city where she and her husband got engaged. But in the midst of a bleak winter, isolated and numb, she can do little more than wander the cobbled streets – until she receives an intriguing proposition. There's a job for someone just like her. All she needs to do is pick something up, and drive back. Just once. Only ever once.
Stylish and daring, this high-stakes thriller explores what happens when a curve ball skews life out of all recognition.
— Your Still Beating Heart has an intriguing structure with the changing tone, a page-turning plot and beautiful language that taps directly into the emotions. Keevil has created something very special with this novel (Louise Fairburn, Amazon Reviewer) —
HOW TO ENTER:
You need to be a member of TripFiciton to enter (and we do check that winners are members!). You can join on this link www.tripfiction.com – scroll down and click on the JOIN NOW tab. It's simple!
Share what you are currently reading – especially if it is strong on setting – and leave your comments below, in the comments section.  THIS IS UK ONLY and entries must be received by midnight, 24 October 2020. First three names out of the hat will be sent a copy each by the publisher. Good luck!
Follow Tyler on Twitter and publishing house Myrida Editions on Twitter
Join Team TripFiction on Social Media:
Twitter (@TripFiction), Facebook (@TripFiction.Literarywanderlust), YouTube (TripFiction #Literarywanderlust), Instagram (@TripFiction) and Pinterest (@TripFiction)