Novel set in Cuba (and Naples and London)
12th June 2017
Being Simon Haines by Tom Vaughan MacAulay, novel set in Cuba (and Naples and London).
Being Simon Haines starts out as Simon takes a couple of weeks sabbatical, whilst his future is being decided in his city law firm Fiennes and Plunkett. He decides to us him time usefully, and embarks on a tour of Cuba, but leaves his fellow travellers at the first hurdle; he remains in Havana, travels to Cojímar and – as many people do – connects with Hemingway and the first mate of Hemingway's boat, Gregorio Fuentes. And from Cuba – oftentimes sat on a favourite bench – he reflects, self-flagellates and ponders his life whilst he is waiting for the partners at his firm to vote on his future. He is not the only candidate in the running for a partnership, and only one person can be offered this wonderful – if indeed it is wonderful – opportunity. It is the much anticipated outcome of his future career path that keeps the story ticking over.
Alcohol lubricates his stay in Cuba, an echo of his earlier days…. Flashbacks to his time at Cambridge as a successful scholar and Kant member (not a philosophical club but a heavy drinking club). Why was he getting pissed all the time, he asks himself? Because everything, the people, the study and law school were dull, dull, dull. Some men, his friend Dan tells him, are just not made for heavy drinking and Simon is one of them.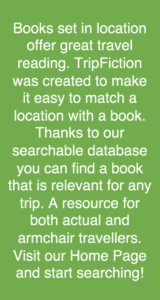 Simon has also just recently broken up with his long term girlfriend, Sophie, with whom he has been since his mid-teens, He trawls memories of his early days of embarrassed dating, on, then off, then on, and he finds himself becoming preoccupied…. the relationship happened to be 'off' when he headed for his year abroad from Cambridge to Naples. And it was in Naples that a new relationship tantalised him but with his faccia pulita – clean face – he was quite a hit in Naples (all the other men look sinister and untrustworthy, I imagine) . But he soon comes to the conclusion that human relationships do not depend on fate, that each person plays their part in the success or failure of each relationship. A hard lesson to learn but one of his many learning curves but one that underpins the whole book. People and their relationships….
Essentially Simon's time in Cuba is a vehicle for the author to explore Simon's life to date, the vicissitudes, the friendships and the agonies of growing into a solicitor in the city. The novel is divided into three parts, tackling a variety of Simon's experiences and reflections. Cuba really comes to life, and Naples, too, is wonderfully rendered: the latter is a city of exquisite insouciance – Piazza Dante, a cappuccino at Caffè Gambrinus and as readers we are taken on a tour of the city, its alleys and grand piazze.
Overall, the novel is even more substantial than it at first looks. The author has what I can only describe as an old fashioned writing style; it's good, don't get me wrong, but it does remind me at times of the weightiness of older texts, longer sentences than are perhaps commonplace today. Many a page is like a brick wall of words (see left); it can be quite a daunting read when there are no breaks for paragraphs, indentations, or dialogue. I think overall I found this to be an interesting read but I distinctly felt that less would have been more.
Tina for the TripFiction Team
You can follow Tom on Twitter
Catch up with Team TripFiction on Social Media: Twitter (@TripFiction), Facebook (@TripFiction.Literarywanderlust), YouTube (TripFiction #Literarywanderlust), Instagram (@TripFiction) and Pinterest (@TripFiction)