Novel set in Prague, plus 'Not Just Travel' offer their top tips for the city
14th November 2016
A Year and a Day by Isabelle Broom, novel set in Prague.
"There's something magical about this city. You can feel it. There's something in the air here, like a whispered secret drifting around on the wind"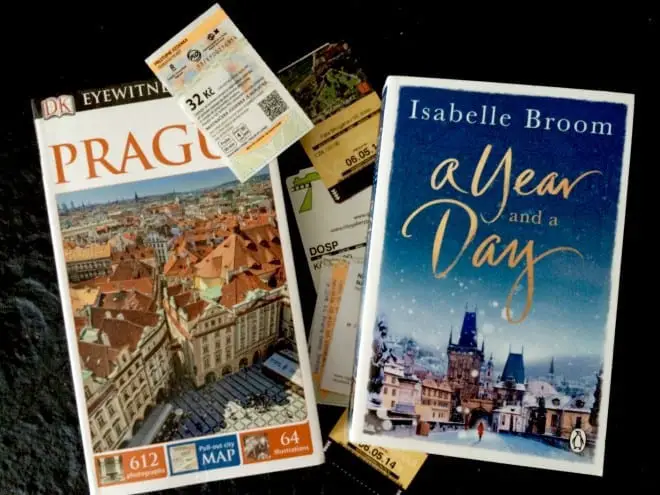 Prague forms a very vivid backdrop to this storyline, as we follow the characters through their personal and actual journeys around the city. Their paths cross in a central city hotel, shortly before Christmas, so outside it is crisp and white, with swirling snow as the characters jointly and individually explore this marvellous and striking city, and tackle their own personal issues.
Ollie and Megan have arrived not as a couple but as two friends, who just happen to get on well. Ollie has chosen this trip so that he can plan a project back at school for his young students. Megan is a photographer who relishes the opportunity to capture Prague on camera. Absolutely platonic, only there is a frisson of something undetermined…
Hope and Charlie are new lovers. Hope left her husband for Charlie, her driving instructor, thereby alienating her daughter Annette. Her daughter's ire weighs heavily on her and mars her special time with her new boyfriend. Charlie clearly has a secret, attached as he is to his phone…
And Sophie. She arrives on her own. She is with Robin yet for some reason he has not accompanied her. They have the most loving and intense relationship, they are due to be married soon, yet we hear how Robin can just go AWOL at the drop of a hat. His absence is unclear and it is a brooding issue that seems to follow her around during her trip, a puzzle to all including the reader. Sophie is naturally downbeat and I have to admit that she is a forlorn creature, who occasionally irritates. Caught up in her own reverie this is surely not the same young woman who has pluckily journeyed the world with her fiancé? But as the story unfolds, clarity ensues.
The characters overlap, spend time together and embrace the wonders of the city, from Cafe Cukr (I wonder if it is the same as Cukr Kava Limonada, which incidentally is a top tip for the city!). The characters discover Letna Park, and Ollie takes the opportunity to throw his shoes up onto the high wire, just by the Metronome, to join the many others hanging suspended there; the park has few tourists. Strahov Monastery is beautiful and charms the visitors. And their one collective observation, with which I can concur, is that everywhere in Prague there are clocks, which heightens the awareness of time passing.
The Golden Cross in the arms of St John Nepomuk on the Charles Bridge is a poignant draw in the story as it is to many visitors, where wishes can be granted….
Hope… "could feel Prague easing its way into her, its beauty and inherent sense  of magic  lifting her spirits. Wherever  she looked, there  was an ornate building to make her gasp, a street entertainer to make her giggle, or a young couple snuggling under a blanket together watching the world go by."
A top read to take to Prague for a bit of #literarywanderlust!
You can follow Isabelle on Twitter, Facebook, and Instagram.
Tina for the TripFiction team
Over to Not Just Travel "The Holiday Experts With More Knowledge And Choice Than Anyone Else" for their insight into the city:
Changing Perceptions of Prague
Initially, when thinking of Prague, you imagine bars full of British tourists and stag dos around every corner, but this really isn't the case. It's clear from 'A Year and a Day' that Prague features some stunning locations, ornate buildings and a feeling far more magical than that. Visiting somewhere like Prague can truly open your eyes to what lies outside of busy tourist flooded locations and it can truly take your breath away the moment you arrive.
If reading about the wonders of Prague entices you to visit, be sure to follow in the footsteps of the characters and find a tranquil space in amongst the locals to make your adventure much more authentic.
A perfect example of this is when the characters visited the serene Letna Park. The park is popular with skateboarders and cyclists who weave in and out of the paths seemingly built for them, but sightseers can enjoy the park just as much. Running along the River Vltava, the park boasts views of the city, meaning you will want to bring you camera to capture all of this city's beauty.
Perhaps looking down the vast rooms in Strahov Monastery is more your thing. Dating back to 1140, the monastery was established for teaching and is now a museum open for the public. While you're visiting take a tour of the famous, Baroque library that holds over 200,000 volumes, medieval maps and globes and view the astonishing, grand fresco ceiling paintings. Add your name to the list of guests who have visited the Strahov Monastery- a list that includes Admiral Horatio Nelson and Marie Luisa, wife of Napoleon Bonaparte.
Take a stroll past the stunning 18th century Church of St John of Nepomuk on Kanovnická Street built by famous Czech architect, Kilian Ignaz Dientzenhofer. The golden cross in the arms of St John Nepomuk against a bright blue sky, not a cloud in sight. Not only is the outside outstanding but also the interior of the church is adorned by magnificent frescoes painted by Wenzel Lorenz Reiner. The stunning watercolours depict the saint St John of Nepomuk's life in an arch over the magnificent octagonal clock tower.
Just a glance at the front cover of this novel is enough to really capture the imagination and the attractiveness of Prague as a city is sure to not disappoint. If you'd also like to go on a city break, whether that's as a group or travelling alone, during the Christmas season or at any point throughout the year, it's strongly recommended. Be sure to get in touch with our travel experts at Not Just Travel to book and ensure that you get the most out of your trip!
Thank you so much to Not Just Travel, they really know their stuff when it comes to travel! You can follow them on Twitter, Facebook and of course via their deliciously inviting website
Do come and connect with Team TripFiction via Twitter (@tripfiction), Facebook (TripFiction), Instagram (TripFiction) and Pinterest (TripFiction)… and now YouTube
For more books set in PRAGUE, just click here.