Reading England – a book for every county (including London)
1st February 2021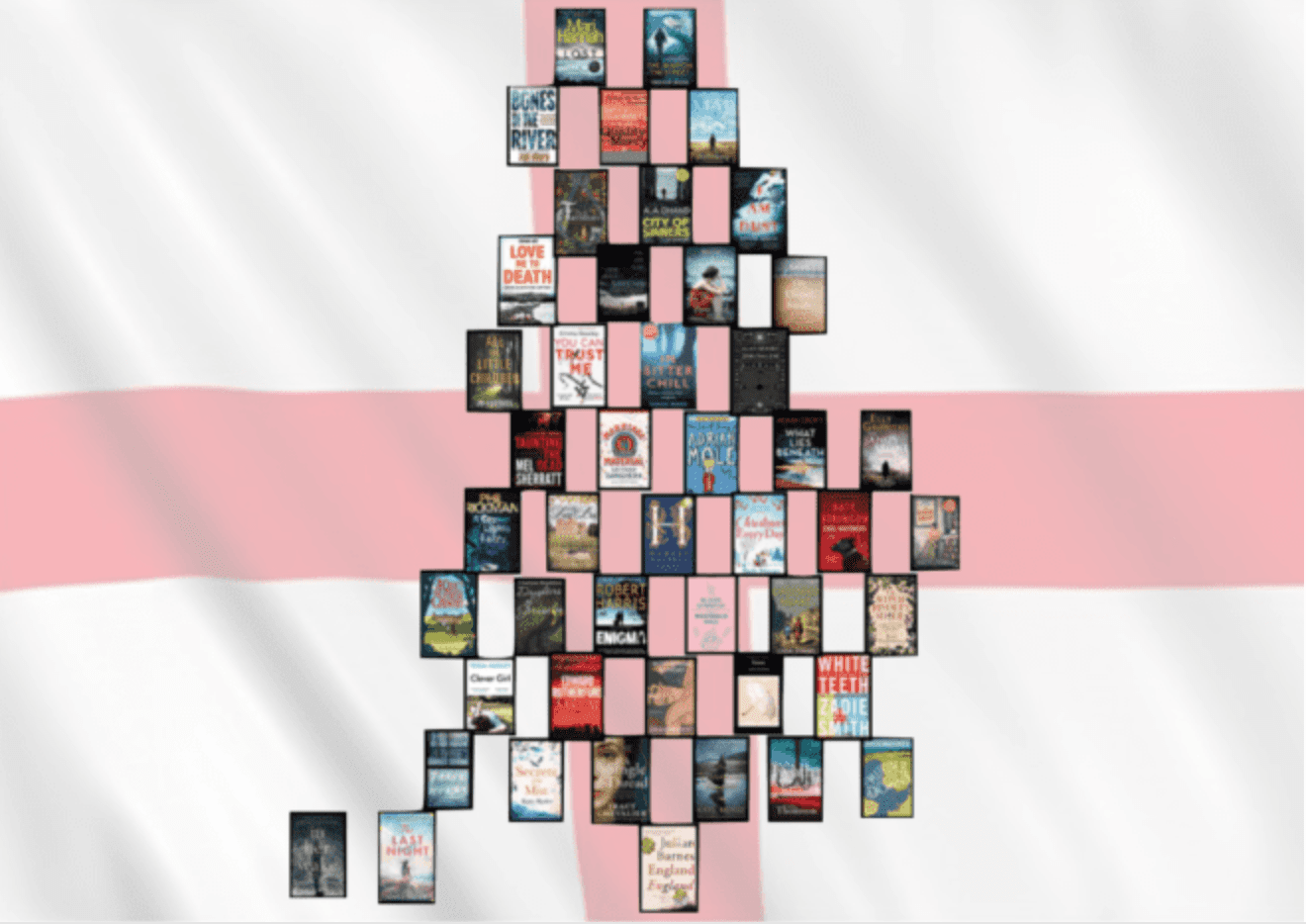 Reading England – a book for every County.
We have chosen a great book title for the counties and a few major cities of England – classic and contemporary, giving voice to well known authors and also to some lesser known writers too – perhaps introducing you to new writers. Just click on a cover in the map above to be taken down to the County or City and a synopsis of the book. And of course amongst the choices are some of TripFiction's favourite reads. It has been a really fun and challenging exercise to trawl through our database of thousands of books set in the country and choose just one book per county or per city. So many authors, so many genres! Expect a mix
Bedfordshire

P I can mean many things, but can it really mean a balding, middle-aged redundant lathe operator from a high rise in Luton, Beds? Joe Sixsmith thinks it can. His Aunt Mirabelle thinks you'd have to be crazy to hire him, and Joe's current clients certainly fit the bill. One seems to be confessing to the brutal murder of his whole family: another thinks she's a witch. Alongside them, the two heavies who believe Joe is hiding their illicit drugs seem almost normal.
In the past Reginald Hill has brought wit, style and compassion to police investigation. Now he does the same for the private sector, and – in perhaps his greatest feat of creation – reinvents Luton in the process
Berkshire

It is March 30th 1924.
It is Mothering Sunday.
How will Jane Fairchild, orphan and housemaid, occupy her time when she has no mother to visit? How, shaped by the events of this never to be forgotten day, will her future unfold?
Beginning with an intimate assignation and opening to embrace decades, Mothering Sunday has at its heart both the story of a life and the life that stories can magically contain. Constantly surprising, joyously sensual and deeply moving, it is Graham Swift at his thrilling best.
Bristol

It follows the story of Stella, from her childhood as the daughter of a single mother in a Bristol bedsit in the 1960s into the mysterious shallows of her middle age. The story is full of drama – violent deaths, an abrupt end to Stella's schooldays, two sons by different fathers who aren't around to see the boys grow up – but as ever it is her observation of ordinary lives, of the way men and women think and feel and relate to one another, that dazzles. Yes, you think. This is how it is.
Buckinghamshire

Enigma by Robert Harris
Bletchley Park: the top-secret landmark of World War Two, where a group of young people were fighting to defeat Hitler, and win the war. March 1943, the Second World War hangs in the balance, and at Bletchley Park a brilliant young codebreaker is facing a double nightmare. The Germans have unaccountably changed their U-boat Enigma code, threatening a massive Allied defeat. And as suspicion grows that there may be a spy inside Bletchley, Jericho's girlfriend, the beautiful and mysterious Claire Romilly suddenly disappears.
Cambridgeshire

Cambridge is sweltering, during an unusually hot summer. To Jackson Brodie, former police inspector turned private investigator, the world consists of one accounting sheet – Lost on the left, Found on the right – and the two never seem to balance.
Jackson has never felt at home in Cambridge, and has a failed marriage to prove it. Surrounded by death, intrigue and misfortune, his own life haunted by a family tragedy, he attempts to unravel three disparate case histories and begins to realise that in spite of apparent diversity, everything is connected…
Cheshire

Olivia is the domestic goddess who has won millions of followers by sharing her picture-perfect life online. And now she's releasing her tell-all autobiography. For professional ghostwriter Nicky it's the biggest job of her career. But as she delves deeper into Olivia's life, cracks begin to appear in the glamorous façade. From the strained relationship with her handsome husband, to murky details of a tragic family death in her childhood, the truth belies Olivia's perfect public image. But why is Olivia so desperate to leave an old tragedy well alone? And how far will she go to keep Nicky from the truth?
Cornwall

A tragic family event reveals devastating news that rips apart Bella's comfortable existence. Embarking on a personal journey to uncover the truth, she faces a series of traumatic discoveries that take her to the ruggedly beautiful Cornish coast, where hidden truths, past betrayals and a 25-year-old mystery threaten not just her identity, but her life.Chilling, complex and profoundly moving, In Her Wake is a gripping psychological thriller that questions the nature of family – and reminds us that sometimes the most shocking crimes are committed closest to home.
Cumbria

The traditional Appleby Horse Fair hosts the largest gathering of Gypsies and Travellers in Europe.
The sudden influx of more than 40,000 visitors into the small Lakeland town has always caused its share of problems, with strained relations between off-comers and locals.
But it's also known as a good time to settle old scores.
This year, the Fair brings with it with the discovery of two bodies near the River Eden—one very recent and another a long time buried.
As CSI Grace McColl and Detective Nick Weston search for answers, old secrets are revealed, old wounds are reopened, and tensions threaten to erupt into violence.
While someone much closer to home is trying to get away with murder…
Derbyshire

Bampton, Derbyshire, January 1978. Two girls go missing: Rachel Jones returns, Sophie Jenkins is never found. Thirty years later: Sophie Jenkins's mother commits suicide.
Rachel Jones has tried to put the past behind her and move on with her life. But news of the suicide re-opens old wounds and Rachel realises that the only way she can have a future is to finally discover what really happened all those years ago.
This is a story about loss and family secrets, and how often the very darkest secrets are those that are closest to you.
Devon

In a quiet coastal village, Irina spends her days restoring furniture, passing the time in peace and hiding away from the world. A family secret, long held and never discussed, casts a dark shadow and Irina chooses to withdraw into her work. When an antique bureau is sent to her workshop, the owner anonymous, Irina senses a history to the object that makes her uneasy. As Irina begins to investigate the origins of the piece, she unearths the secrets it holds within…
Decades earlier in the 1950s, another young woman kept secrets. Her name was Abigail. Over the course of one summer, she fell in love, and dreamed of the future. But Abigail could not know that a catastrophe loomed, and this event would change the course of many lives for ever…
Dorset

Maddie is restless in London. She has friends, a job and a sort-of boyfriend, but something in her life is missing. Then she visits the ancient village of Walditch, deep in the Dorset countryside. Something stirs in her, and on a whim she buys a centuries-old cottage and moves there three months later. Her friends think she's crazy, but for Maddie it feels like coming home.
Late at night in the cottage, Maddie hears strange noises and sees mist gathering indoors and out. When she starts investigating the cottage's history, she becomes drawn into the tragic story of a family who lived here 400 years ago. Meanwhile, Maddie starts to fall in love with a local carpenter – but he has a relationship already…
Durham

This novel stands alone, but is a sequel to Sacred Hunger. The book picks up in the Spring of 1767 and interweaves several lives, in the coal fields and in Durham.
It is the spring of 1767, two years after the events of Barry Unsworth's Booker Prize-winning novel Sacred Hunger. Erasmus Kemp, the son of a Liverpool slave ship owner, has had the rebellious sailors of his father's ship brought back to London to stand trial on charges of mutiny and piracy. However, Sullivan, the Irish fiddler, has escaped and is making his way on foot to the north of England, stealing and scamming as he goes.
In London, Kemp is looking to invest some of his fortune on Britain's new industries: coal-mining and steel. When he receives a tip about some mines for sale in East Durham, Kemp sees the business opportunity he has been waiting for, and he too makes his way north, to the very same village that Sullivan is heading for…
East Sussex

Freddy Power walked out of her childhood home twenty-two years ago, and swore never to return. But now she's back, helping run her family's fishery in Newhaven in the wake of her mother's death.
It feels as if time has stood still. The morning mist hanging over the reed beds, the ghost river that no longer leads to the sea, the subterranean light slanting into her mother's grotto-like living room. The only thing that's really changed is her childhood friendship with Toni and Mags. The three of them were once inseparable. Now, after decades of silence, they feel like strangers.Freddy is not planning to be in Newhaven for long. But when Mags goes missing, old secrets – and old passions – are reignited. Freddy is determined to stay and find her friend. Even if it means confronting the past, and facing up to the truth about her family.
East Yorkshire

The Dean Wilson Theatre is believed to be haunted by a long-dead actress, singing her last song, waiting for her final cue, looking for her killer…
Now Dust, the iconic musical, is returning after twenty years. But who will be brave enough to take on the role of ghostly goddess Esme Black, last played by Morgan Miller, who was murdered in her dressing room?
Theatre usher Chloe Dee is caught up in the spectacle. As the new actors arrive, including an unexpected face from her past, everything changes. Are the eerie sounds and sightings backstage real or just her imagination? Is someone playing games?
Is the role of Esme Black cursed? Could witchcrat be at the heart of the tragedy? And are dark deeds from Chloe's past about to catch up with her?
Not all the drama takes place onstage. Sometimes murder, magic, obsession and the biggest of betrayals are real life. When you're in the theatre shadows, you see everything.
And Chloe has been watching…
Essex

The number of women my brother Matthew killed, so far as I can reckon it, is one hundred and six…
1645. When Alice Hopkins' husband dies in a tragic accident, she returns to the small Essex town of Manningtree, where her brother Matthew still lives.
But home is no longer a place of safety. Matthew has changed, and there are rumours spreading through the town: whispers of witchcraft, and of a great book, in which he is gathering women's names.
To what lengths will Matthew's obsession drive him?
And what choice will Alice make, when she finds herself at the very heart of his plan?
Gloucestershire

Lady Emily Hardcastle is an eccentric widow with a secret past. Florence Armstrong, her maid and confidante, is an expert in martial arts. The year is 1908 and they've just moved from London to the country, hoping for a quiet life.
But it is not long before Lady Hardcastle is forced out of her self-imposed retirement. There's a dead body in the woods, and the police are on the wrong scent. Lady Hardcastle makes some enquiries of her own, and it seems she knows a surprising amount about crime investigation…
As Lady Hardcastle and Flo delve deeper into rural rivalries and resentment, they uncover a web of intrigue that extends far beyond the village. With almost no one free from suspicion, they can be certain of only one fact: there is no such thing as a quiet life in the country.
Greater Manchester

Something sinister stirs in Stockport…
The police find a young woman's body in the woods the same week a couple discover a crude, handmade doll in Lyme Park. But are the two findings connected… or a strange coincidence?
In a town full of loners and unhappy families, nothing is as it seems…
All Mr Anderson wants is a family. After his elderly mother died, he was almost unbearably lonely. Now it's time for him to claim his own.
Hampshire

It is 1932, and the' losses of the First World War are still keenly felt. Violet Speedwell, mourning for both her fianc' and her brother and regarded by society as a' surplus woman' unlikely to marry, resolves to escape her suffocating mother and strike out alone.
A new life awaits her in Winchester. Yes, it is one of draughty boarding-houses and sidelong glances at her naked ring finger from younger colleagues; but it is also a life gleaming with independence and opportunity. Violet falls in with the broderers, a disparate group of women charged with embroidering kneelers for the Cathedral, and is soon entwined in their lives and their secrets. As the almost unthinkable threat of a second Great War appears on the horizon Violet collects a few secrets of her own that could just change everything'
Warm, vivid and beautifully orchestrated, A Single Thread reveals one of our finest modern writers at the peak of her powers.
Herefordshire

Ancient history, violent deaths, feuds, intrigues and murder. A most original sleuth. – The Times
When a pagan couple buy a ruined church on the Welsh Border, there's an extreme reaction from the local fundamentalist priest. Is it a hate campaign or a nightmarish modern witch-hunt? Merrily Watkins is sent in to keep the lid on the cauldron and uncovers the sinister dynamics of the isolated village of Old Hindwell.
Hertfordshire

When Noel Bostock – aged ten, no family – is evacuated from London to escape the Blitz, he ends up living in St Albans with Vera Sedge – thirty-six and drowning in debts and dependents. Always desperate for money, she's unscrupulous about how she gets it.
Noel's mourning his godmother, Mattie, a former suffragette. Brought up to share her disdain for authority and eclectic approach to education, he has little in common with other children and even less with Vee, who hurtles impulsively from one self-made crisis to the next. The war's thrown up new opportunities for making money but what Vee needs (and what she's never had) is a cool head and the ability to make a plan.
On her own, she's a disaster. With Noel, she's a team.
Together they cook up an idea. Criss-crossing the bombed suburbs of London, Vee starts to make a profit and Noel begins to regain his interest in life.
Isle of White

As every schoolboy knows, you can fit the whole of England on the Isle of Wight. Grotesque, visionary tycoon Sir Jack Pitman takes the saying literally and does exactly that. He constructs on the island 'The Project', a vast heritage centre containing everything 'English', from Big Ben to Stonehenge, from Manchester United to the white cliffs of Dover. The project is monstrous, risky, and vastly successful. In fact, it gradually begins to rival 'Old' England and even threatens to supersede it…
One of Barnes's finest and funniest novels, England, England calls into question the idea of replicas, truth vs fiction, reality vs art, nationhood, myth-making, and self-exploration.
Kent

Discover the Whitstable Pearl mysteries: a combination of seafood, murder, and a multi-tasking heroine on the coast of Kent . . .
A controversial new property development is planned in Whitstable which will encroach upon the green open space of the downs, to the dismay of Whitstable residents who view this as the thin end of the wedge with regard to local wildlife conservation.
A campaign springs into life, spearheaded by a friend of Pearl's family, Martha Laker. A committed environmentalist, Martha is no stranger to controversy herself. She has also managed to divide opinion across town, with the locals viewing her as their fearless champion while establishment figures seeing only an interfering agitator.
Tensions escalate between the developers and Whitstable residents, straining Pearl's close relationship with London-born police officer, DCI Mike McGuire, who harbours concerns that the local campaign will spiral out of control. Pearl's loyalties are torn, but the protest duly goes ahead – and newspaper headlines claim a moral victory for the residents in this David and Goliath battle.
But the victory is short lived when Pearl discovers a dead body on the downs…
Lancashire

Fleetwood Shuttleworth is 17 years old, married, and pregnant for the fourth time. But as the mistress at Gawthorpe Hall, she still has no living child, and her husband Richard is anxious for an heir. When Fleetwood finds a letter she isn't supposed to read from the doctor who delivered her third stillbirth, she is dealt the crushing blow that she will not survive another pregnancy.
Then she crosses paths by chance with Alice Gray, a young midwife. Alice promises to help her give birth to a healthy baby, and to prove the physician wrong.
As Alice is drawn into the witchcraft accusations that are sweeping the north-west, Fleetwood risks everything by trying to help her. But is there more to Alice than meets the eye?
Soon the two women's lives will become inextricably bound together as the legendary trial at Lancaster approaches, and Fleetwood's stomach continues to grow. Time is running out, and both their lives are at stake.
Leicestershire

The Secret Diary of Adrian Mole Aged 13 ¾ is the first book in Sue Townsend's brilliantly funny Adrian Mole series.
Friday January 2nd
I felt rotten today. It's my mother's fault for singing 'My Way' at two o'clock in the morning at the top of the stairs. Just my luck to have a mother like her. There is a chance my parents could be alcoholics. Next year I could be in a children's home.

Meet Adrian Mole, a hapless teenager providing an unabashed, pimples-and-all glimpse into adolescent life. Writing candidly about his parents' marital troubles, the dog, his life as a tortured poet and 'misunderstood intellectual', Adrian's painfully honest diary is still hilarious and compelling reading thirty years after it first appeared.
Lincolnshire

Uncovering the mystery of her mother's disappearance as a child: Laura Cumming, prize-winning author and art critic, takes a closer look at her family story.
In the autumn of 1929, a small child was kidnapped from a Lincolnshire beach. Five agonising days went by before she was found in a nearby village. The child remembered nothing of these events and nobody ever spoke of them at home. It was another fifty years before she even learned of the kidnap.
The girl became an artist and had a daughter, art writer Laura Cumming. Cumming grew up enthralled by her mother's strange tales of life in a seaside hamlet of the 1930s, and of the secrets and lies perpetuated by a whole community. So many puzzles remained to be solved. Cumming began with a few criss-crossing lives in this fraction of English coast – the postman, the grocer, the elusive baker – but soon her search spread right out across the globe as she discovered just how many lives were affected by what happened that day on the beach – including her own.
On Chapel Sands is a book of mystery and memoir. Two narratives run through it: the mother's childhood tale; and Cumming's own pursuit of the truth. Humble objects light up the story: a pie dish, a carved box, an old Vick's jar. Letters, tickets, recipe books, even the particular slant of a copperplate hand give vital clues. And pictures of all kinds, from paintings to photographs, open up like doors to the truth. Above all, Cumming discovers how to look more closely at the family album – with its curious gaps and missing persons – finding crucial answers, captured in plain sight at the click of a shutter.
London

This is a hilarious and poignant story of two North London families, headed by Archie and by Archie's best friend and Samas Iqbal, a Muslim originally from Bengal. An unlikely friendship they served together in the Second World War. Archie chooses an unexpected marriage partner, older and toothless Clara, producing a daughter, Irie, and Samad marries Alsana in an arranged union, producing two sons. This novel really gets to grips with the fundamental themes of modern Britain in this engrossing and superbly expansive first novel.#london
Manchester

Sirens by Joseph Knox
Isabelle Rossiter has run away again.
When Aidan Waits, a troubled junior detective, is summoned to her father's penthouse home – he finds a manipulative man, with powerful friends.
But retracing Isabelle's steps through a dark, nocturnal world, Waits finds something else. An intelligent seventeen-year-old girl who's scared to death of something. As he investigates her story, and the unsolved disappearance of a young woman just like her, he realizes Isabelle was right to run away.
Soon Waits is cut loose by his superiors, stalked by an unseen killer and dangerously attracted to the wrong woman. He's out of his depth and out of time.
How can he save the girl, when he can't even save himself?
Norfolk

The action takes place in Norfolk, from Norwich to Swaffham to Ruth Galloway's bolt hole on the windswept North Norfolk marshes and involves Roman myths, Catholicism and missing children. Ruth's expertise is called upon when builders, demolishing an old house in Norwich, uncover the bones of a child – minus the skull – beneath a doorway. Is it some ritual sacrifice or just plain straightforward murder? DCI Harry Nelson investigates. The house was once a children's home. Nelson traces the Catholic priest who used to run the place. He tells him that two children did go missing forty years before – a boy and a girl. They were never found. When carbon dating proves that the child's bones predate the home and relate to a time when the house was privately owned, Ruth is drawn ever more deeply into the case. But as spring turns into summer it becomes clear that someone is trying hard to put her off the scent by frightening her to death…
Nottinghamshire

When Jenny inherits her estranged grandmother's cottage in Sherwood Forest, she has nothing to lose – no money, no job, no friends, no family to speak of, and zero self-respect. Things can only get better…
Her grumpy, but decidedly handsome new neighbour, Mack, has a habit of bestowing unsolicited good deeds on her. And when Jenny is welcomed into a rather unusual book club, life seems to finally be getting more interesting.
Instead of reading, the members pledge to complete individual challenges before Christmas: from finding new love, learning to bake, to completing a daredevil bucket list. Jenny can't resist joining in, and soon a year of friendship and laughter, tears and regrets unfolds in the most unexpected ways.
Northumberland

'He was her child. The only one she'd ever have. It would kill her to learn that he was missing.'
Alex arrives home from holiday to find that her ten-year-old son Daniel has disappeared.
It's the first case together for Northumbria CID officers David Stone and Frankie Oliver.
Stone has returned to his roots with fifteen years' experience in the Met, whereas Oliver is local, a third generation copper with a lot to prove, and a secret that's holding her back.
But as the investigation unfolds, they realise the family's betrayal goes deeper than anyone suspected. This isn't just a missing persons case. Stone and Oliver are hunting a killer.
Oxfordshire

Behind a crumbling facade of seeming normality, secrets begin to stir within the Lux family home. Jean Lux, constrained academic wife and guilty mother, is waiting for excitement – and it will come from an unexpected source. Meanwhile Eve, her intelligent elder daughter, luxuriates in wounded jealousy, until her loathing for her only sister verges on the murderous. Into this climate of static repression and bitterness enters Raymond Snow, the deadly rival of Jean's husband, who begins to show interest in the vulnerable Eve. Meanwhile, Jean's best friend, Helena, has something she is yearning to tell: a confession that may alter everyone's life forever.
Rutland

Early one typically quiet Sunday morning, two men fishing on Rutland Water discover a body on the rocks below the 'drowned' church which is one of Rutland's icons. Det Inspector Caroline Hills, recently arrived from London's Metropolitan Police, and unused to rural ways, wants her small team to solve the crime.
What does lie beneath beautiful Rutland Water? And what secret is Caroline herself hiding?
Shropshire

When a family camping trip takes a dark turn, how far will one mother go to keep her family safe?
Struggling with working-mother guilt, Marlene Greene hopes a camping trip in the forest will provide quality time with her three young children—until they see fires in the distance, columns of smoke distorting the sweeping view. Overnight, all communication with the outside world is lost.
Knowing something terrible has happened, Marlene suspects that the isolation of the remote campsite is all that's protecting her family. But the arrival of a lost boy reveals they are not alone in the woods, and as the unfolding disaster ravages the land, more youngsters seek refuge under her wing. The lives of her own children aren't the only ones at stake.
When their sanctuary is threatened, Marlene faces the mother of all dilemmas: Should she save her own kids or try to save them all?
Somerset

Three hours is 180 minutes or 10,800 seconds.
It is a morning's lessons, a dress rehearsal of Macbeth, a snowy trek through the woods.
It is an eternity waiting for news. Or a countdown to something terrible.
It is 180 minutes to discover who you will die for and what men will kill for.
In rural Somerset in the middle of a blizzard, the unthinkable happens: a school is under siege. From the wounded headmaster in the library, unable to help his trapped pupils and staff, to teenage Hannah in love for the first time, to the parents gathering desperate for news, to the 16 year old Syrian refugee trying to rescue his little brother, to the police psychologist who must identify the gunmen, to the students taking refuge in the school theatre, all experience the most intense hours of their lives, where evil and terror are met by courage, love and redemption.
South Yorkshire

The past shapes us all. But what happens when it hides a secret that changes everything?
In 1964, Maggie wakes to find herself in a mental asylum, with no idea who she is or how she got there. Remnants of memories swirl in her mind – a familiar song, a storm, a moment of violence. Slowly, she begins to piece together the past and the events which brought her to this point.
In the present day, Jonathan is grieving after the loss of his father. A cold, distant man, he was not easy to love, but at least while he lived there was hope for reconciliation. Then a detective turns up on Jonathan's doorstep to question him about crimes he believes Jonathan's father may have committed long ago…
As the two stories interweave, the devastating truth long kept hidden must emerge, and both Maggie and Jonathan are forced to come to terms with the consequences of the shocking and tragic events of over forty years ago.
Staffordshire

Statistics say nine out of ten murders are committed by someone the victim knows. So when Steph Ryder is found dead with her head caved in, Detective Sergeant Allie Shenton begins investigations close to home, starting with the victim's family and friends.
As each one tries to cover up their actions on that fateful night, Allie becomes convinced husband Terry Ryder has something to hide. Powerful, ambitious and charming, Allie's attraction to the successful businessman grows with each interrogation, risking both her job and marriage. But he's not the only one she's investigating. Secrets and lies begin to escalate as quickly as the body count. Can Allie uncover the truth before her life not only falls apart, but before she ends up a victim, too?
Suffolk

Penelope Fitzgerald's wonderful Booker-nominated novel.
This, Penelope Fitzgerald's second novel, was her first to be shortlisted for the Booker Prize. It is set in a small East Anglian coastal town, where Florence Green decides, against polite but ruthless local opposition, to open a bookshop. 'She had a kind heart, but that is not much use when it comes to the matter of self-preservation.'
Hardborough becomes a battleground, as small towns so easily do. Florence has tried to change the way things have always been done, and as a result, she has to take on not only the people who have made themselves important, but natural and even supernatural forces too. This is a story for anyone who knows that life has treated them with less than justice.
Surrey

Emma by Jane Austen
Quick-witted, beautiful, headstrong and rich, Emma Woodhouse is inordinately fond of match-making select inhabitants of the village of Highbury, yet aloof and oblivious as to the question of whom she herself might marry. This paradox multiplies the intrigues and sparkling ironies of Jane Austen's masterpiece, her comedy of a sentimental education through which Emma discovers a capacity for love and marriage
Tyne and Wear

It started with a splash. Jimmy, a homeless veteran grappling with PTSD, did his best to pretend he hadn't heard it – the sound of something heavy falling into the Tyne at the height of an argument between two men on the riverbank. Not his fight.
Then he sees the headline: GIRL IN MISSING DAD PLEA. The girl, Carrie, reminds him of someone he lost, and this makes his mind up: it's time to stop hiding from his past. But telling Carrie, what he heard – or thought he heard – turns out to be just the beginning of the story.
The police don't believe him, but Carrie is adamant that something awful has happened to her dad and Jimmy agrees to help her, putting himself at risk from enemies old and new.
But Jimmy has one big advantage: when you've got nothing, you've got nothing to lose.
Warwickshire

Hamnet by Maggie O'Farrell
TWO EXTRAORDINARY PEOPLE. A LOVE THAT DRAWS THEM TOGETHER. A LOSS THAT THREATENS TO TEAR THEM APART.
On a summer's day in 1596, a young girl in Stratford-upon-Avon takes to her bed with a fever. Her twin brother, Hamnet, searches everywhere for help. Why is nobody at home?
Their mother, Agnes, is over a mile away, in the garden where she grows medicinal herbs. Their father is working in London. Neither parent knows that one of the children will not survive the week.
Hamnet is a novel inspired by the son of a famous playwright. It is a story of the bond between twins, and of a marriage pushed to the brink by grief. It is also the story of a kestrel and its mistress; flea that boards a ship in Alexandria; and a glovemaker's son who flouts convention in pursuit of the woman he loves. Above all, it is a tender and unforgettable reimagining of a boy whose life has been all but forgotten, but whose name was given to one of the most celebrated plays ever written.
West Midlands

If you've approached Bains Stores recently, you'd be forgiven for hesitating on doing so. A prominent window advert for a discontinued chocolate bar suggests the shop may have closed in 1994. The security shutters are stuck a quarter-open, adding to the general air of dilapidation. A push or kick of the door triggers something which is more grating car alarm than charming shop bell.
To Arjan Banga, returning to the Black Country after the unexpected death of his father, his family's corner shop represents everything he has tried to leave behind – a lethargic pace of life, insular rituals and ways of thinking. But when his mother insists on keeping the shop open, he finds himself being dragged back, forced into big decisions about his imminent marriage back in London and uncovering the history of his broken family – the elopement and mixed-race marriage of his aunt Surinder, the betrayals and loyalties, loves and regrets that have played out in the shop over more than fifty years.
Taking inspiration from Arnold Bennett's classic novel The Old Wives' Tale, Marriage Material tells the story of three generations of a family through the prism of a Wolverhampton corner shop – itself a microcosm of the South Asian experience in the country: a symbol of independence and integration, but also of darker realities.
This is an epic tale of family, love, and politics, spanning the second half of the twentieth century, and the start of the twenty-first. Told with humour, tenderness and insight, it manages to be both a unique and urgent survey of modern Britain by one of Britain's most promising young writers, and an ingenious reimagining of a classic work of fiction.
West Sussex

Strange goings on in Bosham – near Chichester.
Crows, ghosts, weird lady, an even weirder man – the taxidermist, an annual rite at the church, a tumbledown house, a body in the water. Who was the perpetrator?
What is myth? and what is real? Throughout, the atmosphere. and the smell of the salt is overpowering. because I know the area well.
My most memorable read for years – I love all Kate Mosse's
books and recommend them all
West Yorkshire

It is an ordinary Yorkshire morning, cold and miserable.
The streets are not yet busy. Police cars hurriedly pull up in the centre of town, but none of their lights are flashing and the sirens are silent.
A body has been found, elaborately and painstakingly positioned to send a message. But what message? And to who?
It's DCI Harry Virdee's job to find out. But Harry doesn't know that the killer is watching him, that the killer is coming for him.
Wiltshire

Sarum by Edward Rutherford
Sarum is the roman name for current day Salisbury. In a novel of extraordinary richness the whole sweep of British civilisation unfolds through the story of one place, Salisbury, from beyond recorded time to the present day. The landscape – as old as time itself – shapes the destinies of the five families. The Wilsons and the Shockleys, locked in a cycle of revenge and rivalry for more than 400 years. The Masons, who pour their inspired love of stone into the creation of Stonehenge and Salisbury Cathedral. The Porters, descended from a young Roman soldier in exile. And the aristocratic Norman Godefrois, who will fall to the very bottom of the social ladder before their fortunes revive.
Worcestershire

A country house. A mystery boy. A family secret, hidden for centuries…
Who is the boy playing in the grounds of Clara Markham's stately home, and why does he seem to think she should know who he is? Clara is bewildered – she has never set eyes on him before.
When she comes across the boy's likeness in an old photograph, a friend suggests that he might be a ghost. At first dismissive of such nonsense, Clara's quest to find out more about him, and why he appears to her, soon becomes an obsession.
During the course of a long, hot summer a close friendship forms between Clara and the boy, Alfie. As the similarities between their pasts emerge, Clara discovers just how inextricably her own future is linked, not only to Alfie's, but to an event which happened centuries ago.
But what should Clara fear most – her past, or her future?
Join Team TripFiction on Social Media:
Twitter (@TripFiction), Facebook (@TripFiction.Literarywanderlust), YouTube (TripFiction #Literarywanderlust), Instagram (@TripFiction) and Pinterest (@TripFiction)