Reflective novel set in Denmark, France and Canada
17th May 2022
Not Everyone Lives the Same Way by Jean-Paul Dubois – reflective novel set in Denmark, France and Canada.
Written in the style of memoir, Not Everyone Lives the Same Way tells the story of Paul Hansen, a modest and reserved Canadian man of Danish and French heritage who finds himself in prison serving two years for assaulting another man. Paul has lost almost everything. His only companions, who he summons each night, are his deceased father the pastor, and Winona and Nouk.
He shares a cell with Patrick Horton, a hulk of a man with a passion for Harley Davidsons and many quirky habits, awaiting his own trial. The story of Paul's past, from before his own birth to the present is slowly revealed in carefully crafted stages. We meet his beloved wife and Beaver flying pilot Winona – part Irish, part native American – and their dog Nouk in the last quarter of the novel, as the pace picks up a little and reaches its devastating climax.
This is a moving and haunting tale. The narrative has both finesse and muscle, and there's something of the earthiness of Jean Genet. There's also a delicacy, an existential questing and questioning of everything as Paul tries to understand himself, come to terms with what he's done, and manage his grief. His cellmate Patrick provides a humorous counterpoint in an otherwise bleak tale filled with bitter irony.
Vivid scenes of the natural landscapes of Denmark presented as a place of origin, the location of the only ancestry that matters, the only belonging Paul still has, are contrasted with the colourful life of the cinema in Bordeaux run by his French mother, and eventually juxtaposed with the desolation and toxicity of manmade Thetford Mines.
Jean-Paul Dubois has a talent for delving into the minutiae of ordinary existence, bringing to life through informative and evocate prose everything from the salty plains of Skagen, Denmark, through motorbikes, planes and what it's like to be a casualty adjuster, to the asbestos-drenched Thetford Mines, a symbol of the reckless indifference of the mining industry so central to Canada. Here is a story that sets the wilds of nature with all of its impulses alongside the corruption of human will. Perhaps not a novel for everyone; the pace is slow and ponderous, and the story can hardly be called uplifting, but there's a pervasive calm, a simplicity that is immensely appealing. The translation is superb.
Isobel Blackthorn for the TripFiction Team
Guest Review by Isobel Blackthorn
Isobel is a prolific Australian novelist. She writes both contemporary/literary, thrillers and dark fiction. Follow her on Facebook, Twitter and via her website.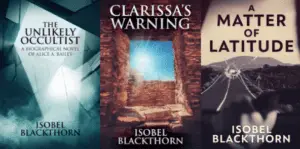 Join team TripFiction on Social Media:
Twitter (@TripFiction), Facebook (@TripFiction.Literarywanderlust), YouTube (TripFiction #Literarywanderlust), Instagram (@TripFiction) and Pinterest (@TripFiction)