The TripFiction 'Sense of Place' Creative Writing Competition
8th September 2020

The TripFiction 'Sense of Place' Creative Writing Competition
This autumn, as the world finally takes its first tentative steps into a post pandemic world, we invite adventurous writers to create new stories. Ideas that transport people to a place where imaginations can escape from the claustrophobia of locked down lives and restricted travel. Welcome to the TripFiction 'Sense of Place' Creative Writing Competition.
There are very few rules and guidelines: we want to encourage creative adventure and freedom. It might be a fully formed short story, a travelogue or a more personal memoir. It might be set in Shetland, Shanghai, Shoeburyness or Shaker Heights, Ohio. It might be rooted in history, love, humour, romance, crime or food. It's entirely up to you.
But the one thing your entry must include is a strong sense of place: the destination at the heart of your story will be as important a character as the protagonists and the plot.
The maximum word count is 3,000, minimum 750. All rules and guidelines for this TripFiction 'Sense of Place' creative writing competition are set out below, including the closing date for submissions.
The judging panel will include author and journalist David Hewson, publisher Katharina Bielenberg from MacLehose Press, and TripFiction's co-founder Tina Hartas, (whose inspiration to merge books and travel so successfully came from a rooftop swimming pool in Bangkok).
The winner will receive a cash prize of £300 / US$400, second £150 / US$200 and third £50 / US$67. David will also critique the winning entry.
The winning entries will be published on the TripFiction website and promoted on our social media channels. And who knows who else in the publishing industry might be interested in you and your story with a strong sense of place…
For some extra inspiration, David Hewson will share the following writing tips with all entrants.
Picking your Place
Picking your People
 'Do's a Don'ts' (of location writing)
These articles will be forwarded to you upon entry.
Author, Linda Lappin, has also written a piece for us describing the inspiration for her book The Soul of Place examining the significance of involving location in your written work. To see the piece, please click here.
Before you enter you must be a member of TripFiction (it's free!). Click here to register.
The entry fee is £5 / US$7 (and you can pay in most major currencies). Click here to be taken to the entry form.
Good luck, and we look forward to seeing where you take us!
About the judges
David Hewson
David is the very successful British author of thrillers set across Europe – with an emphasis on Italy. He has written almost 30 books. 11 of them feature young Roman policeman, Nic Costa, who has become something of a cult figure. David also wrote the novel adaptations of the Copenhagen-based The Killing television series and the slightly quirky Amsterdam-based House of Dolls featuring local detective, Pieter Vos. David is renowned for his sense of location and the authentic writing of the place in which his stories are set.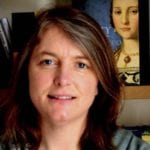 Katharina Bielenberg
Katharina has been Associate Publisher at MacLehose Press for more than a decade, after some years as an editorial freelancer. Between 1994 and 2000 she was rights manager and sales director at the then independent Harvill Press. MacLehose Press publishes translations from 23 languages, literary fiction, high-quality crime and eclectic narrative non-fiction. MacLehose is an imprint of Quercus (part of the Hachette Group).
Tina Hartas
Tina had the original idea for TripFiction. She has always sought books set in location to add to her travel experience. She likes to travel – a lot… Tina grew up in London and then read German and History of Art at Bristol University. Her career has been a varied one – from marketing executive to picture restorer (for which purpose she gained a Masters Degree in Fine Art Restoration), to couples counsellor and sex therapist with Relate. She has been a judge for several book events – including The Edward Stanford Travel Writing Awards and the Austrian Cultural Forum Translation Prize.
The rules
The competition brief: tell us a story – by way of a short story, travelogue or memoir – where the sense of place, the destination, is as important a character as the protagonists and plot
Language – English
Word count: maximum 3,000, minimum 750
Your competition entry must be original and previously unpublished (commercial or self published), and you must have full authorial rights over the submission
Closing date for entries: midnight 15th November, 2020
The results will be announced on 13th December, 2020. The judges' decision is final
Entries must be submitted by email to [email protected].  Please submit your entry as a Word document, without illustration or images of any kind. Include your name and the title of the entry in the email heading. Include a short personal biography (maximum 50 words) and a short summary of your entry (maximum 50 words) in the body of your email
Entries must be in Times New Roman font, size 12, and spaced 1.5/2.0
The cost per entry is £5/US$7, and you must have signed up to become a member of TripFiction. It's free! Join here.
By submitting an entry, you agree to allow TripFiction, our competition partners and TripFiction's network of contacts to publish, link to, and promote your story. The copyright remains yours.
Click here to be taken to the entry form
Join team TripFiction on Social Media:
Twitter (@TripFiction), Facebook (@TripFiction.Literarywanderlust), YouTube (TripFiction #Literarywanderlust), Instagram (@TripFiction) and Pinterest (@TripFiction)