Enter the TripFiction 'Sense of Place' Creative Writing Competition 2021
15th August 2021
£1,000 / US$1,350 first prize, and the judges include Victoria Hislop and Rosanna Ley

The inaugural TripFiction 'Sense of Place' Creative Writing Competition in Autumn 2020 was a success. We received close to 400 entries from writers in 35 countries, as far-flung as Uzbekistan and New Zealand, Lebanon and Mexico. This year we are running a bigger and better competition with treble the prize money (the first prize is £1,000 / US$1,350!). We look forward to reading your entries!
We're inviting adventurous writers to create new stories set in some amazing locations around the world. We want your stories to take us to places it may be hard to reach right now. There are only a few rules and guidelines to follow – so you can concentrate on the creative part. Your entry can be a fully formed short story or a personal memoir from an incredible past trip. It could be set in Amsterdam, Auckland, or Addis Ababa but the location has to be as important as the protagonist or plot, Genre is up to you – it could be history, romance, humour, crime, or even food. The choice is endless. But, remember, the one thing your entry must include is a strong sense of geographic location.
The maximum word count is 2,500, and the minimum 750. All rules and guidelines for this TripFiction 'Sense of Place' Creative Writing Competition 2021 are set out below, including the closing date for submissions.
The judging panel will include best-selling authors Victoria Hislop and Rosanna Ley, publisher Katharina Bielenberg from MacLehose Press, and TripFiction's very own founder Tina Hartas.
Prizes will total £1,750 (three times what we offered in 2020). The winner will receive a cash prize of £1,000 / US$1,350, the runner up £500 / US$675 and third place £250 / US$337. 
The winning entries will be published on the TripFiction website and promoted on our social media channels. And who knows who else in the publishing industry might be interested in you and your story with a strong sense of place…
Victoria and Rosanna have produced two excellent pieces on location writing especially for this competition. These will be forwarded to you on entry.
Before you enter you must be a member of TripFiction (it's free!). Click here to register.
The entry fee is £10 / US$14 (and you can pay in most major currencies). Click here to be taken to the entry form.
Good luck, and we look forward to seeing where you take us!
About the judges
Victoria Hislop
Victoria's novels have sold over 10m copies worldwide. Her work includes The Island and Cartes Postales from Greece – both set in Greece, The Return set in Spain and The Sunrise set in Cyprus. In 2020 she was awarded honorary Greek citizenship for her work promoting modern Greek writing and culture. The Island was set on the former leper colony of Spinalonga, and her interest in the disease led to her being appointed an ambassador for the charity, Lepra. She is married to broadcaster Ian Hislop, has two children, and lives in Sissinghurst in Kent.
Rosanna Ley
Rosanna is the best-selling author of The Little Theatre by the Sea (set in Sardinia), The Lemon Tree Hotel (set on the Italian Riviera), Her Mother's Secret (set in Brittany) and, most recently, The Orange Grove (set in Seville). She has also worked as a creative writing tutor for over 20 years. She has led courses for colleges and universities in England, and runs her own writing retreats and holidays in the UK and in stunning locations in Europe. She lives with her artist husband in West Dorset and her favourite writing place is anywhere with a sea view.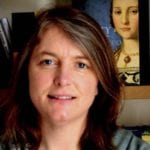 Katharina Bielenberg
In October 2020 Katharina was appointed Publisher at MacLehose Press (having been Associate Publisher and before that a freelancer for a decade). Between 1994 and 2000 she was rights manager and sales director at the then independent Harvill Press. MacLehose publishes translations from 23 languages, literary fiction, high-quality crime and eclectic narrative non-fiction. MacLehose is an imprint of Quercus (part of the Hachette Group). She is married to translator Jamie Bulloch and lives in London.
Tina Hartas
Tina had the original idea for TripFiction. She has always sought books set in location to add to her travel experience. She likes to travel – a lot… Tina grew up in London and then read German and History of Art at Bristol University. Her career has been a varied one – from marketing executive to picture restorer (for which purpose she gained a Masters Degree in Fine Art Restoration) to couple counsellor with Relate. She has been a judge for several book events – including The Edward Stanford Travel Writing Awards and the Austrian Cultural Forum Translation Prize.
Competition rules 
Write a story in which the geographic location plays as important a role as the rest of your words:
One entry allows one story to be submitted. You may make additional entries:
Language – English:
Word count: maximum 2,500,  minimum 750:
You must be at least 16:
Your competition entry must be original and previously unpublished, and you must have full authorial rights over the submission:
At the top of your submission you must include the SOP XX (e.g. SOP 49) unique identification code. This will be sent to you after your entry fee is processed. The code is to preserve anonymity in front of the judges.

Unfortunately, we will not be able to process any submissions that do not include the SOP code.

 Therefore we can't accept submissions sent at the same time as payment:
You must include the geographic location of your story at the top of your submission:
CLOSING DATE FOR ENTRIES: MIDNIGHT UK TIME 6 NOVEMBER 2021:
The results will be announced on 18 December 2021:
Entries must be submitted to

[email protected]

.  Please submit your entry as a Word document, without illustration or images of any kind. Include your name and the title of the entry in the email heading. Include a short personal biography (maximum 50 words) in the body of your email:
Entries must be in Times New Roman, size 12, and spaced 1.5/2.0:
The cost per entry is £10/US$14 (and you can pay in most major currencies):
If you are not already, you must sign up to become a member of TripFiction. You can do that here:
By submitting an entry, you agree to allow TripFiction to publish, link to, and promote your story. The copyright remains yours.
Click here to be taken to the entry form.
The best of luck, and remember the closing date – 6th November 2021
Read the winning 2020 entry here
Join team TripFiction on Social Media:
Twitter (@TripFiction), Facebook (@TripFiction.Literarywanderlust), YouTube (TripFiction #Literarywanderlust), Instagram (@TripFiction) and Pinterest (@TripFiction)