Talking Location with author Carol Cooper – Hampstead, London
18th February 2017
#talkinglocationwith …author Carol Cooper who wonderfully transports her readers to Hampstead, North London in her novel Hampstead Fever.
I'd recently moved to Hampstead, a one of the most attractive parts of London, and somewhere I'd always wanted to live. So, when I set out to write about the complicated relationships of thirty-something urbanites, it was the obvious choice for my novel.
Much of the area is lined with typical London plane trees, and, while the buildings are eclectic in style, there's a core of Georgian and Victorian houses. The central knot of streets around Hampstead Underground station is still village-like, with upmarket bistros, trendy boutiques, and cafés sprawling onto the pavements. The Hampstead Butcher & Providore, a deli and wine merchant, is a must for any foodie especially those with deep pockets. Just off Heath Street, the Everyman Cinema is known for its intimate atmosphere and waiter service right to your seat.
Sitting atop the village is Hampstead Heath and the highest point in London, with magnificent views. How could I not share all this with readers?
In Hampstead Fever, the area means different things to different characters. Chef Dan is a rising star in a new restaurant in the heart of the area. To him, London NW3 is his dream. New parent Laure is constantly anxious about her son, but the highly competitive mothers in the area only make her worry more.
By contrast, Harriet is a freelance journalist struggling to pay the high rents in the area. As a writer, she's also overawed by Hampstead's rich literary heritage. It includes John Keats, Lord Byron, Charles Dickens, Daphne du Maurier, Evelyn Waugh, Agatha Christie, Robert Louis Stevenson, and HG Wells, as well as modern writers like Ben Macintyre and Kathy Lette.
With everything more or less on my doorstep, research was easy. I had to check local bus routes and the Underground as some of my characters need public transport. The restaurant where Dan works is however fictional.
You can visit Hampstead for an hour or two, or take much longer. Here are some things you might enjoy doing.
1. Amble down Flask Walk
If you only have an hour, spend it in this little street near Hampstead Underground station. With its second-hand shops, restaurants, flower shop, and barber, Flask Walk embodies the village. At the end, you'll find The Flask, a beautifully preserved yet vibrant Victorian pub. The wall tiles are exquisite and the food and drink are pretty good too.
2. Walk on Hampstead Heath
It's one of London's oldest and largest open spaces, so you won't be able to cover all of it in one day. You could set out near South End Green by one of the many ponds (Number One Pond appears on the cover of Hampstead Fever) then walk uphill to enjoy amazing views over London. Or you could begin at Kenwood House, which is an English Heritage gem in a more landscaped setting.
3. Wander around the village
Take in Hampstead High Street with its street cafés and boutiques, and spot the occasional celeb. The area has long been a haven for the famous. There are more blue plaques here than in any other part of London, commemorating luminaries from artists to scientists. More details here.
Stroll down to Keats House, in Keats Grove, towards South Hampstead. Once the poet's home, it's now a museum and literary centre.
4. Spend on hour or two at 2 Willow Road
This National Trust property is the former home of architect and furniture designer Erno Goldfinger. It's an innovative 1930s building that houses many artworks and other treasures. As a leading light of the modernist movement, Goldfinger was behind some of London's most controversial tower blocks. Hampstead author Ian Fleming then borrowed the surname for one of his best-known villains.
5. Visit St John-at-Hampstead in Church Row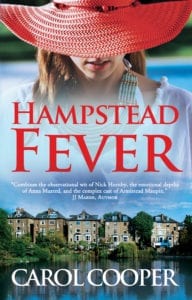 This lovely parish church goes back to 1747. In its graveyards are buried artist John Constable, former Labour Party leader Hugh Gaitskell, and comedian Peter Cook, among other notables. There are also war graves and memorials from both world wars.
Thank you so much to Carol for offering such great tips for visiting Hampstead. You can follow her on Twitter, Facebook for her London novels, and via her blog. Buy her book Hampstead Fever here.
Connect with Team TripFiction via Twitter (@tripfiction), Facebook (TripFiction), Instagram (TripFiction) and Pinterest (TripFiction)… and now YouTube