Talking Location With author John Pakenham – KENYA
17th June 2020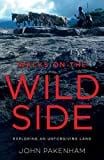 TalkingLocationWith .. John Pakenham, author of Walks on the Wild Side – travelogue set in Kenya.
Forty years ago I was walking with tribesmen in a dangerous corner of East Africa, now fully recorded in my new book Walks on the Wild Side. Although this article is for TripFiction, it isn't a story of fiction. It is absolutely real, set in the very real Kenya of the early 1980s.
Born in Zanzibar, I was always fascinated by East Africa. I was also fascinated by travelling to remote places: overland to Afghanistan when I was 17 in 1969, later the Middle East, and then three months with the Tuareg in the deep Sahara. So when I read about an earlier expedition to a jade green lake in north-west Kenya, I wanted to go there. 
Although the safari parks of Kenya were already hosting a million tourists a year, the north-west was rarely, if ever, visited by outsiders, since it was largely a volcanic wasteland of blistering, waterless rock desert. But it had its own peoples, traditional tribes in exotic costumes, still carrying spears. Between them there was constant raiding and frequent killing. Few outsiders knew anything about them. The drama beckoned.
I even discovered places where white men had not been seen. Crazy, only 40 years ago! This was wild country. We killed goats to eat and wasted nothing, so campfire food usually included hot blood, intestine and testicles! Over the following five years I walked 1,200 miles with loaded donkeys and chosen companions from the Turkana or Samburu tribes whom I came to know well. I also became a close friend of the great desert explorer Wilfred Thesiger who had 'retired' to this area.
Often in extremely dangerous situations (AK-47s were becoming more numerous), sometimes in waterless sand desert or perilous mountains, avoiding crocs or fleeing from bandits, and usually digging in the ground to find water, it was nevertheless a glorious time of friendship and laughter. I discovered that even half-naked tribesmen are actually very similar to us, with the same hopes, fears, and ambitions and have more blameless lives than many of us.  What have they contributed to the malaise of our planet, the pollution, the corruption, the exploitation and the crime? Very little.
Today you could travel there with more accessible vehicle tracks and places to stay. Local people now often have medicine and education. Tribal raiding still persists but generally life is much safer. Human population has grown exponentially, some towns with a population of tens of thousands where before there were grass huts. So yes, some of the romance has gone.
However, the cruel beauty and wildness of the landscape remains, some of the tribal people still wearing traditional dress unintended for tourist eyes. The sun still hammers, sometimes soaring into the 40s. The dust still blows in the same winds. But the largest desert lake in the world, Lake Turkana, (the Jade Sea), is shrinking from its 180 miles, evaporating 1/4inch a day, its principal inflow from Ethiopia now weakened by a series of dams. And the Nile perch which grew to over 400lbs are sadly commercially overfished. But although the wildness of tribal life I experienced has largely gone, to visit now would still be a once-in-a-lifetime experience. Not for the faint-hearted.
I hardly suggest you do anything as dangerous or foolhardy as I did, but the area would be thrilling to explore by vehicle. What pressed me onwards, walking mile after mile, was not bravery or heroism but sheer old-fashioned curiosity. Toughness and fitness (although necessary) are less important than humility to accept our equality with the tribespeople. Without that you won't gain a true understanding of that amazing country.
Nor do I wish to detract from the more usual game parks further south. Even in a vehicle it is an honour to be close to these great creatures. Amid the sizzle of myriad insects, to hear a baby elephant sucking from its mother, the stampeding hooves of thousands of wildebeest, or to feel your chest cavity shaken violently by the roar of a lion is extraordinary. No TV soundtrack! However, poaching is catastrophic. Please go while these incredible creatures are still there. And please help to preserve them for the planet, for future generations… and just for their own right to be alive where they have roamed for millennia, unthreatened by us.
….. and still in my memory I see the visions of those enormous skies, and the scattered thorn trees across its empty, barren wastes. In the throbbing heat of a stone world I see a flash of red from the decoration of a distant lone warrior, the wild lightening storms, glorious flaming sunsets, and the visions of my time by a jade-coloured sea.
John Pakenham
Catch John on Twitter   and you can buy John's book through the TripFiction database from your preferred bookseller
Join team TripFiction on Social Media:
Twitter (@TripFiction), Facebook (@TripFiction.Literarywanderlust), YouTube (TripFiction #Literarywanderlust), Instagram (@TripFiction) and Pinterest (@TripFiction)