Talking Location With M P Miles
30th March 2019
#TalkingLocationWith… M P Miles, author of Shelter Rock, thriller set in Africa.
The author walked all the way from Cape Town to Cairo when he was only 18 years old. This inspired him with wanderlust and the desire to see more of the world. Here he writes about the pleasures of skippering a boat in exotic locations. His travels also fed his desire to make location central to his writing. Over to Miles…
In 1982 I walked from Cape Town to Cairo. I was eighteen, alone, and travelled eight thousand miles, kept going while carrying a few interesting tropical diseases, dodged arrest for spying in Uganda and escaped from thieving nuns in Sudan, and lived for six months on two hundred dollars. I discovered a lot about the beauty of Africa, its kind and generous people, and about myself. It came about without much conscious thought or planning, a compulsion that I had no control over. Twenty-five years later the same thing happened.
In 2008, a month before Lehman's collapsed, I stumbled with lousy timing into luxury yacht chartering. An outstandingly beautiful Italian designed and built sailing boat was for sale in Palma, my newly-minted Captain's licence was looking for a new home, and blue tropical water rather than brown Thames water beckoned. The yacht was called Pacific Wave and, on a compulsion, the planned destination from Palma was five thousand miles across the Atlantic – the British Virgin Islands.
The BVI are at the northern end of the Caribbean chain, an archipelago of over fifty islands. Fifteen are inhabited, successively by the Arawak and Caribs, then Spaniards, Dutch, Danish and lots of pirates. The British finally brought security, economic stability, and slaves. Today, three quarters of the population are descended from African peoples and live with Hispanic and East Indian Virgin Islanders – alongside a few billionaires and other pirates. It is an astonishingly beautiful place of small islands with fine sand and palm-tree fringed beaches forming a ring around sheltered turquoise water that at times is an impossible to believe 'photoshopped' blue. Throw in warm consistent trade winds, reefs of pretty fish, and safe calm anchorages, and it becomes the world's best yachting destination.
Into this postcard perfect paradise sailed Pacific Wave and her crew, salty after an Atlantic crossing and with tons of enthusiasm but with little knowledge of running a large commercial yacht or selling sailing holidays to American tourists. It was a rude awakening.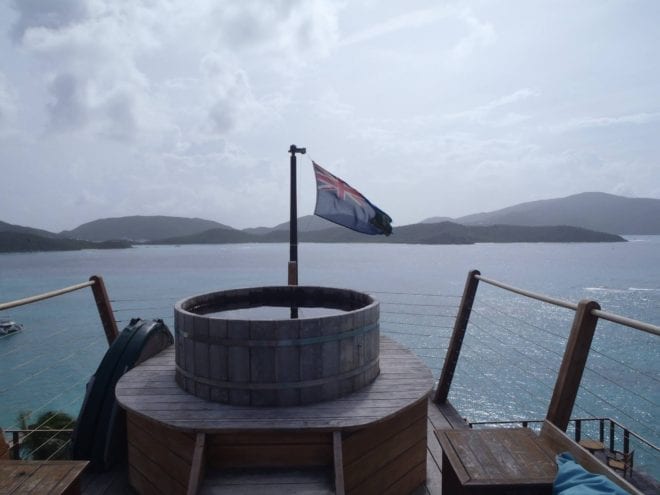 Focusing on sailing seemed the logical thing to do and, for sailors, Pacific Wave was a thoroughbred. She even looked like a race horse, sleek and shiny, muscled with two bow rollers for anchors that looked like Desert Orchid's flared nostrils. Designed in Milan and built for an Italian connoisseur, with an interior by a woman famed for her award-winning curvy furniture, she was a Ferrari of the yachtie scene. Our focus was therefore on demonstrating her magnificent sailing qualities with perfectly judged gybes, sweet spinnaker peels, and hard-pressed into wind sprints. It took only a short while for the realisation to dawn that the most important item of equipment onboard was the cocktail blender. Our guests soon tired on the grinders while quickly sheeting in a big sail and needed refreshment – usually a well spiced Bloody Mary. Or three. We all soon found a rhythm, and a week-long charter now sees sails-up for just a few hours a day in time for the most important part of the vacation, alcohol and food.
I do the cooking and worry about it constantly. I feel a fraud. I've never worked in a restaurant kitchen, never cooked more than one dish at a time. I have a repertoire of seven lunches and seven dinners. That's it. Despite my concerns it seems to work, and I can only put the favourable comments on my culinary creations down to the strength of the rum punch. I've even won awards at charter yacht shows – memorably, for a particularly fussy competition, when I double-baked a pavlova case that was mush inside, threw some mangoes on top, and then quickly headed to the bar before anybody saw who had done it. I won but was too full of margaritas to stagger back for the prize giving.
Two crew charter yachts demand serious multi-tasking. I do all the engineering as well as the cooking, often at the same time. Learning to make a creamy mushroom sauce while changing the cooling impellor on the generator before the guests start whining because they can't charge their phones is not something you learn at sailing school. I can now park the boat, fix a cocktail, do battle with a blocked toilet, and tell an amusing story of the guest who wanted to know if I had weapons onboard because she needed to kill her husband. I didn't, and he survived.
If I ever wonder if it is all worthwhile I just look around. Off charter, which is most of the time, I can lie in a hammock on deck and see turtles surfacing and watch frigate birds swooping on the boobies catch. I can snorkel from the boat ashore to my own Virgin beach, then go back onboard and shower naked on deck because there's no one to see me. My nearest neighbour is often the billionaire that I catch looking with longing at me, while I'm looking without envy at him. I can crack a cold beer at sunset and see the best show on earth over the stern rail of Pacific Wave, every night.
Amazing to think of where I've ended up without any conscious thought or planning.
Thank you to Miles… not envious at all!!! What a fabulous life!
You can buy his book Shelter Rock through the TripFiction database – it is a novel that showcases the natural beauty of the continent (The African)
And join us on Twitter (@TripFiction), Facebook (@TripFiction.Literarywanderlust), YouTube (TripFiction #Literarywanderlust), Instagram (@TripFiction) and Pinterest (@TripFiction)