The Lost Women of the French Revolution by Kat Dunn
13th June 2021
The Lost Women of the French Revolution by Kat Dunn.
On 5 October 1789, nearly seven thousand women – mostly poor, mostly workers – marched from Paris to Versailles. They besieged the royal palace, and forced the King to return with them to Paris to stand accountable for France's dire straits. Seven thousand women, working together, marked the end of the King's independence and the rise of the people as a political force that could change the destiny of a nation.
Did you know about it?
Me neither.
Well, maybe you did if you studied history – but to me the French Revolution was always Robespierre, Louis XVI, Marat dead in the bathtub, let them eat cake and the guillotine. The only woman I knew about was Marie Antoinette – famous for being naive, callous and then dead.
When I read Hilary Mantel's Place of Greater Safety (dismissed by one male critic as 'There's a lot in it about wallpaper.') I caught my first glimpse of the women of the revolution. The more women I read, the more women I found in the margins, shadows on the wall behind powerful men. Fascinating, fiercely remarkable women, apparently not important enough to remember.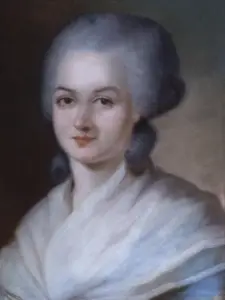 Executed a month after Marie Antoinette, Olympe de Gouges is not a household name. She was a playwright and political activist who wrote about women's rights and abolitionism, caused riots when her plays were staged and wrote, amongst many things, the seminal manifesto Declaration of the Rights of Woman and the Female Citizen.
After her execution, she was vilified as an enemy of the republic bent on destroying the natural order by seducing women out of the home and into political life. Her son denounced her, and even tried to change her name in official records to distance himself from her shameful reputation.
Years passed, and she faded from history. Another woman slipping into the footnotes.
It's no surprise really. There is little effort to remember them. Just 2.7% of UK public statues are of women who weren't royals. Only 13% of blue plaques in London commemorate women.
I know I'm hardly the first person to get angry about the vast woman-shaped gaps in history – which go double for women of colour and anyone else marginalised in our society. Olympe de Gouges is hardly the only woman of the French Revolution lost to popular memory. I wish I could have told you about so many more: Theroigne de Mericourt, known for wearing a bright red riding habit to every session of the National Assembly, was a passionate orator and revolutionary – but ended her life locked in an asylum; Claire Lacombe, an actress and militant revolutionary who founded the Society of Revolutionary Republican Women, employed violent tactics to root out counter-revolutionaries and was shot through the arm when storming the Tuileries; Manon Roland, an astute negotiator, lobbyist and political analyst who led a government office setup to influence public opinion, was executed along with her political faction.
Nor is Revolution the only place we disappear. Countless women were at the forefront of the Enlightenment scientific revolution happening at the same time – from astronomer Caroline Herschel, the first woman to hold a government position in England or be awarded the Gold Medal of the Royal Astronomical Society to Marie-Anne Lavoisier, chemist and scientific translator whose work was overshadowed by her husband – women have always been an integral part of the history of our world.
We've just been written out of the story.
We remember Marie Antoinette – why not Olympe de Gouges?
Why do we remember some women and not others? And why do so few women make the cut at all?
With these questions rattling around my head, I started to write Dangerous Remedy. I named a key character after Olympe de Gouges – my Olympe has supernatural powers in a nod to Frankenstein and Mary Shelley, one of the women we do remember. From the brave women of the revolution came Camille, daughter of executed revolutionaries burning with the desire to do right. From the scientists came her girlfriend, Ada: always clever and resourceful, always determined to discover the truth.
In the most painful points of bringing this story to the page, I liked to think back to what de Gouges said: "I'm determined to be a success, and I'll do it in spite of my enemies."
If our enemy is forgetting, then we must take decisive action to remember. We must say their names, learn their stories, expand our view of the past to make space in our imaginations for women, people of colour, queer people, disabled people – everyone swallowed by silence. History, for so long, has been recorded by the white man holding the pen.
Now I have a pen, I have a job to do: if we have been written out of history, we must write ourselves back in.
Kat Dunn, YA author of Dangerous Remedy and Monstrous Design
Kat Dunn grew up in London and has lived in Japan, Australia and France. She's written about mental health for Mind and the Guardian, and worked as a translator for Japanese television. Her fiction has been shortlisted for the Mslexia Novel Competition. She lives in London.
Kat is the author of Dangerous Remedy (Zephyr 2020) and Monstrous Design (Zephyr 2021), historical adventures set in the extravagant and deadly world of the French Revolution.
Find out more about Kat via her website here, and follow her on Twitter and Instagram at @KatAliceDunn.
If you want to find more women-shaped holes through history, then a good place to look is Sandi Toksvig's Almanac, where she lists and venerates and generally names incredible women who have featured large, but have been consigned to the annals …
Join team TripFiction on Social Media:
Twitter (@TripFiction), Facebook (@TripFiction.Literarywanderlust), YouTube (TripFiction #Literarywanderlust), Instagram (@TripFiction) and Pinterest (@TripFiction)