Thriller set in Siglufjörour, Iceland – plus author interview with Ragnar Jónasson
26th January 2016
Nightblind by Ragnar Jónasson (translated by Quentin Bates) – thriller set in Siglufjörŏur, Iceland.
Nightblind is the second book to appear in the Dark Iceland series by Ragnar Jónasson. The first was the much acclaimed Snowblind, published last year. Actually, and perhaps a little confusingly, it is the last book of five in the series – books two, three, and four are yet to be written / published (although number two, Blackout, is due out this summer…). Below you will find our review of Nightblind plus an interview with Ragnar…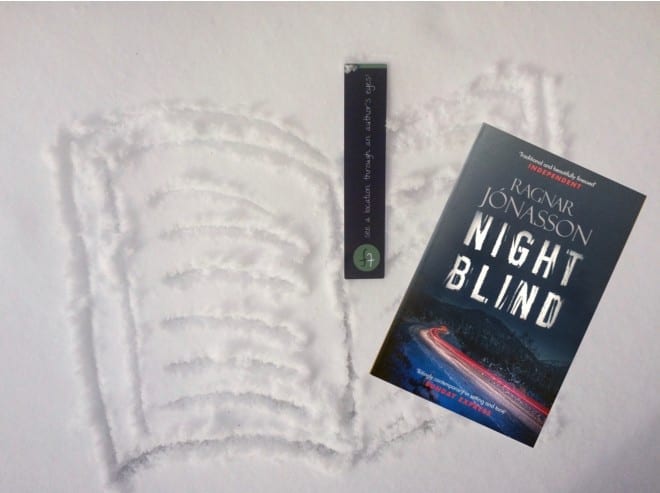 Nightblind is an extremely well written / translated work featuring the return of detectives Ari Thór and Tómas. As with Snowblind, to describe the book as 'Icelandic Noir' (as the publicists do) is perhaps a little over the top and, dare one say it, jumping on a band wagon. Yes, it has dark moments and violence (including domestic violence) – but not to anything like the extent of a Stieg Larsen or a Jo Nesbø. It is a lot cosier and more confined – perhaps best described as an updated and somewhat harder Agatha Christie…but absolutely none the worse for that. It is a good story, well told.
In Nightblind, Tómas returns from Reykjavík (to where he has been promoted) to work alongside Ari Thór in solving the shooting and murder of Herjólfur, his successor as the police inspector in Siglufjörŏur. There are several prime suspects among the community, and identifying the murderer is not an easy task. Various 'dark goings on' are discovered that impinge on the investigation. One of the joys of the book is the relationship between the two detectives as they work on the case. They are excellent foils for each other.
A device that Ragnar employs works well in both Snowblind and Nightblind. He write alternate short chapters in italics. These chapters tell a parallel story that is ultimately interwoven into the main plot.
All in all Nightblind is an excellent mystery. I look forward very much to Blackout and the other two books to complete the series.
Tony for the Tripfiction team
And here is our interview with Ragnar:
TF: With Ari Thór and Tómas you have created an iconic, very effective and empathetic detective partnership. For Nightblind (the final book in the five part series – although the second you have written after the opener, Snowblind) Tómas moves back on assignment to Siglufjörŏur from Reykjavίk where he has been promoted. Do you plan for Tómas and Ari Thór to be together in Siglufjörŏur for Blackout (to be published later this year) and for the other two books to complete the series? Or will Tómas have already moved south?
RJ: In Blackout, Tómas and Ari Thór are working together in Siglufjörŏur. The same applies to the next book, Broken, which takes place in Siglufjörŏur and a neighbouring fjord, Hédinsfjördur, historically one of the most isolated places in Iceland. In the following book, Breathless (working title), Tómas has however moved south to Reykjavík. In Breathless, Tómas is asked to investigate a suspicious death in a remote location in northern Iceland, almost half-way between Reykjavík and Siglufjörŏur, on behalf of the Reykjavik police, at Christmas. No-one from his team is really keen on spending the holidays there, so he calls up Ari Thór and asks him to join him on this task, so they get a chance to work together in that book as well.
TF: What effect has the success of Snowblind and Nightblind had on the community of Siglufjörŏur? Do visitors come to see the locations of the books – and, indeed, are the precise locations real or from your imagination?
RJ: All locations in the books are real, so readers can visit them all, although some specific houses are of course made up (or based on different houses), including the house at the start of Nightblind. That house doesn't exist, but the location of it is very real. I have felt quite an interest from UK readers in actually visiting Siglufjörŏur. Many have done so via online maps or Google Streetview, and some have taken the trip up north to visit, and there may even be a specific crime trip to Siglufjörŏur for travellers this winter.
TF: You translated 14 Agatha Christie novels into Icelandic. What impact do you think this has had on your own writing style?
RJ: I think translating a few books can generally help one understand the structure of a novel to a greater extent than by reading it, because one needs to analyze the text in such detail. In relation to Christie's work, I am a big fan and constantly re-read her brilliant novels. I believe her greatest strengths lie in her plotting (and surprising twists), her setting and unique atmosphere, and I would be very happy if I have managed to learn a bit from her in those areas of writing.
TF: What is your definition of 'noir'? Both your books are described as examples of Icelandic Noir – and yet both are perhaps to some people's minds more in the mould of an updated 'Agatha Christie'. Yes, there is violence and blackness, but not to the extent that you would find in a Stieg Larsson or a Jo Nesbø…
RJ: I think everyone probably has a different definition of noir. Previously I would have associated noir with the great writing of Raymond Chandler or Dashiell Hammett and old black and white film noir classics, such as Double Indemnity or The Big Sleep, and I certainly don't believe that I am writing in that tradition. However, noir has been given a wider meaning in terms of Scandinavian crime fiction, perhaps to some extent as a result of the commonly used phrase of "Nordic Noir", and later "Icelandic Noir". In that sense, I am certainly writing some sort of Nordic Noir, aiming for a somewhat dark and realistic undercurrent, but I am also a great admirer of the Golden Age of detective fiction, and I try to stay true to that genre as well. In a way, it was my intention to try to combine these different types of books, but it is up to readers to judge whether I succeeded in that endeavour.
TF: You have worked with Quentin Bates as your translator on both books. How important do you think the relationship with your translator is? Do you work together physically or remotely?
RJ: I think the translator plays a hugely important role in bringing any foreign language book to a new audience, and I have been very fortunate to have Quentin Bates working on my books. He is a celebrated writer, of the Inspector Gunnhildur crime series, so he has a very good sense of what it takes to make a book sound authentic. We are good friends and we meet as often as we can, although we live in different countries, but otherwise we exchange e-mails to the extent necessary when he is working on a translation, although his Icelandic is so good I get very few questions from him.
TF: In both Snowblind and Nightblind you use the device of alternate (short) chapters written in italics and focusing on a parallel but ultimately interwoven story. It works well, but what drew you to do this?
RJ: In a way, in both cases these stories just seemed to fit into the narrative, so it wasn't the plan to do this for both books. The story taking place in the italics chapters in Snowblind was initially an idea which I thought I might use for a different book, but during the early process of writing Snowblind in Icelandic, I tried incorporating it into the story and it seemed to fit. In relation to the diary-chapters in Nightblind, these really formed the backbone of the story and were there from day one. The diary was actually the first thing I wrote in Nightblind – I spent a summer's week in Stockholm a couple of years ago at a writers' residence and wrote the whole diary, more or less, then. It was only once the diary was ready that I could set the main storyline in motion.
TF: The covers of both Snowblind and Nightblind are highly memorable. How much were you involved in their creation?
RJ: I had no part in either one – they were both designed by the brilliant Mark Swan (kid-ethic.com) and my role was only to take a look at his suggestions and say "yes, thanks – these look great!". He has also done the cover of Blackout, a cover which I am also very pleased with.
TF: You work as a lawyer, and you teach copyright law at Reykjavίk University. How do you get the balance right between the 'day job' and writing? And is that balance now changing as you become more established?
RJ: This can of course be challenging, but essentially I do my writing late in the evening, and try to write a little bit every single day, so that the writing is distributed quite evenly throughout the year.
TF: A slightly strange one, this! Having read Snowblind, I was discussing with a colleague how depressing it must be to spend months of the year without seeing the sun. I read recently, though, that for many Northerners the summer was in fact more of an issue – how hard it was, for example, to get to sleep in perpetual daylight. Where do you think the average Icelander would stand in this debate – do they prefer summer or winter?
RJ: I love both the Icelandic summer and winter. The winters are perfect for reading and enjoying the snow, and the long summer nights are simply amazing. Sleeping is usually no problem for Icelanders in summertime, we are used to this. But then again, why go to sleep at all in the summer when you can go outside at 3 am and take a walk down to the ocean, when its still bright daylight!
Thank you Ragnar for your brilliant answers…
You can follow Ragnar on Twitter, Facebook and via his website
Come and say hello on Social Media to the Team at TripFiction: Twitter, Facebook and Pinterest and when we have some interesting photos we can sometimes be found over on Instagram too.