Valentine's Day: love stories set in Singapore/romantic travel tips/giveaway
5th February 2017
Singapore Love Stories, edited by Verena Tay, love stories set in Singapore for Valentine's Day.
This is a compendium of short stories, featuring the myriad, sparkling and darker permutations of love. All set in Singapore. There are little snippets of life in Singapore sprinkled liberally throughout the beautifully put together stories, all different, and all interesting.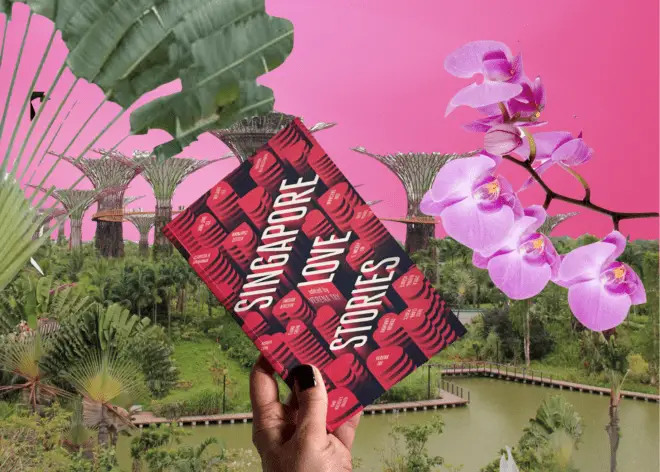 This little tome would be a good read to enjoy on a flight into the island city-state, the stories are wonderfully varied and entertaining and would definitely get a traveller in the mood to explore. Many cultures, religions and people meld together to make this a special place and the diversity is reflected in the narratives.
Each story is penned by a different author, each story is individual –  from ghostly interventions, to the relationship one could have with ATM machines. The stories are populated by the peoples and cultures of this multiethnic city, from the Westerners to the elderly Chinese men with sweatbands and bamboo sticks who are described as powering "along the path outside, chanting vocal breath exercises as they went." (I have certainly seen them on a visit to the city!). Clarke Quay, Chinatown, Orchard Road, these stories can be set nowhere other than Singapore.
Singapore itself conjures up the "cool image of palm trees and pineapples, of white sandy beaches. Of refuge and peace".
There's Nicole who is very practical about whether she should marry her much elder beau – conditioned as she is by her family and society. Charlotte caring for her grandmother now she is in her twilight years… and  Jon Gresham (no, not John Grisham, but they do share the same profession of lawyer) talks about falling in love with a young woman at his intern firm. He ends up taking the challenge to ride a bicycle into the ocean to show his commitment (you will have to read the book to see why he is driven to these extreme measures). And many more literary delights waiting to be discovered. All built around love and specifically love in the wonderful city of Singapore.
Tina for the TripFiction Team
Over to NOT JUST TRAVEL "Leading UK Travel and Holiday Company" for some top tips if you want to get under the skin of Singapore!
If Verena Tay's compilation of short stories have sparked your interest in Singapore, then Not Just Travel "The Holiday Experts With More Knowledge And Choice Than Anyone Else" for their insight into the city: the perfect romantic Spots in Singapore For Your Valentine's Break.
Rome, Paris and… Singapore? While it may not be your typical Valentine's break destination of choice, Singapore is a vibrant, multicultural city ready for the lovers to explore.
A Picnic Atop The Esplanade Roof Garden
Sit back, relax and munch on chocolate covered strawberries as you enjoy the picture-perfect views of the Singapore River and the shadows of Singapore's modern skyscrapers from the Esplanade Roof Garden. Sip on your bubbly until sunset and see Singapore's iconic skyline quickly come to life, as towers are lit up in a spectrum of colours.
A Candlelit Dinner With Views of The City
A romantic dinner experience like no other, The Flyer is Asia's largest observation wheel in downtown Marina Bay giving guests 360 views of the city while they enjoy a four-course meal. Guests can expect to be treated like a VIP aboard the wheel, serving cocktails and Champagne in their classic, spacious pods as well exquisite fine dining.
Marina Bay Sands Light and Water Show
Take a late night stroll past the Singapore River to experience the magical light and water show created by the Marina Bay Sands hotel, a show that took 3 years to create! For 13 minutes you will be treated to displays of water jets, lasers and pyrotechnics before the magical finale of bubbles filling up the night sky.
Romantic Island Escape at St Johns
Fancy a trip to paradise? Hop on a boat to the remote, St John's island in South Singapore and be greeted by the lush garden landscape full of gorgeous flowers and trees. Spend the day trekking through the flora and fauna, take a picnic or go dolphin spotting for a day of complete romance.
While it may not be the first romantic destination you think of, it's easy to see why Singapore is the romantic backdrop to this collection of short love stories. If you want to fall in love with Singapore this Valentine's Day, be sure to get in touch with our travel experts at Not Just Travel to book your Valentine's break and ensure you make the most of Singapore's romantic spots.
Thank you to NOT JUST TRAVEL for the excellent tips for a visit to the city. You can also connect with them on Facebook and Twitter
GIVEAWAY –

this giveaway is now closed
And last but not least we have FIVE copies of Singapore Love Stories, edited by Verena Tay in our giveaway. Just tell us what your top attraction would be in Singapore, and leave your thoughts in the Comments below. It's as easy as that. The competition closes midnight GMT on Saturday, 11th February 2017 and the first five names out of the hat on the 12th will be sent a copy! It's open world wide!
Do come and connect with Team TripFiction via Twitter (@tripfiction), Facebook (TripFiction), Instagram (TripFiction) and Pinterest (TripFiction)… and now YouTube
For more books set in SINGAPORE, just click here.