Five great books with food at their heart…
8th January 2019
Five great books with food at their heart is the latest in our 'Five great books…' series.
Five great books with food at their heart.
TripFiction is all about that magical marriage between books and travel, allowing the reader to see a destination through an author's eyes. Add food in to the mix and you have a mouthwatering melange that will have you drooling over the pages of a book and checking flight schedules.
Here are five books set in different locations, but which all have food at the loving heart of their stories.
Chocolat by Joanne Harris – set in FRANCE
When an exotic stranger, Vianne Rocher, arrives in the French village of Lansquenet and opens a chocolate boutique directly opposite the church, Father Reynaud denounces her as a serious moral danger to his flock – especially as it is the beginning of Lent, the traditional season of self-denial.
As passions flare and the conflict escalates, the whole community takes sides. Can the solemnity of the Church compare with the sinful pleasure of a chocolate truffle?
The Food of Love by Anthony Capella – set in ROME
Laura Patterson is an American exchange student in Rome who, fed up with being inexpertly groped by her young Italian beaus, decides there's only one sure-fire way to find a sensual man: date a chef. Then she meets Tomasso, who's handsome, young — and cooks in the exclusive Templi restaurant. Perfect. Except, unbeknownst to Laura, Tomasso is in fact only a waiter at Templi — it's his shy friend Bruno who is the chef.
But Tomasso is the one who knows how to get the girls, and when Laura comes to dinner he persuades Bruno to help him with the charade. It works: the meal is a sensual feast, Laura is utterly seduced and Tomasso falls in lust. But it is Bruno, the real chef who has secretly prepared every dish Laura has eaten, who falls deeply and unrequitedly in love.
A delicious tale of Cyrano de Bergerac-style culinary seduction, but with sensual recipes instead of love poems.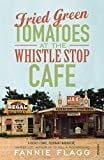 Fried Green Tomatoes at the Whistle Stop Cafe by Fannie Flagg – set in ALABAMA
The day Idgie Threadgoode and Ruth Jamison opened the Whistle Stop Cafe, the town took a turn for the better. It was the Depression and that cafe was a home from home for many of us. You could get eggs, grits, bacon, ham, coffee and a smile for 25 cents. Ruth was just the sweetest girl you ever met. And Idgie? She was a character, all right. You never saw anyone so headstrong. But how anybody could have thought she murdered that man is beyond me.
Fried Green Tomatoes at the Whistle Stop Cafe is a mouth-watering tale of love, laughter and mystery. It will lift your spirits and above all it will remind you of the secret to life: friends.
Like Water for Chocolate by Laura Esquivel – set in MEXICO
Like Water For Chocolate is a romantic, poignant tale, touched with moments of magic, graphic earthiness, bittersweet wit – and recipes.
A sumptuous feast of a novel, it relates the bizarre history of the all-female De La Garza family. Tita, the youngest daughter of the house, has been forbidden to marry, condemned by Mexican tradition to look after her mother until she dies. But Tita falls in love with Pedro, and he is seduced by the magical food she cooks. In desperation Pedro marries her sister Rosaura so that he can stay close to her.
For the next twenty-two years Tita and Pedro are forced to circle each other in unconsummated passion. Only a freakish chain of tragedies, bad luck and fate finally reunite them against all the odds.
The Mistress of Spices by Chitra Divakaruni – set in OAKLAND, CALIFORNIA
Tilo, an immigrant from India, runs an Indian spice shop in Oakland, California. While she dispenses the classic ingredients for curries and kormas, she also helps her customers to gain a more precious commodity: whatever they most desire. For Tilo is a Mistress of Spices, a priestess of the secret, magical powers of spices.
Through those who visit and revisit her shop – Ahuja's wife, caught in an unhappy, abusive marriage; Jagjit, the victim of racist attacks at school; the noisy bougainvillaea girls, rejecting the strict upbringing of their tradition-bound Indian parents; Haroun who drives a taxi and dreams the American dream – we get a glimpse into the life of the local Indian expatriate community. To each Tilo dispenses wisdom and the appropriate spice: coriander for sight; turmeric to erase wrinkles; cinnamon for finding friends; fenugreek to make a rejected wife desirable again; chillies for the cleansing of evil. But when a lonely American comes into the store, a troubled Tilo cannot find the right spice, for he arouses in her a forbidden desire, and following her own desires will destroy her magical powers.
Compelling and lyrical, full of heady scents and with more than a touch of humour, this novel explores the clash between East and West even as it unveils the universal mysteries of the human heart.
Andrew for the TripFiction Team
Do you know any other books with a strong culinary theme to add to our database? Please leave your thoughts in the Comments box below, and remember that you can buy any of these books through TripFiction by clicking on the bookseller links on any book page.
Further suggestions:
Aunty Lee's Delights by Ovidia Yu set in Singapore
The Thief Taker by Janet Gleeson set in 18th Century London
The Hunting Season by Tom Benjamin, set in modern Bologna (it's truffle season!)
Do come and join team TripFiction on Social Media:
Twitter (@TripFiction), Facebook (@TripFiction.Literarywanderlust), YouTube (TripFiction #Literarywanderlust), Instagram (@TripFiction) and Pinterest (@TripFiction)