Lead Review
Book: The Tiger Catcher
Location: London, Los Angeles
Author: Paullina Simons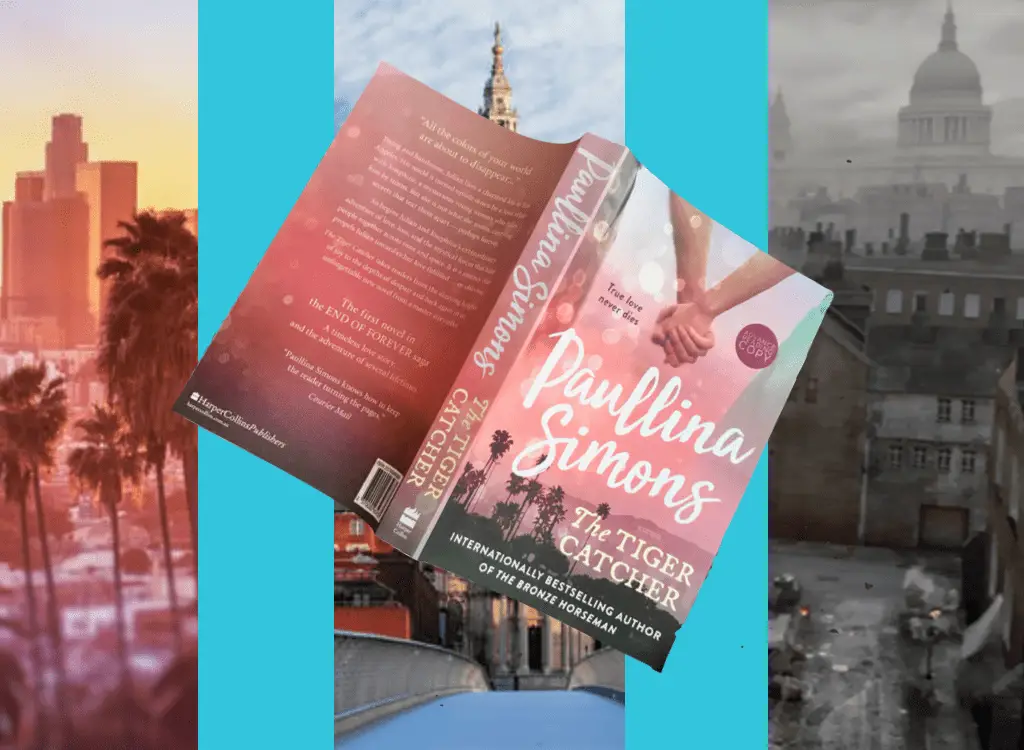 The opening chapters of The Tiger Catcher describe a conventional 'boy meets girl' love story. Los Angeles based Julian is in New York for a theatre weekend. He sees a play with an actress called Josephine Collins understudying for a non-appearing Nicole Kidman. He is fascinated by her.  Shortly afterwards he bumps into her in a book shop in Los Angeles – a city where she has gone for work. Over the coming weeks they have a passionate and all consuming love affair. They plan to get married – far too hasty say their friends. She has secrets and a past life. She dies in circumstances I won't describe for fear of a spoiler…
We then switch to London two years later. Julian has moved there and is in a state of anxiety and depression. He hold down a job – just. He is obsessed with finding Josephine again, and is addicted to the strong tranquillser, Klonopin. His friends from Los Angeles come over for his birthday, and are shocked at the state they find him in. By chance he comes across Devi, a shaman from Vietnam who runs a small restaurant and healing centre in the East End of London. Devi offers him a dangerous chance. He can go back in time and possibly encounter Josephine in one of her previous lives. But he won't be able to return to the present day. He heads to the Greenwich Observatory on the appointed day (there is only one in the year). At a precise time, he can access the Prime Meridian and be transported to a different time and place – but it proves to be a difficult and precarious journey. He ends up, in fact, in the same place – London – but in the year 1604, just after the death of Queen Elizabeth 1. He is led to Clerkenwell where he again meets Josephine (only she was then called Mary). She is the daughter of a grand family fallen on hard times, and is scheduled to marry a rather repulsive Lord to restore the family fortune. Mary and Julian fall madly in love (again). Julian's mind is still firmly in present times, but hers is not. He helps with sanitation and disease control in the midst of all the filth. She has no idea of the encounter they will have several centuries later. Their affair again ends in grief. Defying Devi's predictions, Julian returns to the present day.
As well as being both romantic and quite mysterious, The Tiger Catcher is also very witty. Julian travels to the early 17th century in a jacket with zip fastener, watch him explain that away! He also quotes lines from Shakespeare's plays that haven't yet been written. My funniest piece, though, is when he is waiting in a pub in Greenwich for the precise time to go to the Observatory. 'Julian ordered coffee and an ale. Both came at a temperature called room. He drank neither'.
The Tiger Catcher is quite brilliant in TripFiction location terms. There is a lot of detail about present day Los Angeles and present day London. But it is the description of early 17th century London that really excels. Julian puts the buildings that existed then (some of which still exist today) and the wide open spaces (Holborn was all fields) into the context of today's London. Extremely well done.
The Tiger Catcher is the first book of the End of Forever trilogy. The remaining two books are to be published – in true binge viewing manner – later this year. The first few pages of the next book, A Beggar's Kingdom, are previewed at the end of the edition that was sent to me. I suspect it will be a very worthwhile read.
This is a hard book to classify. At one level it is a story of two affairs between the same two people centuries apart. But is also a book that makes you think about the forces that bind people together across the divides of the universe.
Definitely recommended. Paullina is an extremely good writer.