Lead Review
Book: Elevator Pitch
Location: Manhattan
Author: Linwood Barclay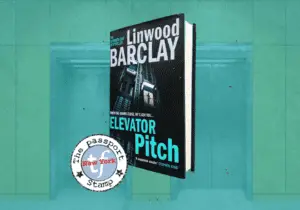 That's a clever title. An elevator pitch is the term otherwise used for making a quick business presentation, short and sharp, taking only the time it would take to make a short ride in an elevator. And now, in this book, passengers are pitching to their deaths as elevators plummet through the floors of the skyscraper buildings! Nightmare stuff, eh? And yes, I will be circumspect when I next get into a lift! Those shafts are very deep, an elevator can tumble an awful long way. Just think of the viewing platform on The Empire State Building at floor 102. It's a long way down (oh, and up!). It is also impossible to get to the top without an elevator unless you are super fit – and even then I imagine it would take the determination of a long distance runner to ascend that many floors!
So here we are in Manhattan under the guardianship of Mayor Richard Headley. He is a politician for our times, pretty grim and bullying, though as nice as pie when he needs to be. He is faced with 70,000 elevators across the city, that all need servicing after a string of 'failures' have led to several deaths. A vertical city without its elevator facilities is unthinkable.
Several strands chequer the narrative: One of the early victims is a Russian pathogen expert. Could she have been a target? The body of a man with his fingertips missing is found on the High Line. How might he – if at all – be connected to the bigger scene developing across the city? The Flyovers is an extremist group, intent on getting focus away from the entitled population living on the East and West Coasts and bringing the needs of the people who live in the middle – in the flyover country – to the fore. They are accused of planting bombs in Boston and now it seems they have come to New York.
Barbara Matheson is an investigative journalist and this is her city. She has a sharp nose for a story and she can soon see links emerging.
This novel bowls along at a cracking pace. The storylines provide a good number of false leads and red herrings. Perhaps a touch too many threads, but the author nevertheless pulls them together convincingly. What he does very well is to bring to life the setting, and New York gets a good and credible look-in.