Lead Review (Roman Stories)
Book: Roman Stories
Location: Rome
Author: Jhumpa Lahiri
3.5*
Billed as an evocative fresco of Rome, the most alluring character of all…..
Nameless people process through various scenarios, often outsiders, as they grapple with some of life's big questions. And, as one may anticipate from the title,  the stories are all set against a Roman backdrop. The characters are sometimes not in the best of health, they are home-sick but the reader discovers their place in the city.
The opening story titled the Boundary is the arrival of a family living in a holiday cottage in the country (that appears to be outside the city), observed from the neighbouring property by the person who is hosting them. Their comings and goings are detailed as the days roll past.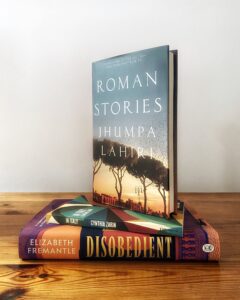 The story of P's Parties see a regular group of people gathering every year, and an inappropriate lunge by the male narrator puts everything into a tailspin (there are quite a few male narrators, interesting given the author is female).
Later in the collection there is a set of stairs where people gather and individual stories are painted. An older woman lets in a couple of carabinieri, who prove to be imposters. Young people hang around of an evening, shooting the breeze.
In many ways these stories are everyday stories, simple, evocative and told with a graceful hand. They are contemplative at many levels. The author translated several herself and used the services of translator Todd Portnowitz for three of them. Some of the stories felt just a little flat and lacklustre at times, with a slow and pensive tone but there is no doubting her talent for telling a good story.
And what of Rome? I have recently been to the city and therefore I was delighted to discover this book, I mean, just look at the cover! However, the stories could have been set almost anywhere, the descriptions are so generic, and although Rome is central to the narratives, it did not really shine through for me. Rome is a dark, crumbling place, full of contrast and colour, darkness and light, history, noise, people, traffic and somehow the short stories don't really (contrary to various reviews and the synopsis provided on the jacket) reverberate with the pulse of the city. The Litmus test might be that if references to actual recognisable sights are removed (and there is a paucity of mentions anyway) – like the Ponte Sisto and Lungotevere – then the bulk of the narrative should still enable a reader to pinpoint the country, at the very least. Here, it wouldn't.
The irony of this fairly weak depiction of location is that the author is renowned for having once said: "That's the thing about books. They let you travel without moving your feet".