10 Children's and YA Books for Refugee Week
18th June 2021
To mark Refugee Week (14th – 20th June 2021) our Kid's Lit Writer in Residence has complied a booklist of 10 extraordinary, hard-hitting children's and YA books that raise awareness of the refugee crisis. For more information about Refugee Week and this year's theme, We Cannot Walk Alone, visit refugeeweek.org.uk.
refugee/rɛfjʊˈdʒiː/ :  A person who has been forced to leave their country in order to escape war, persecution, or natural disaster.
Boy, Everywhere by A. M. Dassu (age 10+) – SYRIA, TURKEY, UK
Cover artwork by Daby Zainab Faidhi
This debut middle-grade novel chronicles the harrowing journey taken by Sami and his family from privilege to poverty, across countries and continents, from a comfortable life in Damascus, via a smuggler's den in Turkey, to a prison in Manchester. A story of survival, of family, of bravery… In a world where we are told to see refugees as the 'other', this story will remind readers that 'they' are also 'us'.
When Stars Are Scattered by Victoria Jamieson and Omar Mohamed (age 8+) – KENYA, AFRICA
Colour by Iman Geddy
A heart-wrenching true story about two Somali boys and their life in a Kenyan refugee camp.  Omar and his brother Hassan have spent a long time in the Dadaab refugee camp. Separated from their mother, they are looked after by a friendly stranger. Life in the camp isn't always easy, but there's football to look forward to, and now there's a chance Omar will get to go to school…
Tomorrow by Nadine Kaadan (age 5+) – SYRIA
Yazan no longer goes to the park to play, and he no longer sees his friend who lives next door. Everything around him is changing. His parents sit in front of the television with the news turned up LOUD and Yazan's little red bike leans forgotten against the wall. Will he ever be able to go outside and play?
An uplifting story about a courageous little boy growing up in a time of conflict, and the strength of family love.
Samira Surfs by Rukhsanna Guidroz (age 9+) – BANGLADESH
Illustrated by Fahmida Azim
A middle grade novel-in-verse about Samira, an eleven-year-old Rohingya refugee living in Cox's Bazar, Bangladesh, who finds peace and empowerment in a local surf club for girls.
The Bone Sparrow by Zana Fraillon (YA) – AUSTRALIA
Born in a refugee camp, all Subhi knows of the world is that he's at least 19 fence diamonds high, the nice Jackets never stay long, and at night he dreams that the sea finds its way to his tent, bringing with it unusual treasures. And one day it brings him Jimmie. As Subhi and Jimmie strikes up an unlikely friendship beyond the fence both children discover the importance of their own stories in writing their futures.
Jude never thought she'd be leaving her beloved older brother and father behind, all the way across the ocean in Syria. But when things in her hometown start becoming volatile, Jude and her mother are sent to live in Cincinnati with relatives. Life in America isn't like the movies that Jude has always loved but a few unexpected surprises makes American a place where Jude can be seen as she really is. Written in verse.
Illustrated by Carmen Vela
Throughout history, ordinary people have been forced to leave their families and homes because of war, famine, slavery, intolerance, economic and political upheaval, or climate change. These remarkable true stories of escape show how courageous people all around the world have overcome seemingly insurmountable obstacles in their flight to freedom.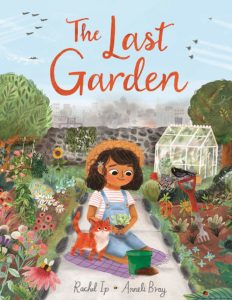 Illustrated by Anneli Bray
In a war-torn city, a little girl tends to the last garden. But everyone is leaving and soon the girl has to leave too. The garden is all alone now but soon the seeds scatter throughout the city and the roots take hold.
Inspired by true events in Syria and war gardens around the world and throughout history.
Illustrated by Jackie Roche
From the pen of former Lebanon Star reporter Samya Kullab comes a breathtaking and hard-hitting story of one family's struggle to survive in the face of war, displacement, poverty and relocation.
Kiss the Dust by Elizabeth Laird (age 9+) – IRAQ
Tara is an ordinary teenager. Although her country, Kurdistan, is caught up in a war, the fighting seems far away. It hasn't really touched her. Until now. The secret police are closing in. Tara and her family must flee to the mountains with only the few things they can carry. It is a hard and dangerous journey – but their struggles have only just begun. Will anywhere feel like home again?
The TripFiction Kid's Lit Writer in Residence
Join team TripFiction on Social Media:
Twitter (@TripFiction), Facebook (@TripFiction.Literarywanderlust), YouTube (TripFiction #Literarywanderlust), Instagram (@TripFiction) and Pinterest (@TripFiction)