10 MORE Children and YA Books for Refugee Week
20th June 2021
To mark Refugee Week (14th – 20th June 2021) our Kid's Lit Writer in Residence has complied a booklist of 10 extraordinary, hard-hitting children's and YA books that raise awareness of the refugee crisis. For more information about Refugee Week and this year's theme, We Cannot Walk Alone, visit refugeeweek.org.uk.
refugee/rɛfjʊˈdʒiː/ :  A person who has been forced to leave their country in order to escape war, persecution, or natural disaster.
A House Without Walls by Elizabeth Laird (age 9+) – SYRIA AND JORDAN
Thirteen-year-old Safiya and her family have been driven out of Syria by civil war. Safiya knows how lucky she is to be alive but it's hard to feel grateful when she's forced to look after her father and brother rather than go back to school, and now that she's lost her home, she's lonelier than ever. As they struggle to rebuild their lives, Safiya realizes that her family has always been incomplete and with her own future in the balance, it's time to uncover the secrets that war has kept buried.
The Lines We Cross by Randa Abdel-Fattah (YA) – AUSTRALIA
Michael is drawn to his new classmate Mina, but they're on opposite sides of an issue that's tearing their town apart. His parents are part of an anti-immigration group, while her family have fled their besieged home in Afghanistan. As tensions rise, lines are drawn and both must decide what they want their world to look like, no matter the cost.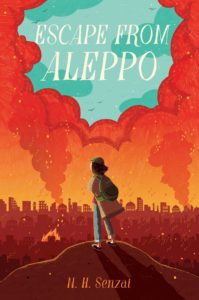 Escape from Aleppo by N. H. Senzai (age 9+) – ALEPPO, SYRIA
It's December 17, 2010: Nadia's twelfth birthday and the beginning of the Arab Spring. As civil war flares in Syria and bombs fall across Aleppo, Nadia and her family are forced to flee their home for safety.
Illustrated by Rob Biddulph
Tash has to follow many rules to survive in Tibet, a country occupied by Chinese soldiers. But when a man sets himself on fire in protest and soldiers seize Tash's parents, she and her best friend Sam must break the rules. They are determined to escape Tibet – and seek the help of the Dalai Lama himself in India.
Illustrated by Beidi Guo
Readers will be entranced by the true story of a cat that becomes separated from his family when they flee Iraq and become refugees in Europe. Their reunion will bring tears to the coldest heart.
Salt to the Sea by Ruta Sepetys (YA) – GERMANY
It's early 1945 and a group of people trek across Germany, bound together by their desperation to reach the ship that can take them away from the war-ravaged land. Four young people, each haunted by their own dark secret, narrate their unforgettable stories.
Based on a true story from the Second World War when the German ship the Wilhelm Gustloff carrying over 9000 civilian refugees on board, sunk in port in early 1945.
The Paper Boat by Thao Lam (age 6+) – VIETNAM
In The Paper Boat, Thao's signature collage art tells the wordless story of one family's escape from war-torn Vietnam – a perilous journey intertwined with an ant colony's parallel narrative.
The Unforgotten Coat by Frank Cottrell Boyce (age 9+) – MONGOLIA AND LIVERPOOL, UK
Two refugee brothers from Mongolia are determined to fit in with their Liverpool schoolmates, but bring so much of Mongolia to Bootle that their new friend and guide, Julie, is hard-pressed to know truth from fantasy. Told with the humour, warmth and brilliance of detail which characterizes Frank Cottrell Boyce's writing, readers will be transported from the streets of Liverpool to the steppe of Mongolia.
What if you had to leave your home and you could never go back? For millions of Syrian and Iraqi citizens (and for people from many other nations around the world), this is a reality. Far From Home is a sensitive and accessible account of the refugee crisis facing millions around the world.
The Eleventh Trade by Alyssa Hollingsworth (age 9+) – AFGHANISTAN AND BOSTON, USA
Back in Afghanistan, before the Taliban came, Sami's grandfather was a famous musician. People would come from miles around and pay thousands to hear him play the rebab. Now Sami and his grandfather are refugees living in Boston. The rebab is their most valuable possession and a reminder of home. Then one terrible day, the rebab is stolen. Sami resolves to get the rebab back as a surprise for Eid and finds that there are all kinds of people willing to help.
For more kid's lit recommendations for Refugee Week check out our 10 Children's and YA Books for Refugee Week booklist.
The TripFiction Kid's Lit Writer in Residence
Join team TripFiction on Social Media:
Twitter (@TripFiction), Facebook (@TripFiction.Literarywanderlust), YouTube (TripFiction #Literarywanderlust), Instagram (@TripFiction) and Pinterest (@TripFiction)