A very dark Norwegian thriller (plus location piece by the author…)
16th June 2017
Wolves in the Dark by Gunnar Staalesen, translated by Don Bartlett – a very dark Norwegian thriller.
Our review plus a piece about Bergen written by Gunnar especially for TripFiction.
Imagine being woken at 7.00am by police ringing your doorbell loudly. Imagine them confiscating your computer containing unimaginable images of child pornography – with you actually participating in some of the scenes. Imagine believing you are 100% innocent, but not knowing how to start to defend yourself against such accusations. And, of course, the lingering fear that 100% might in fact be only 99% – you have an alcohol problem and have no memory of several nights in the recent past… what might have happened during one of those drinking sessions? Self doubt kicks in.
This is what happens to private detective, Varg Veum, in the opening chapter of Wolves in the Dark. And this is where his nightmare begins…He is arrested and taken to the local Bergen police station for questioning. He manages (a little easily it must be said…) to escape during a bathroom break. With only his girlfriend, Sølvi, to aid him he goes into hiding. And begins to try and work out what is happening. Someone must be out to get him… but who exactly and why? He goes back in his mind over recent cases. Who has he offended so much that such vengeance could be deemed appropriate, and who has the technological expertise needed to infiltrate his computer and place the material on it? Veum's investigations lead him into the underbelly of life in Bergen – vice traffickers, computer hackers, and the plain old fashioned criminal fraternity. It is fast paced and exciting story that moves to a thrilling – and unexpected – conclusion.
This is an excellent book for TripFiction's armchair or actual travellers. A map of Bergen precedes the first chapter and it is easy to follow the plot around the city. Staalesen is a native of Bergen, and his intimate knowledge shows. You can almost feel you are there…
Wolves in the Dark is the sixteenth book in the Varg Veum series, going back over 40 years! It is very well translated by Don Bartlett. The subject matter is distasteful, and it is quite a brave man who would choose to write in such areas. Staalesen does, though, pull it off. Wolves in the Dark is an exciting and well constructed thriller, covering pretty dark subject matter. A great addition to the world of Scandi Noir.
Tony for the TripFiction team
Now over the Gunnar for his piece about Bergen…
Bergen in the Dark
Two months before I was born, my parents moved to Bergen from Oslo, because my father had got a job as a teacher in a school here. I'm very happy that it was Bergen they settled in, because, 27 years later, when I published my first crime novel, I realised that Bergen was the perfect setting for romans noirs, to use the French expression.
Walking around Bergen is, indeed, like taking a tour of a film noir set, with its dark narrow streets, cobblestones and asphalt wet with rain – yes, it rains in Bergen for 250 days of the year (more or less) – not to mention the femmes fatales around every corner.
Bergen is an old city; a city by the sea. In the medieval era, the crime rate was higher here than it was in Harlem, New York in the 1970s. They could have used a private eye in town back then. What they got, however, was the Black Death.
Bergen is surrounded by seven mountains, or so it is said – mainly because seven is a sacred number. In reality there are either six or nine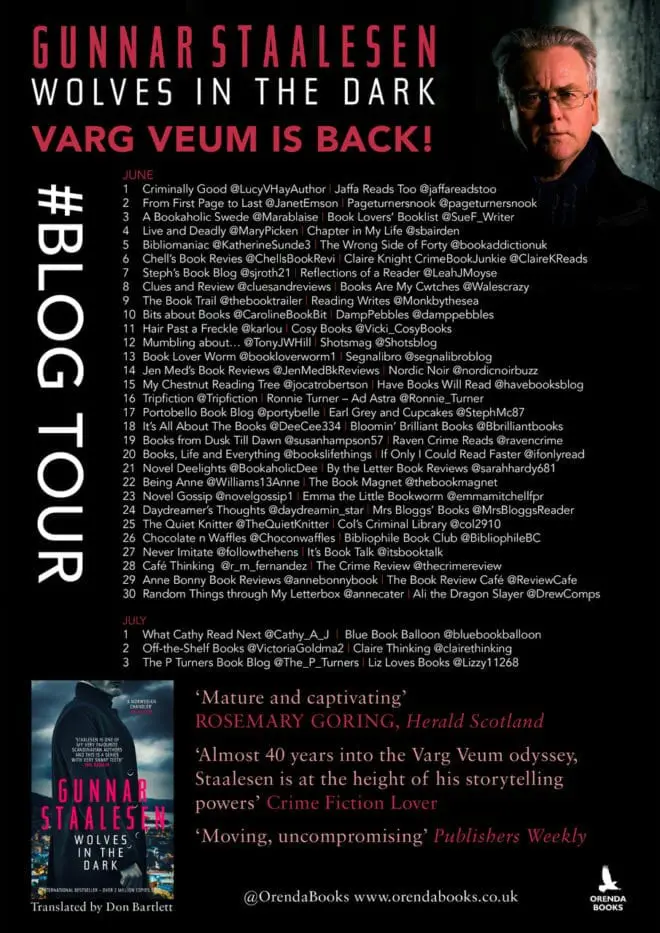 mountains, depending on which ones you count. However many there are, nature can be seen, close by, throughout the year. If you have drunk a whole bottle of aquavit (as Varg Veum, in the dark periods of his life, has done), you are never in doubt when you look out of the window next morning whether it is winter, spring, summer or autumn. You just have to take a look at the mountains.
For a writer, Bergen is the perfect city. Each of its various parts has a specific soul, so when you travel through them in the company of Varg Veum, and meet the Bergen people, you find they are all different from each other. One thing they have in common, though, is that they all speak a lot. As a wise man once said, there is nothing as quiet as a dead man from Bergen.
In Wolves in the Dark most of the action takes place in Bergen, and many of the important incidents occur in the central peninsular of the city, which is known as Nordnes. As this is where both Varg Veum and I grew up, we both know every corner of it. Much of this part of town was destroyed during World War II, partly by British bombers that were trying to hit German ships in the harbor; partly because of a big explosion in the harbour that took place on 20 April 1944. As a result, in this neighbourhood there is a mixture of modern, postwar buildings and small wooden houses, mostly built in the 18th century. Varg was born in Nordnes and I arrived when I was six, from another part of the city.
If you read the whole Varg Veum series – and I hope you will – you will get to know Bergen almost as well as the people who have lived there their whole lives. My settings, however, change from book to book. Last year, in Where Roses Never Die, you'll have spent most of your time in a modern part of town, Nordås. This time you will be in Nordnes and Sandviken, the older areas; and, for part of it, in the state prison in Åsane, a suburb that, with 30 thousand inhabitants, is itself the size of many other Norwegian towns.

You'll travel out of town, too. You do not have to go far in Bergen before you need to take a ferry to cross the fjord, at least if you're driving your own car. In Wolves in the Dark Varg has to go to a nearby district called Fusa, which is not as beautiful as Hardanger or the Sognefjord area, but is nevertheless exotic for a British reader, with its fjords, mountains, dark woods and, from time to time, blue sky above (although most of the time, as you'll have understood, the sky is grey).
As a writer I love describing landscapes, both urban and rural. To get these pictures right, I always take a trip to the area I'm writing about. I look around, visit a cemetery, speak to some people (if necessary), visit the local police station and take a cup of coffee in a local café. When you read chapter nine of Wolves in the Dark, I can assure you that the old men in the local café speaking about 'ice jigging' on Lake Skogseid are as authentic as they come.
So, welcome to Fusa. And welcome to Bergen, the city of rain, where private detectives flourish in the dark…
A big thank you to Gunnar for this brilliant piece! 
And do come and join team TripFiction on Social Media:
Twitter (@TripFiction), Facebook (@TripFiction.Literarywanderlust), YouTube (TripFiction #Literarywanderlust), Instagram (@TripFiction) and Pinterest (@TripFiction)
For more books set in BERGEN, just click here!