One Day We Had to Run: An Interview with Ming and Wah Chen
19th June 2021
To mark Refugee Week (14th – 20th June) our Kid's Lit Writer in Residence had the honour of interviewing identical twins and co-authoresses Ming and Wah Chen. Their new children's book Escape: One Day We Had to Run (Lantana Publishing 2021) is a collection of remarkable true stories of escape – whether it's due to war, famine, slavery, intolerance, economic and political upheaval, or climate change – and how courageous people all around the world have overcome seemingly insurmountable obstacles in their flight to freedom.
Purchase Escape from Lantana Publishing's online bookshop here and they'll donate a copy to their charity partners.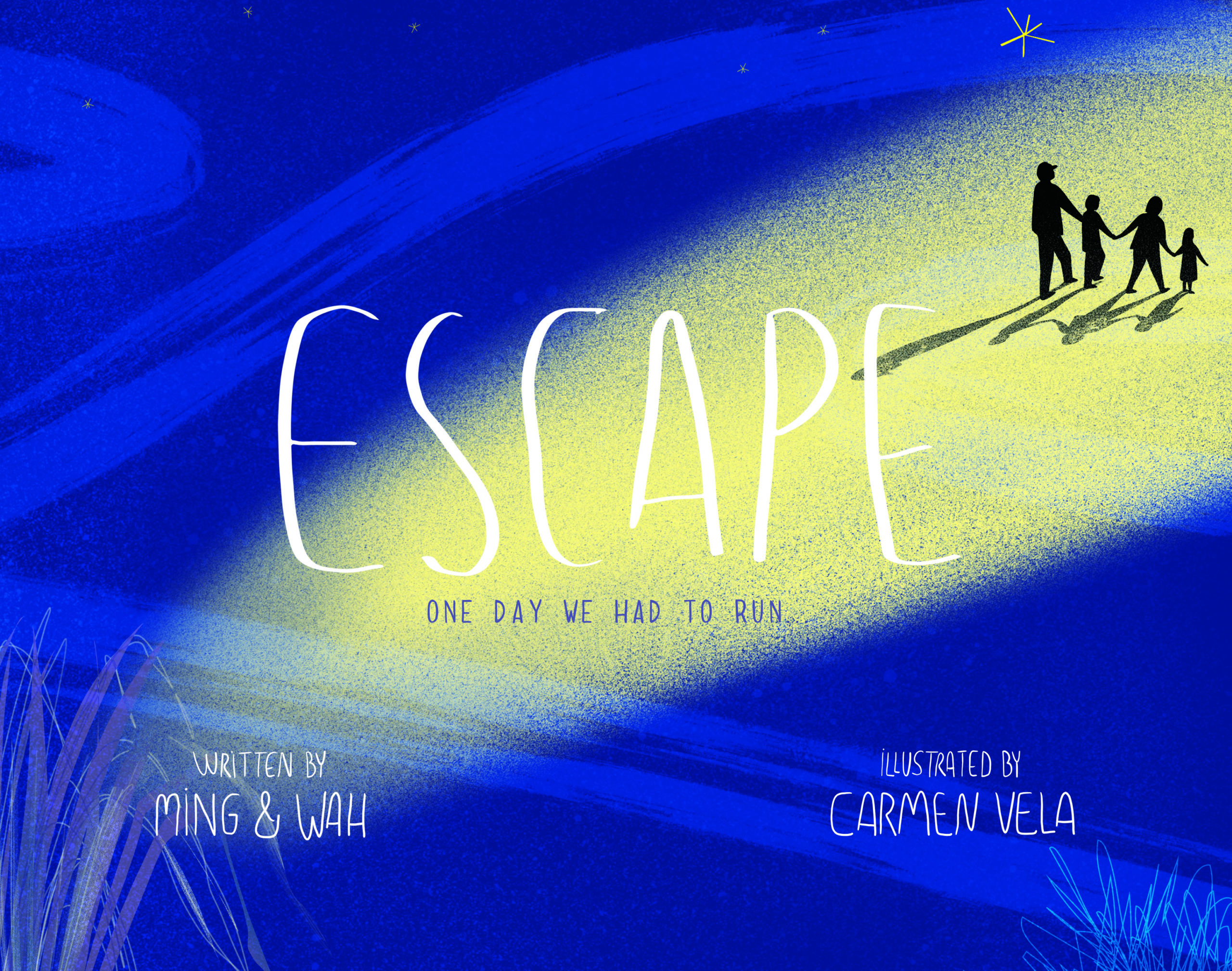 ESCAPE includes twelve true stories of survival made by asylum seekers, refugees and migrants throughout history and across geographies. What made you want to tell these stories in particular, and did you face any particular challenges when making your selection?
Our first verb was SWIM. Our own childhood nanny escaped impoverished circumstances in Mainland China by swimming from southern tip of China to British Hong Kong.  We were always intrigued by her journey, which was not uncommon during the 1950s, 60s, and 70s.  We quickly realized there were even more incredible migrant stories, and saw an easy template to create a more robust picture book around different historic episodes of escape.  We grew up loving words and really enjoyed brainstorming idiosyncratic verbs.  We had drafted a few verbs like HOODWINK (Tehran, Iran 1979-1980), FORD (North Korea 1990s-2000s), THRASH (Cambodia 1970s), and HIDE (Rwanda 1994), but those verbs did not ultimately make it into the final book.
Can you tell us a little bit more about the research you underwent when writing ESCAPE?
Luckily, there is plethora of sources at our fingertips online: radio interviews, books, newspaper articles, autobiographies, even you-tube!  DART is based on my (Wah's) colleague's own journey from a small town in Mexico to Los Angeles crossing the Tijuana / San Diego border at night, running across the freeway and walking through the hills.
Aimed for readers 7+, why was writing this book for children important to you?
Children's books are deceptively simple and yet enormously powerful in evocatively showing and telling important stories.   
Your stories touch on a number of heart-wrenching reasons why people have been forced to flee their homes, from war and famine, to political upheaval and climate change. How much of an impact do you think children's books and storytelling can have in making a difference on the future of our planet?
The American philosopher Ralph Waldo Emerson said "The creation of thousands of forests is in one acorn" which is how we think of the potential impact of one children's book.   A book is a window into different worlds, some utopian, some dystopian, others ordinary, but every story has the potential to shift a reader's perspective and broaden someone's mind.

ESCAPE is a remarkable testament to the courage, determination, and resilience people from all around the world have. Who are your top inspirational role models?
We admire every contemporary and historic hero and heroine we feature in Escape from Wah's upbeat and optimistic colleague Laura who left Mexico to the Chinese diplomat in Austria Feng Shan Ho who helped so many desperate to leave a dangerous place.
ESCAPE is a remarkable testament to the courage, determination, and resilience people from all around the world have. What do you hope readers take away from ESCAPE?
At a time when we have an unprecedented number of migrant children coming from Central America thru Mexico to the United States, many as unaccompanied minors fleeing poverty, gang violence and natural disasters, we hope our readers will connect to the feelings and reasons why people leave their home, their families, their familiar.
Do you have any recommendations (platforms, charities, books) that readers can seek and research further after reading ESCAPE?
Emma's Torch is a wonderful coffee shop and non- profit (www.emmastorch.org) in Brooklyn New York that is committed to teaching refugees culinary skills. The United Nations High Commission on Refugees also does really important, substantive, and wonderful work.
June 20th is World Refugee Day. How do you mark this day, and how much has this changed for you in the times of COVID?
Around World Refugee Day we hope to join our childhood friend who is also a doctor to do water drops with borderangels.org at the San Diego Mexican border.
We would also like our children who age between ten and seventeen to pause and think and talk about the backgrounds of people they know, like their Shanghai born maternal grandparents, and their personal histories of immigration.
As co-authors, how do you each manage your time writing?
Ming & I have very active lives as extroverted working mothers, so we have to purposefully schedule bursts of concentrated creative effort.  We love to hole up and write in our hometown Millburn Public Library in New Jersey or The Pennisula Hotel in Kowloon, Hong Kong. 
What's the best writing advice you've ever been given, and do you have any tips for aspiring children's writers?
Take your writing seriously and get it done. Finish what you start.  Muddle through the middle to get a first draft. Join the Society of Children's Books Writers and Illustrators if you are serious about being a children's book writer: www.scbwi.org.
What's next for your writing journey?
We are working on another non-fiction picture book we hope Lantana will publish, and also writing a middle grade historical fiction picture book.
This question is about your favourite children's/YA books. What's a book you loved as a child, a book you love now, and a book you can't wait to read? 
We loved historic fiction and adventure stories like The Scarlett Pimpernel and Snow Treasure. We love Charlotte's Web. Every year we always can't wait to read the Caldecott and Newbery Award Winners!!
If you could invite any five people – past and present, real and fictional – to a dinner party, who would you invite and why?
Anthony Horowitz because we love Foyles War, Agatha Christie, Hercules Poirot, Miss Marple, and Sebastian Flyte aka Anthony Andrews in Brideshead Revisited with his teddy bear Sebastian of course.
Finally, we'd love to know three random/interesting facts about you!
Ming is four minutes Wah's senior.
Ming now lives in Hong Kong and Wah in Los Angeles. 
Ming has run more than 70 marathons and Wah has run 18
Purchase Escape from Lantana Publishing's online bookshop here and they'll donate a copy to their charity partners.
Ming and Wah Chen are identical twins who love history, plucky heroes, and anything by Agatha Christie. Graduates of Harvard and Columbia Universities respectively, they have previously published two children's books and live in Hong Kong and Los Angeles. Carmen Vela is an independent art director, designer and illustrator from Spain. For over a decade she has been living between Hong Kong, Brooklyn, and Europe, fueled by her love of books, paper and stories.
For more information check out their website at mingandwah.com and catch them on twitter @mingandwah.
The TripFiction Kid's Lit Writer in Residenc
Join team TripFiction on Social Media:
Twitter (@TripFiction), Facebook (@TripFiction.Literarywanderlust), YouTube (TripFiction #Literarywanderlust), Instagram (@TripFiction) and Pinterest (@TripFiction)