An introspective novel set in PALESTINE and NEW YORK
14th May 2022
My Name is Adam – Children of the Ghetto: Volume 1 by Elias Khoury, an introspective novel set in Palestine and New York.
A fictitious version of the author Elias Khoury receives an unpublished manuscript from an author who committed suicide, and decides to go ahead and publish. The result is an intensely introspective novel that often reads like memoir and contains a strong metanarrative making for a rich if at times challenging experience.
My Name is Adam is a story of exiles, the main character Adam Dannoun striving to make sense of the senseless. Striving to come to terms with his childhood in the barb-wire ringed ghetto that was Lydda after the caravan of death – the forced march of tens of thousands of Palestinians in 1948, during the Nakba, the founding of the Jewish state. Adam struggles with the shame, the wishing to forget and the forcing of the self to remember, with coming to terms with a past impossible to come to terms with, to resolve the unresolvable.
Adam, thanks to his fair hair and non-Arabic name, was able to lie, pretend to be Jewish, something his mother facilitated by sending him to a Jewish school. With his fair hair and his education, Adam was also able to escape Lydda, which he did. But he left his mother behind.
The first hundred pages of the novel are a long preamble. In this section, extracts from a notebook depict Adam's various attempts to write a novel, including the many false starts as he attempts of find a point of entry into the story of Lydda through the life of acclaimed Yemeni poet Waddah-al-Yaman. He then abandons the project and decides to write the truth.
Via Adam, Khoury then leads his readers in and out of the storytelling, getting up close in scenes of Lydda in the 1940s and then pulling right back to contemporary New York in the days and weeks prior to Adam's death. This fragmented style leaves the reader with a sense of instability, as though the novel itself sets out to disorient. Khoury refuses to settle on one single definitive view of history, but rather, shifts the camera angle, offering multiple positions, which mirror the ever-changing nature of reflection on a past filled with anguish.
The character of Adam Dannoun is exceptionally well-crafted. The writing brims with bitter irony, not least when Adam refers to the ghetto. He is referring to Lydda, not Warsaw. He recalls the day in his childhood when he came to understand the meaning of the word trauma through the context of the Jewish ghetto and not his own Palestinian example. It is this wrestling with truth and meaning, with forgetting and remembering – in the context of war or Nakba that remains the reality for Palestine – that is this novel's strength. Khoury has penned a novel that tackles head on a topic that is difficult to come to terms with and is certainly unconscionable, that those who had only just lived through and survived the traumatic atrocities that were the persecutions of the Jewish people before and during World War Two, then meted out similar atrocities on their Arab neighbours.
I cannot recommend this novel for its entertainment value because it is a difficult read. As a work of art and as an important moral narrative worthy of our consideration, I do recommend this book. My Name is Adam is definitely for the literary among us.
Isobel Blackthorn for the TripFiction Team
Guest Review by Isobel Blackthorn
Isobel is a prolific Australian novelist. She writes both contemporary/literary, thrillers and dark fiction. Follow her on Facebook, Twitter and via her website.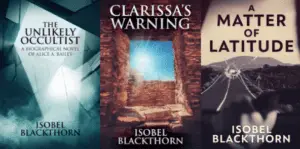 Join team TripFiction on Social Media:
Twitter (@TripFiction), Facebook (@TripFiction.Literarywanderlust), YouTube (TripFiction #Literarywanderlust), Instagram (@TripFiction) and Pinterest (@TripFiction)