As an author, do you need to visit the setting of your book for authenticity?
31st July 2021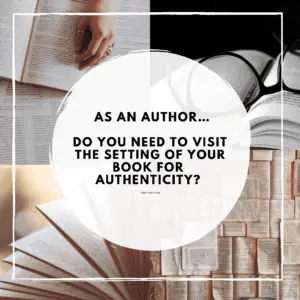 As an author, do you need to visit the setting of your book for authenticity?
I have just finished reading All At Sea: Another Side of Paradise by Julian Sayarer, which is a wonderfully evocative memoir set largely in Surin in the Andaman Sea. He is also the author of Interstate, which in 2016 won the Stanford Dolman Travel Book of the Year. He creates an incredible backdrop where you can feel the heat and smell the food and, just… so much more.
I then happened to see a question posed on Twitter by Eliza Crane, who asked: Can you write a story in a setting of somewhere you've never been? It got me thinking. If you are of course writing about Mars or Sci-Fi or Hell, then I am not factoring those in here, because obviously you have to write from your imagination. No, I am thinking about real life geographical places around the world, ones that you could – given the opportunity – visit.
I have just read Rosanna Ley's latest novel, The Orange Grove, set in Seville and it is just SO clear that she has visited. She is a doyenne at creating an incredibly tactile setting and in this novel you can almost touch the Bitter Orange Blossom that flowers in the Spring in this wonderful city (and we are delighted to say that she will be one of our judges for our second "Sense of Place Creative Writing Competition" which will be open for submissions at the end of August 2021).
David Hewson – who wonderfully sets his novel across Italy – is another author who is passionate about creating convincing settings for his novels. He has some wise words on the subject:
All too often newbie writers try to deal with location by describing places. This isn't enough. If someone asked you to describe that fantastic holiday on the Amalfi coast, for example, I doubt you'd come up with more than ten or so adjectives. We store our memories through our senses. How hot was it? Dry heat or humid? What did it smell like, fragrant with flowers or smelly with diesel? Was the sea calm or rough and noisy? Did you get bothered by dogs barking or kept awake by chirruping crickets? And the food… good, bad, indifferent?
All these small items go up to making the jigsaw pieces of a fictional world. They need to be treated with care. It's a novel you're writing here, not a guidebook.
Victoria Hislop – famed for her books set in Greece – (who we are delighted to confirm will also be on our judging panel
for the TF Sense of Place Creative Writing Competition this Autumn), is a firm advocate of visiting locale. She says:
Spend lots of time in the place where you are setting your writing.  Sit, observe, listen, breathe in the scents, eat the food (Manchester, Melbourne or Mykonos, it doesn't matter).  All five senses can be stirred by the location where a story is set and all of them can make a setting distinctive.
How often have you read a book where the narrative whizzes you around the city without real attention to detail – and yet the setting is labelled as "strong"? It might be hot, but is it more Dar Es Salaam than Durban, or could London pass for Liverpool? Some novels are like a guidebook on speed, as David has mentioned. You want to build a picture of the location in a reader's mind, so that they are sufficiently engaged to want to visit, not take a tour of the obvious sites.
Curiously, I have recently read three novels set in Africa and you could clearly tell from each that the author has never been in person – there was a preoccupation with heat and colour and a bit of savannah (and throw in the odd baobab tree, a monkey or two and some scary insects), but honestly, the setting could have been anywhere hot and arid. Once again David muses: "I have an acid test for everything I write: could you take this story and rip it out of Rome, say, and drop it into Copenhagen without a worry? If the answer's yes… something's wrong."
Over these last 18 months we have not been able to travel so imagination has had to go into overdrive for so many authors. We live in an age where research can be carried out at the drop of a hat. It's all there on the internet. And a lot of authors do a good job in bringing locale to life by trawling the internet. But, so often you can really tell that the location is not their unique interpretation, they haven't experienced it first hand. The nuanced observations, the tiny bits of information that you glean from being 'there' are the elements that invariably make the difference between a decent setting and a great setting.
For sure, time, money and opportunity are inhibitors for many to be able to have the immersive experience in the chosen location. I could, for example, imagine what Paris is like, I could research, I could watch movies and read novels (of course!), but until I visited, I had no real sense of the people who live in the space, the specific echoes of footsteps in the streets which are unique to each location and arrondissement (yes, really); right down to the different smells that need to be evoked and which distinguish Paris from London and Berlin (just think of the different and unique smells the underground railways have in each city and how different they are, you could close your eyes and recognise the city from the smell!). A broad brush of the location is just the starting point on the canvas but key is then how the specific details are worked into the literary canvas.
Researching in situ is therefore hugely important if the readers are likely to have visited. They will in turn bring their own interpretations to a story and its setting and woe betide any author who muddles the campo and calli of Venice and sets them in the incorrect part of town! Few people are likely to have visited Antarctica and so conjuring up a a convincing setting is a different challenge. There are plenty of blogs out there on what it's like to be on a research station, what it's like to be closeted in close confines for several months of the year with a handful of people and what the vast expanse of snow terrain feels like. And what 8 months of darkness feels like (check out Emma Haughton's locked room mystery 'The Dark' set on a research station there.
What about novels set in history, when you can't actually visit a place. Just look at London, how many opportunities exist in order to be able to imbibe the sense of footsteps past, from the Roman period (think museums) through medieval (cobble streets, Tower of London) to Dickens' city (Harriet Clugston over on CultureTrip has top tips to connect with Victorian London).
It's a tricky one, isn't it? For real authenticity, however, I do think you need to be personally familiar with your setting if your readers are likely to have visited themselves, because only that way can you really convey your unique experiences to your readers and enable them to see the location through your eyes.
Do let us know your thoughts in the comments below!
Tina for the TripFiction Team
Join Team TripFiction on Social Media:
Twitter (@TripFiction), Facebook (@TripFiction.Literarywanderlust), YouTube (TripFiction #Literarywanderlust), Instagram (@TripFiction) and Pinterest (@TripFiction)