Author Benjamin Black talks to us about Prague – #TFBookClub
5th June 2017
#TalkingLocationWith…. author Benjamin Black
During May and early June 2017 we have been reading Prague Nights by Benjamin Black and to wrap up we have a wonderful piece about the author's thoughts on Prague as the setting for his historical novel
Catch our readers' discussions of the Prague Nights with #TFBookClub here. Over to Benjamin Black…..
Prague Days….
'Prague doesn't let go,' Franz Kafka famously wrote. 'This little mother has claws . . .' The sentiment will be echoed, in less rueful terms, by anyone who has visited the city on the Vltava, supposedly one of the three European 'capitals of magic'—the other two being Turin and Lyon—and succumbed to the dark and sometimes sinister charm of the place. I was lucky to go there first in the early 1980s, when the Soviet Union seemed set to last forever, and Praguers, intellectuals especially, were trapped in a political and cultural permafrost that, paradoxically, provided far greater artistic stimulus than the flabby old West could offer.
By the time I got to Prague I had already published a novel set there—Kepler, based on the life of the 17th-century astronomer Johannes Kepler. On arriving in the city I was gratified to discover that in the book I had imagined the place with surprising accuracy. I had even managed to catch something of the eerie atmosphere that broods in those narrows streets and cobbled squares.
In 1600 Kepler came to Prague, where he would succeed the great Dane Tycho Brahe as Imperial Mathematician to the Holy Roman Emperor, Rudolf II. Rudolf was one of the most fascinating figures in Renaissance Europe, being among many other things an obsessed collector of curiosities, whose Wunderkammern—wonder rooms—were piled to the ceilings with everything from jumbo-sized gallstones to unicorns' horns. The Rudolphine court was constantly a-swirl with intrigue, betrayal and violence. In other words, just the place to set a noir novel.
Fiction writing is an odd business, not untouched itself by a certain alchemical magic. I can remember exactly the moment when, and the place where, the first inkling of Prague Nights came to me. I was walking my dog one summer afternoon, and passing under a chestnut tree of my acquaintance—I regard trees as living beings—the name 'Christian Stern' popped into my head, who knows why, or from where. By the time I got home from my walk I had given my character a face and a form, and had put together the outlines of a plot, to be set in Prague at the turn of the 16th century.
I have returned to Prague many times since that first visit back in the 1980s. The place is greatly changed, mostly for the worse, I must sadly admit, though its peculiar charm has managed to endure the coming of Ronald McDonald at the head of a marauding army of tourists. Now, along with young Professor Stern, I was happy to return there again fictionally, so to speak.
One of my favourite places in the city is Golden Lane, a narrow street under the shadow of Hradčany Castle. Kafka lived for a while in one of the tiny houses there, and it was to Golden Lane that I first dispatched Christian Stern, my ambitious young adept of natural philosophy—nowadays called science—who on his first night would stumble on the corpse of a young woman lying in the snow under starlight, and thus find himself at the centre of a dark and dirty little conspiracy devised by me for him to solve—or fail to solve, as it would turn out.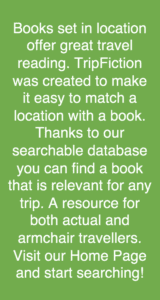 No, Prague doesn't let go . . .
You can follow Benjamin on Twitter and by Prague Nights here.
And come and join team TripFiction on Social Media:
Twitter (@TripFiction), Facebook (@TripFiction.Literarywanderlust), YouTube (TripFiction #Literarywanderlust), Instagram (@TripFiction) and Pinterest (@TripFiction)