Author Jennie Ensor learned 10 things in France
23rd September 2017
#TalkingLocationWith….
Jennie Ensor, author of Blind Side took a week out in a remote French Village and share with us the 10 things she learned
My week alone in a remote French village: 10 things I learned
What would it be like to spend a week alone in a large, 250-year-old house in a remote village in the Pyrenees?
I found out this August  2017 when I travelled by plane, train and taxi to a house in the Vallée d'Ossau region of southwest France, not far from the Spanish border.
The house was bought by my husband before we met and has been restored over the past decade or so. It's on the edge of a small village – un hameau really – consisting of a few narrow lanes of houses, a fountain and water trough, a café-bar and rather oddly, a town hall. The house has three levels. As is common in this agricultural region of France, the ground floor was where animals were kept; it's now a utility room and an area for storing firewood, wine, etc. The first floor contains the bathroom and living space, including an 8x14m timber-beamed converted barn with a five-metre vaulted ceiling. Three bedrooms are on the second floor. There's a not much furniture, making the place seem even larger than it is.
I've stayed at this house many times over the years but only twice on my own, for two or three days at most before the arrival of my husband or friends. The first time I stayed there alone, I became so apprehensive about spending another night in the house that on my final night I fled to the local auberge. (The place was still in the process of being made liveable, with scarcely any furniture but plenty of spiders, hornets and a persistent vole-like creature which ran noisily around the roof cavity at night and copiously decorated all the floors.)
This year, I decided that a week on my own at the house before my husband, our dog and my stepdaughter and sister-in-law joined me would be a good idea. It would be a challenge, admittedly. Seven whole days – how would I cope? But the house was no longer a work in progress, and I'd be able to take a break from the tasks of promoting my debut novel and finishing the next. In self-imposed exile from the demands of the modern world, I'd be able to read, write and reflect without distractions from family, TV, internet, delivery drivers and so on. This would be – so I thought – a peaceful, productive retreat with no-one to please but myself.
The reality isn't quite as I imagine. What strikes me in particular:
1. Silence
The silence of this place seeps into your bones. It washes your body each morning and rocks you to sleep each night. Sounds come and go, leaving an even deeper silence in their wake: the sudden buzz of a neighbour's power tool, the half-hearted chirp of a bird, the gentle rush of Ie ruisseau beyond the garden. Oh yes, and the church bells which ring the hour and half hour, day and night. Voices, scarcely at all. On a dull weekday, I might be the last person left alive. What sounds there are seem to be promptly sucked into another dimension, while the sounds I myself make seem unnaturally loud; I jump when a plate clatters against the sink.
2. Isolation
From day one, I'm only too aware of being on the edge of a remote mountain hamlet where I know hardly anyone except my husband's ex-mother-in-law (who is friendly but speaks very fast, heavily accented French and no English) and our two nearest neighbours (who are out most of the time).
Even in the peak of summer the village can seem weirdly empty, and this week it feels emptier than ever. The locals don't seem to go outside much and tend to get into a car rather than walk. Once in a while a couple of tourists wander past, stopping to gaze through windows and read the plaques about the history and architectural features of certain houses. On those days that it doesn't rain (the weather is particularly unsettled this week) there's a cluster of people outside the café-bar at lunch times and evenings. But I don't recognise anyone I could go up and talk to. I hesitate to knock on someone's door just to say hello or 'Could you help me move the lawnmower?' and decide to wait until I come across someone in the street, where a natural conversation might arise. (It doesn't.) I consider visiting my husband's ex-mother-in-law but feel uncertain about going without him. Would I be welcome? Would I understand her? Would she understand me? Should I use tu or vous?
On Sunday, the day after I arrive, I have an unexpected visit from my husband's ex-sisters-in-law, who spot me reading in the garden while on their way home from a walk. Our conversation is a haphazard mix of French and English, permeated with my unspoken concerns over what I shouldn't say given that half of the family has fallen out with the other half. But those seven or eight minutes in which we discuss the dead mouse I found under the food cupboard (there's an epidemic of mice in the area this year) and my attempts to cut the meadow-like 'lawn' become the highlight of my day.
I text my husband often about the rotting egg smell in the bathroom and why the lawnmower isn't starting, and we speak most days (usually via FaceTime on my iPhone – there's no landline). This is comforting but I can hear a slight echo as I speak in the large, sparsely furnished downstairs rooms, and wish he could be here to give me a real goodnight kiss. I post a picture on Facebook of the house under a blanket of cloud and I'm heartened when it gets some likes and comments. However, I'm aware that our broadband service is expensive and runs out quickly, so I ration my time on it. Other forms of communication also have difficulties. Since France switched to a new digital TV system, our satellite receiver no longer works. Thankfully, there's still the radio. I make a list of all the stations it picks up (I keep forgetting how to save them); only three have a strong enough signal to listen to at any time of day. One plays mournful discordant music and another plays vacuous French pop songs, leaving me with France Culture on 95.5 FM.
3. Language matters
Every time I come here, I start off with an overwhelming desire to speak and understand French perfectly. This soon lapses into a reluctant acceptance that: a. No-one wants to talk to an Englishwoman with bad French b. I don't really want to spend hours trying to read a short magazine article, and in any case, c. my French-English dictionary has disappeared. In the evenings though, I persevere with France Culture. Most of its output is incomprehensible to me, malheureusement. But I pick up snippets of erudite discussions on artistic and cultural thingamajigs with gleeful pride, trying to overlook the frustration of not actually understanding what anyone is talking about. That will come later, I tell myself.
4. Reading
Reading proves to be an essential tool in coping with my solitude. I arrive at the house with a Kindle stacked with books, though it takes some time to settle into one. The novel I started on my journey here, Ghostbird by Carol Lovekin, I abandon after a few hours at the scene where the ghost of a small girl appears – it's beautifully written but I worry the subject matter might be disturbing. The next novel I tackle, The Stranger by Saskia Sarginson, describes a widowed woman alone at home wondering who might be prowling outside – an engrossing story but not ideal reading material, especially as this house has no curtains yet. The third, The Ice Twins by S.K. Tremayne about the return of a dead twin, is even more unsettling. But I make good progress on Paul Beatty's The Sellout, listening to the audio version while I clean windows.
My favourite place to read though is the garden. There's something magical about being here on a sunny afternoon. I sit facing the church and the chateau and listen to the stream, occasionally glancing up to the peaks of the mountains which surround the house.
5. Excursions
As I've decided to save money and hassle by not hiring a car – this is the first time I've been here without one and there's virtually no public transport in the region – I need to walk in order to escape the village.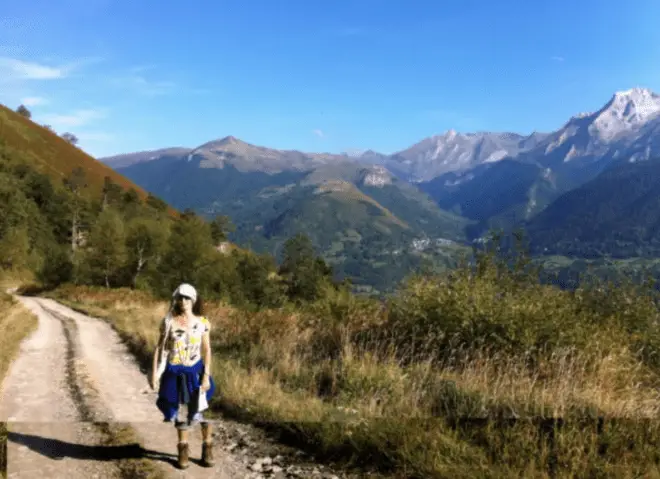 Before this week, the supermarket was a place to be avoided where possible. Now, the huge local Intermarché lures me, not just for its extensive selection of food. There's an old chap in a beret with a friendly smile urging samples of local delicacies on all who pass: saucisson, gateaux Basque, piperade. Six pm the Saturday I arrive there's fresh bread and an expectant buzz. Every tourist and local for miles seemed to be in the place, stocking up for the weekend. As my backpack couldn't fit in a six-pack of Corona along with my other supplies, I was pleased to have to make a return trip for alcohol, nuts and sun-cream.
I go for a walk every day. My desire to be outdoors enjoying the rugged splendour of this area overrides any twinges of concern over getting lost or mugged. Even on dull days when mist obscures the mountains, there is beauty in the changing light and the hints of vast shapes lurking behind clouds. On a clear day, hiking on the higher paths with views of wooded slopes and sunlit peaks for miles, I'm in heaven.
6. Routine
I quickly settle into a routine. A typical day:
a. Breakfast with radio on
b. Play a CD very loud, preferably something cheerful
c. Shower with door slightly ajar (closed feels a bit creepy – what if it were to suddenly open?)
d. Write, or make notes about what I might write
e. Eat lunch in the garden, unless it's raining. (Drizzle is OK, I sit in a sheltered spot with lots of layers on.)
f. Walk or trip to the supermarket
g. Afternoon tea
h. Read in the barn
i. Text/FaceTime husband/friends
j. Turn the lights on in the living area and stairs
k. Dinner with radio on
l. Read in the cosiest corner of the house (opposite the fireplace) until bed-time
7. The importance of a good stereo
Without company, TV or a cheap, reliable broadband connection, music is my saviour. After a particularly bad night I drag myself downstairs, make a cup of tea and play Leonard Cohen's I'm Your Man CD twice in a row, and start to feel better. On incessantly dull or wet afternoons, listening to the high, pure voices of a choir cheers me as nothing else can. Which brings me to:
8. Existential angst
Indoors, without the distractions of mountains and ever-changing sky, one can easily turn inward. Confined inside a gloomy house, there is no alternative but to face oneself, and this time for inspiration seems more like a time of morbid introspection. If I'm widowed one day, will life be like this? How many more years do I have before I'm no longer 'middleaged' but 'old'? What has my life amounted to? Am I the person I really want to be? Why do I write, anyway?
I didn't envisage this tumult of inwardness when I planned this sojurn. It was meant to be an enjoyable period of reflection and relaxation, not a one-way journey to the bleakest part of my soul. But at least I manage to channel my gloom into a poem.
9. Afraid of the dark?
In the second week of August, it's light in this part of France until nearly 9.30pm. I'm glad of that.
During the daytime, l'm OK with being alone in the house; I don't worry about anyone untoward visiting or anything untoward happening. As shadows deepen though, I find myself increasingly aware of small noises from outside the house – or, inside perhaps? – it's not always easy to tell. That tap tap tap could be a neighbour doing DIY, or…? Why did the house creak just now, upstairs? Well before it's actually dark, I'll turn on the lights and play a CD in an attempt to dispel my lingering unease. As full darkness approaches, I'm more than ever aware that I'm all alone in a very big, very old house.
I almost get used to this sense of unease and tell myself that the small fears that scurry around in my head come from my anxiety-prone nature, not from anything lurking 'out there'. Many others, especially women, would probably feel the same. And isn't anxiety at being alone at night in an unfamiliar place an innate human response, a remnant from a time when darkness could contain hidden dangers?
Wherever my anxiety comes from, reasoning with it is useless. I know that in order to feel something approaching relaxed, let alone to be able to sleep, I'll need to drink a glass or two of wine if not something stronger, and that's before my collection of sleep aids and what-have-you. Otherwise I'll be lying in bed listening out for Lord Knows What. My imagination knows no limits, especially when I'd rather it did. During the night, I find natural sounds comforting – the cry of an owl, the soft patter of rain, even a savage attack of hailstones that I worry might shatter the skylight. It's the unaccountable sounds that set off twinges of alarm. But as another night passes without incident, I'm determined anew to rise to the challenge of completing my week alone. Thank goodness we've got a good supply of alcohol.
10. To lift the spirits
When one is feeling down, there's nothing like a good sing in the shower. I'll belt out my favourite songs, unconcerned who may hear. Or I'll plan my next walk: glorious vistas and untrodden paths fill my head as I pour over the local IGN maps. If it's too wet to go far, maybe I'll go to the patisserie instead for a gateau Basque, or a tarte aux pruneaux, or one of those fruit and custard tarts with gloriously crisp, light pastry…
In conclusion: Yes, I survived my week alone. But next time I may agree to bring the dog.
And her two favourite books set in France?
All the Light we cannot see by Anthony Doerr 
Charlotte Gray by Sebastian Faulks,
Thank you to Jennie for sharing her week in France. She is currently finishing two further novels, both involving the darker side of life. You can follow her on Twitter Facebook and Instagram and of course you can buy her novel "Blind Side" through the TripFiction database
Do come and join team TripFiction on Social Media:
Twitter (@TripFiction), Facebook (@TripFiction.Literarywanderlust), YouTube (TripFiction #Literarywanderlust), Instagram (@TripFiction) and Pinterest (@TripFiction)