Book set in Venice (Com'era, dov'era)
2nd June 2012
The City of Falling Angels by John Berendt, book set in Venice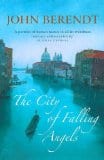 The Fire at the Fenice Opera House on the Monday evening, 29th January 1996 is at the heart of this wonderful account of post fire Venice. Was it arson, was it negligence? John Berendt trawls the evidence, meets some wonderful people as he trails the calli and campi of Venice, and traces bits of history with myth and memory interwoven into the fabric of his story – this is like a tapas of wonderful stories.
We meet the Curtis family, 4th generation Americans who came from Boston; the Volpe family who have been inextricably linked with the development of the city in more recent times. We meet the rat expert whose company has to deal with infestations, who enthuses about the discoveries he makes about rat eating habits (American rats love popcorn, Italian rats love Nutella, plastic (!) and Parmesan, Dutch ones love Salmon and cheese – but none will eat the food popular with the others).
We learn of Jane and Philip Rylands who allegedly insinuated themselves into the company of Ezra Pound's widow and appeared to take control of all his papers and memorabilia. Berendt goes on to tell the story of the two electricians finally charged with setting the fire at the Fenice, Carella and Marchetti; and how Gianni Agnelli (head of the Fiat Empire) tendered for the rebuilding of the Fenice but didn't get the work.
Eight years of rebuilding, shenanigans at every twist and turn, and the first opening concert after the rebuilding was held on the day that Saddam Hussein was discovered, 14th December 2003….
The book is populated with marvellous facts…. the air in the city is clean because Venice outlawed the burning of heating oil in 1973 and switched to methane gas which burns clean (and, of course, there are no cars)…Northern Italy has the highest concentration of businesses in the world…Venice has 443 bridges…during the last two centuries the city was poor, therefore had no funds to invest in ugly new development, leaving Venice untouched and handed down to us in an unadulterated state (though Napoleon did his share of plundering, many of the items ending up the Louvre)…and so much more….
And this extract demonstrates why this is a must-read if you are going to Venice: I understood why so many stories set in Venice were mysteries. Sinister moods could be easily conjured by shadowy back canals and labyrinthine passageways, where even the initiated sometimes lost their way. Reflections, mirrors, and masks suggested that things were not what they seems. Hidden gardens, shuttered windows, and unseen voices spoke of secrets and possibly the occult. Moorish-style arches were reminders that, after all, the unfathomable mind of the east had had a hand in all this….
Tina for the TripFiction Team
Plenty more books set in and evocative of Venice on the TripFiction website. And do join us on Twitter, Pinterest and Facebook Lots of chat about books and travel….