Crime thriller set in Wyoming (plus author location piece…)
14th April 2017
Vicious Circle by C J Box – crime thriller set in Wyoming.
Vicious Circle is the 17th in the hugely successful Joe Pickett series by C J Box (for my review of number 16 – Off the Grid – and an interview with CJ (Chuck) Box – please click here). Joe Pickett is a Game Warden in Wyoming. He deals with poachers and many a game violator – but also has a propensity for getting involved with, and solving, murders and other mysteries. In Vicious Circle, he is up against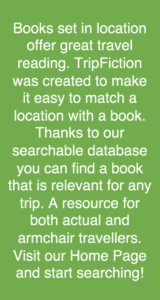 Dallas Cates and his attorney, Marcus Hand (who just happens to be Joe's step father-in-law). Three years previously Joe had, all in the course of duty, killed half of the Cates family – and sent Dallas himself off to jail for a while. Dallas is now out – and seeking revenge for his family by planning to wipe out Joe and his. He is an ex rodeo star, and ran off with a star-struck April, one of Joe's daughters… until she saw the error of her ways. So, there is history of another type as well between the two. The violence plays out – with much intrigue, death, torching of property (and a touch of local politics). Joe is, as ever, helped by his friend Nate Romanowski in his quest to protect his own family and put Dallas back behind bars. Nate is, as explained more fully in the previous book, someone who likes to operate 'off the grid'. He sort of fades away when the real lawmen show up…
The book is real page-turner (which I read in around 3 hours…). It moves to a quite startling climax, and leaves you wanting more (number 18 perhaps?). The characters are well drawn and the action is frenetic.
What, though, sets the book – and the whole series – apart for aficionados of the TripFiction site is the wondrous way in which Chuck describes the Wyoming setting. He was brought up in and lives in the State, and you get a great feel for the wide open spaces, the forests, the mountains – and the wildlife itself. It sounds the ideal location for a real outdoors 'off the grid' adventure holiday – if Joe isn't busy hunting down killers at the time!
Tony for the TripFiction team
Now over to Chuck for his thoughts on writing in and about Wyoming:
I'm Wyoming born and bred.  I grew up in Casper hunting, fishing, and doing normal boy things –provided normal involve alcohol, tobacco, and firearms, that is – but I had a dirty little secret:  I read books.
I read everything I could get my hands on written about Wyoming and the Mountain West.  Most of the authors who best conveyed the region like A.B. Guthrie, Mari Sandoz, or Thomas McGuane worte about other mountain states.  Wyoming at the time had no well-known authors like we do now (not counting the frauds).
But that's also another story.
Anyway, I remember being troubled that nearly every book I read set in my state and region seemed to come from a point of view or perspective I didn't recognize in those around me.  The novels all seemed to be written by authors who had visited the state with preconceived notions or by people who had just moved to Jackson Hole.  Although often beautifully written, I didn't recognize the characters in the books.  The people I knew in the state were generally well-educated, driven, and colorful.  But in the books I read Wyomingites all seemed to be rural rubes who spoke in odd Southern accents ("Mosey on up that road a piece…") that I'd never heard in my life.
Wyoming is about the size of France and has the smallest population (600,000) of any state in the U.S.  It is wildly diverse, with mountains, deserts, sagebrush-covered steppe, geothermal activity, and home to Yellowstone National Park and Grand Teton National Park.  The weather is extreme and the people are tough and hardy.  We tend to all know each other.
My resolution, even in those years when I had no idea what book I'd write or what it would be about, was that the book had to be authentic to the people, the culture, and our place in time and space.  Then, as now, I wanted the novel to be based on real issues or controversies, the kind normal people talked about at café's and public meetings.  It had to be written from the inside-out, not the outside-in.  If nothing else, I hoped that if this novel was ever published readers in the state and region would nod their heads and say, "Yes, he gets it.  He knows us."
A big thank you to Chuck for sharing his thoughts with us…
You can follow C J Box on Twitter, Facebook and via his website
Come and follow Team TripFiction:
Twitter (@TripFiction), Facebook (@TripFiction.Literarywanderlust), YouTube (TripFiction #Literarywanderlust), Instagram (@TripFiction) and Pinterest (@TripFiction)