Dark thriller set in South Africa and Angola
3rd May 2017
Reconciliation for the Dead by Paul Hardisty – dark thriller set in South Africa and Angola.
Reconciliation for The Dead is the third book in the Claymore Straker series by Paul Hardisty – although it is actually a prequel to The Abrupt Physics of Dying (set in Yemen) and The Evolution of Fear (set in Cyprus). It is located in South Africa of the early 1980s when there were complex civil wars happening in Angola and Mozambique – with heavy involvement from South African forces on one side, and Russian and Cuban forces on the other. A proxy West versus East encounter.
At the same time there were dissidents active in South Africa itself – planing to overthrow the rule of apartheid. And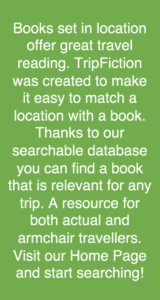 elements of the state apparatus who were developing and testing chemical weapons (both in the war zones and at home) – even trying to design formulae that would target and kill blacks whist leaving whites unharmed. It is against this true backcloth of horror that Paul has created Reconciliation for the Dead. Paul is a writer on an ethical and environmental mission. He is an environmental scientist, and it shows in his conviction. But (and this is a very important but) we do not feel preached at in any way.
All three books, although addressing serious concerns, are great thrillers. The stories bowl along, they are literally page turners, and we absorb the messages as we read. In Reconciliation for the Dead he covers a particularly worrying episode in South Africa's quite recent history. He does so by making Clay an unwilling (and sometimes unknowing) participant in events – both in Angola as a member of the armed forces and in South Africa. The story is actually based in 1996 with Clay appearing before the South African Truth and Reconciliation Commission and describing his experiences 15 years earlier. Some of the Commissioners are sympathetic to his story, others are more challenging. Some of the characters in the book (for example Dr Grasson ('Doctor Death')) are real, and some are from Paul's imagination. 'Doctor Death' was tried in 1999 for 279 counts of murder… In 2005 he was released by the Constitutional Court of South Africa because his crimes had been committed in Angola, outside South Africa's jurisdiction. He went on to deliver well paid speeches around the world.
The story of Operation Coast (the development and testing of chemical weapons) and of Torch (the internal South African resistance to apartheid) rings absolutely true. Paul has well recorded the horror of the times – but in a way that keeps us completely enthralled with the story as it unfolds. A great and exciting read that sheds light on a murky element of our recent past.
Tony for the TripFiction team
Follow Paul on Twitter
And catch up with Team TripFiction on Social Media:
Twitter (@TripFiction), Facebook (@TripFiction.Literarywanderlust), YouTube (TripFiction #Literarywanderlust), Instagram (@TripFiction) and Pinterest (@TripFiction)
For more books set in SOUTH AFRICA, just click here! And for Angola here!