Talking to author Emma Jane Kirby about The Optician of Lampedusa
12th October 2017
We recently reviewed Emma Jane Kirby's remarkable book The Optician of Lampedusa.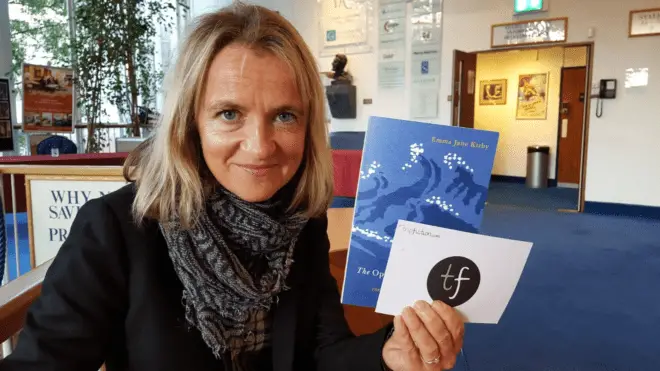 Andrew heard Emma Jane talk about the book at a Guildford Book Festival event, sponsored by Amnesty International, and was privileged to speak with her afterwards, on behalf of TripFiction….
TF: The Optician is a humble, shy person who had promised never to tell the story of what happened on October 3rd, 2013. How did you persuade him to collaborate with you on the book?
EJK: I told him I had been reporting on the migrant crisis for the BBC for 2 years, and that people were beginning to lose interest. He liked the idea of humanising the story, told from the perspective of real people caught up unwittingly in the crisis, rather than by the migrants themselves, as a way to renew interest in the issue. My story of the Optician was initially broadcast on BBC Radio 4. It generated a huge amount of interest, and won the Bayeux-Calvados Award for War Correspondents. A French publisher became interested. The Optician was surprised and pleased that people understood what had happened that day.
TF: La Croix has called the book "a work of literature, rather than a journalistic report." Why did you choose to write it as a narrative non-fiction novel?
EJK: I wanted it to read – to be read – as a novel, to shock people into understanding this was real. The reader takes the place of the Optician at the helm of Galata, and reaches down into the oily sea to grab those flailing hands, just as he did.
TF: How do you "fictionalise" what really happened to the Optician and his friends that day?
EJK: All the facts are entirely accurate. I introduced personal observations into the story, such as describing the Optician's daily run on the island; the pulsing vein in his forehead; the way he fiddles nervously with the elastic in his socks.
TF: What has happened since the book has been published?
EJK: It has been translated into 7 different languages. Waterstones kindly chose it as their Book of the Month for November 2016, as a result of which £56,000 has been donated to the Oxfam Appeal for Migrants. And on October 3rd, 2016, I stood on the deck of Galata with the Optician, his wife and their friends, and a few of the survivors, as they linked arms and tossed flowers into the water, on the exact spot where the boat had sunk and 368 people had drowned 3 years before.
TF: What do you hope will be the book's legacy?
EJK: The Optician hopes that the book will enable the story to carry on, to make people see the crisis more clearly. I hope it can awaken a humanitarian conscience in more of us, that we all reach out a hand rather than sail past.
TF: Thank you so much, Emma Jane, for writing such an important book and for talking with me for TripFiction.
Andrew for the TripFiction Team
You can follow Emma Jane on Twitter
You can buy her book through the TripFiction website
Do come and join team TripFiction on Social Media:
Twitter (@TripFiction), Facebook (@TripFiction.Literarywanderlust), YouTube (TripFiction #Literarywanderlust), Instagram (@TripFiction) and Pinterest (@TripFiction)