An enchanting novel set in MOZAMBIQUE
28th September 2023
The Living and the Rest by Jóse Eduardo Agualusa, an enchanting novel set in MOZAMBIQUE
Translated from Portuguese by Daniel Hahn
The Living and the Rest is an immersive read. The story opens with journalist Daniel Benchimol and his heavily pregnant wife Moira at home on the tiny island of Mozambique, a thin strip of land accessible from mainland Mozambique via a road bridge. Daniel is hosting a small literary festival. Most of the invited speakers have arrived, hailing from Angola, Nigeria and Goa. Through the various backgrounds of the authors, we gain the backdrop of the complex and troubled history of the Portuguese portion of the colonization of Africa and its post-colonial legacy. The touch is light, and there is a blurring of invention and real history.
The authors addressing the festival are troubled souls. Cornelia Olukun is from Nigeria. She considers herself above the festival and feels coerced by her agent to attend. Jude D'Souza struggles with alcohol. Charismatic Uli Lima struggles with a terrible fear. Mozambiquan Julio Zirvane seems incapable of writing anything other than repeats of his first successful novel. Poet Ofélia Eastermann struggles with the various identity labels imposed on her by others. Is she Angolan? Brazilian? Portuguese? Then there's the young and lovely Angolan poet Luzia.
The story is narrated through the voice of Daniel along with these various authors as the suffocating heat closes in and a terrible storm on the mainland cuts the island off. The phone lines go down as does the Internet. Fear grows among the islanders and the authors. Many believe they are approaching the end of days. Fear magnifies as the authors encounter a character that seems to have leaped from the pages of each of their creative works into real life. Then there's the apparent reappearance of Pedro Calunga Nzagi, a mysterious and legendary Angolan author who disappeared twenty years before.
The island itself is beautifully portrayed in all of its diversity, from the sea itself to the houses, the hotels, the streets.
Fictional worlds, magic realism, the stories the authors conjure amongst themselves, The Living and the Rest is a meditation on the nature of storytelling. At the same time, the novel shines a spotlight on Africa, on a tiny part of Africa, on African identities, realities, myths and perceptions. The ease with which Agualusa handles all of this as he tells his story is the novel's core strength. It is one of those books that you need to read twice, not so much for the sake of understanding, but rather to savour, reflect, and, finally, to admire.
The Living and the Rest is literary fiction at its finest.
Guest Review by Isobel Blackthorn
Isobel is a prolific Australian novelist. She writes both contemporary/literary, thrillers and dark fiction. Follow her on Facebook, Twitter and via her website.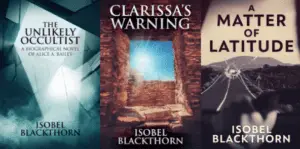 Join team TripFiction on Social Media:
Twitter (@TripFiction), Facebook (@TripFiction.Literarywanderlust), YouTube (TripFiction #Literarywanderlust), Instagram (@TripFiction) and Pinterest (@TripFiction)