Historical novel set mainly in Asia, London and USA
4th December 2021
Emma's Tapestry by Isobel Blackthorn, historical novel set mainly in Asia, London and USA.
In the epilogue, the author states that this book is an imaginative re-telling of a period in the lives of her maternal great-grandparents, spanning the period from just before WW1 into WW2.
Emma Harms travelled as a little girl with her Mennonite family from Germany to Philadelphia, where she grew up and eventually met Ernest, her soon-to-be-husband. Their relationship got off on the wrong foot, as he unromantically asked her to inspect his bunion problems, given that she was a trained nurse. This request didn't seem to deter her, however, and they married.
Ernest worked in textiles and moved his young wife to Singapore, where he worked tirelessly, joined various ex pat clubs and socialised. She meanwhile was left to build a life of her own and find entertainment where she could. Their housemaid introduced her to the craft of weaving, and her preoccupation with creating tapestries become a leitmotif as she learns to negotiate her way through life. Ernest's penchant for wearing a sarong whilst at home became a real turn-off for her and from the love of her life he morphed into a husband who failed to prioritise the couple relationship.
They then moved to Kobe in Japan and soon there were two young daughters to care for.
Much of the story is told in reflection, coming up to WW2. War is clearly imminent and Emma is now caring for an elderly woman in Wimbledon, and we learn more about the trajectory of her life up until this point, and how it is that she has come to be in London. Her own life comes into sharp relief as she learns more about the life of Oscar Wilde, who was a dear friend to the old lady.
This is an engaging story of family, a struggling marriage and the pressures of being a 'foreigner' in an unfamiliar land, at points in history when world politics are inexorably stoking the fires of hatred, racism and 'otherness'. It is also about the resilience of human nature.
Tina for the TripFiction Team
Isobel is a prolific Australian novelist. She writes both contemporary/literary, thrillers and dark fiction. Follow her on Facebook, Twitter and via her website.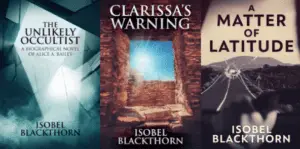 Join team TripFiction on Social Media:
Twitter (@TripFiction), Facebook (@TripFiction.Literarywanderlust), YouTube (TripFiction #Literarywanderlust), Instagram (@TripFiction) and Pinterest (@TripFiction)