Memoir and travelogue set across Italy (a love affair with the Italian language)
26th January 2021
In Other Words by Jhumpa Lahiri, memoir and travelogue set across Italy (a love affair with the Italian language).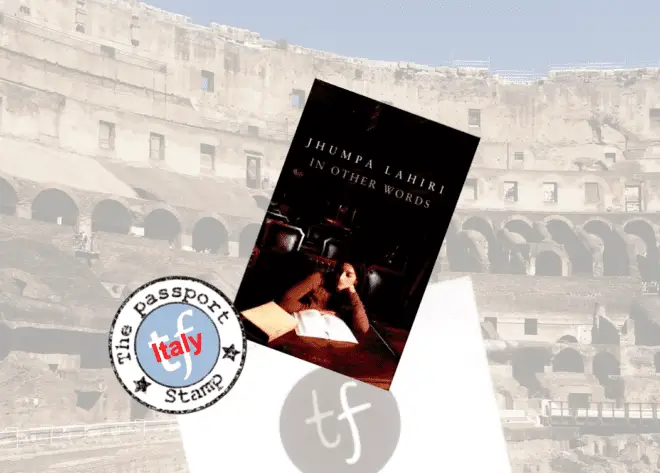 Jhumpa Lahiri is a remarkable writer. She has won the Pulitzer Prize, the PEN/Hemingway Award and the Frank O'Connor International Short Story Award. She has also been shortlisted for the Man Booker Prize, the Bailey's Women's Prize for Fiction and the National Book Award. And she's still only 53.
Here is a link to her books currently on the TripFiction database. The prizes have been garnered mainly from short story collections and novels, all written in the English language. She was born in London, the daughter of Bengali immigrants, before living in the United States for most of her life. So what an immense achievement it was to write a book in 2015 – 'In altre parole' – completely in the Italian language, subsequently translated and published as In Other Words in 2016.
Jhumpa first travelled to Italy in 1994, spending a week in Florence with her sister, whilst studying Renaissance architecture in Boston. The love affair was immediate and profound.
'From the start my relationship with Italy is as auditory as it is visual. Although there aren't many cars, the city is humming. I'm aware of a sound that I like, of conversations, phrases, words that I hear wherever I go. As if the whole city were a theater in which a slightly restless audience is chatting before the show begins.'
She learns Italian at home for twenty years, but that isn't enough. She uproots her family to go and live in Rome, where Jhumpa wants to absorb everything possible about the country, its culture, the people and – most profoundly – its language. Even to the exclusion of her other languages, Bengali and English. To the extent that she ultimately thinks in Italian, writing In altre parole in her new language, the Italian text coexisting with the English translation – by Ann Goldstein – when published as In Other Words. Although the journey is a challenging one….
'When I read in Italian, I feel like a guest, a traveler. Nevertheless, what I'm doing seems a legitimate, acceptable task. When I write in Italian, I feel like an intruder, an impostor. The work seems counterfeit, unnatural. I realise that I've crossed over a boundary, that I feel lost, in flight. I'm a complete foreigner.'
Lahiri's writing is lyrical, intense, beautifully crafted and stuffed with extraordinarily illuminating phrases and images.
'Ever since I was a child, I've belonged only to my words. I don't have a country, a specific culture. If I didn't write, if I didn't work with words, I wouldn't feel that I'm present on the earth.'
'Oddly, I feel more protected when I write in Italian, even though I'm also more exposed. It's true that a new language covers me, but unlike Daphne (from Ovid's Metamorphoses) I have a permeable covering, I'm almost without a skin. And although I don't have a thick bark, I am, in Italian, a tougher, freer writer, who, taking root again, grows in a different way.'
In Other Words is a short book, not much over 100 pages of the English translation, standing opposite Jhumpa's proud original Italian text. As a lover of languages myself, and the owner of a pathetically small Italian vocabulary, I was excited to read about this brave linguistic adventure. I must admit to feeling slightly disappointed by the end. The book felt a little too academic, perhaps even a little self-indulgent. But that in no way diminishes this immense achievement by a linguistic and literary titan.
Bravissimo, Jhumpa.
Andrew for the TripFiction Team
Follow Jhumpa on Facebook and on her Penguin Random House website.
Join team TripFiction on Social Media:
Twitter (@TripFiction), Facebook (@TripFiction.Literarywanderlust), YouTube(TripFiction #Literarywanderlust), Instagram (@TripFiction) and Pinterest (@TripFiction)