Novel set in Almería ("..a tableau of happenings")
22nd June 2017
Hot Milk by Deborah Levy, novel set in Almería.
Elderly Rose is what might be called a 'career invalid'. Her incapacity is further exacerbated by Sofia, her daughter, whose cowed demeanour and willingness to subject herself (with forebearance it has to be said) to her mother's critical demands, only serves to reinforce the situation.
Mother and daughter take out a massive loan from the bank to enable Rose to have treatment at the Gómez Clinic in Almería, run by a golden-toothed quack and an alcohol addicted daughter (Nurse Sunshine), who offer the possibility of a cure for Rose's immobility. Although Goméz intends to approach her problems from a physical perspective, he is not slow in coming forward with a psychological angle. He soon spots that Rose's coercive attitude towards her daughter has knocked the psychological stuffing out of her and that Sofia is in just as much need of treatment as Rose.
And thus it is that Sofia comes out of her shell. At the behest of Dr Gómez she steals a sizeable fish, then embarks on amorous encounters and resolves to take herself off to Athens to meet up with her biological father, with whom she has had no contact for several years. It is a blossoming of mind, spirit and body.
The author is extremely good and perceptive at bringing the minutiae of everyday life to the reader. In general I love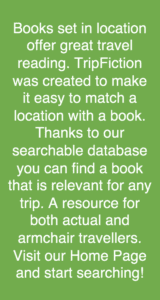 finding details that add to my knowledge (did you know that the higher the shoe and leg strapping on a Roman soldier's footwear, the higher his ranking; or that Almería in Arabic means "mirror of the sea"?). But I sense the author maybe had a list of "interesting" things – collated observations and facts – which she wanted to include, and which she randomly fed into the storyline. It all felt a bit arbitrary.
For me, the story was overall too random. I perfectly understand that Sofia is undergoing a blossoming of self awareness and has to work on extricating herself from her mother's undermining grasp. The storyline felt rather cobbled together, like a spotlight on a stage that keeps moving to different scenes; it is ultimately a contrived concept. Levy picks up the Freudian theme once again, which echoes her earlier book Swimming Home (which I reviewed here, set in the Alpes Maritimes) but again there isn't enough flesh to really make a lot of sense. Copious references to nipples and breasts (as in nurturing mother's milk/sex etc) doesn't really work as a shorthand for psychological exploration. Sofia is afflicted with copious Medusa stings when she goes out swimming in the Mediterranean and of course, if you know Freud's work, these little sea beings are referenced there (but it's a tenuous link as a decapitated Medusa – actually a woman with a head of snakes – is synonymous with castration, so quite how that fits here, I do not know).
Swimming Home was Longlisted for the Man Booker Prize in 2012, Hot Milk was shortlisted for the same prize in 2016, and although the writing in both is lyrical and very readable, there are other books with much richer and complete storylines that truly warrant this kind of accolade. As I said in my review of Swimming Home "This book is a stab at writing a surrealist plot, a tableau of happenings..",  and the same applies to Hot Milk.
Location, however, is wonderfully rendered, it's hot in Almería (and also on the side trip to Athens) and the cover really reflects the setting. "We are in a lunar landscape. That's what all the guides say about Almería. Wind-beaten and sun-baked. All the riverbeds are cracked and dry. A blue petrol haze  floats above the tattered stalls selling handbags and purple grapes and onions…."
Tina for the TripFiction Team
Do come and join team TripFiction on Social Media:
Twitter (@TripFiction), Facebook (@TripFiction.Literarywanderlust), YouTube (TripFiction #Literarywanderlust), Instagram (@TripFiction) and Pinterest (@TripFiction)
For more books to transport you to Almería, just click here!