Novel set in Canton Vaud, Switzerland, 1976
30th November 2017
Year of the Drought by Roland Buti, novel set in Canton Vaud, Switzerland. Translated by Charlotte Mandell.
Auguste (Gus) Sutter is 13 when the Summer drought of 1976 clamps its iron grip across Europe. He is part of a farming family in French speaking Switzerland. His father has just invested in a large chicken coup, where temperatures are kept regular through automation – this is the make or break investment his father has made to keep their head above water. But there is no water, the land is dry and cracking…
A little dove, a tame and biddable magician's dove, lands in Gus's life, unable to fly as it is missing its tail feathers. A mutual attachment between the two ensues but from the point of its arrival, life seems to disintegrate. The heating in the hen house becomes erratic as the fans fight against the rising heat, the hens stop eating and start to die. Bagatelle, the ancient horse on the farm searches out what seems to be her final resting place.
There is a sexual tension that overlays the novel, heightened when Cécile, her mother's metropolitan friend, arrives in the house. Gus, in early adolescence, can only guess at what might be going on in the household. Rudy, who joined the Sutter household many years ago, is a distant relative with learning difficulties who attends to his tasks on the farm with dedication, but is always searching for a female partner; however, he is not skilled at seduction, nor knows how to handle his sexual cravings. The brooding sexual electricity is heightened by the stress of the all pervading heat.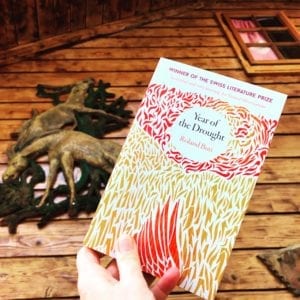 This is a coming-of-age story firmly set in the tradition of European story-telling. It is melancholic, stark and peppered with wry humour. Grandfather is a chain smoker and his annual target is to smoke over a kilometre of cigarettes by the end of the year. It delves under the bucolic veneer of Switzerland, portraying people struggling to survive both emotionally and physically.
I read this book whilst spending a few days in Switzerland and it played with my imagination as I walked past brooding farmhouses that are so typical of the country, imagining the lives of the people within.
This is a beautifully written, slim novel. Much credit to the translator, Charlotte Mandell. If
you want to delve deeper in the narrative, I am sure a quick reference to Freud's work will get you exploring themes of sex/death and patriarchy.
The Scotsman describes the book as "…an agricultural version of A Streetcar Named Desire, only with a few kids thrown into the emotional pressure cooker along with the adults."
Tina for the TripFiction Team
Roland Buti is not on Social Media at the time of posting this blogpost.
Do come and join team TripFiction on Social Media:
Twitter (@TripFiction), Facebook (@TripFiction.Literarywanderlust), YouTube (TripFiction #Literarywanderlust), Instagram (@TripFiction) and Pinterest (@TripFiction)