Novel set in Edinburgh ("love paints the world")
28th August 2014
The Right Attitude to Rain by Alexander McCall Smith. No. 3 in The Sunday Philosphy Club series, novel set in Edinburgh.
A cosy novel that will entertain at many levels, beautifully bringing Edinburgh and the Scottish way of life to the reader.
I took this book on a recent visit to Edinburgh and was delighted to be able to explore the city in the company of Isabel Dalhousie, philosopher and observer of human life. At TripFiction, we practice what we preach! The storyline is essentially a vehicle for musings about moral conundrums, explorations of the curved balls that life can throw at us, and delighting in the Edinburgh way of life. It is written in a lighthearted yet meaningful way, complemented every now and then by a sprinkling of Scottish history. The reader comes away just a bit wiser and a bit more knowledgeable, without it in any way feeling like it has been a didactic exercise, it is a pleasure.
Isabel is an editor for a quarterly, philosophical review. She is also Cat's Aunt. She is part American and, more surprisingly, she is in her early 40s (I definitely had her down for being in the amateur sleuthing, knitted cardigan mould, and slippers after 7pm brigade – nothing like stereotyping!).
She happens upon an American couple, known, as it transpires, to her circle, and through them she is invited to a weekend house party, a very traditional Scottish thing to do. They are an oddball couple who prick her interest, especially as the male is very wealthy and the female looks to be a gold digger. As the weekend unfolds, more of the couple dynamic becomes
apparent. Isabel herself is accompanied by James, Cat's ex boyfriend, which rather muddies the waters for all concerned.
Essentially this book is about relationships and about Scotland – and Alexander McCall Smith tackles both in a creative and sympathetic way. I went to Stockbridge, and so do the characters – I could visualise them as I went to the wonderful Sunday Market there. And there are plenty of little snippets of life in the Scottish capital, right down capturing those bell pulls to announce the arrival of a visitor, still so ubiquitous in the subsiding New Town. A meander through Rutland Square, tucked away behind the busy end of Princes Street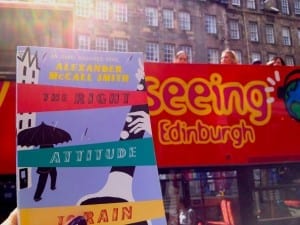 with its Calvinist Rock connected the book with locale. Then it was off to Traquair House, the oldest inhabited house in Scotland, plus a bit of history about Mary Queen of Scots. And on past Peebles Hydro. It's all there to explore through fiction.
The author is utterly adept at transporting his reader to place and time, subtly imbuing his prose with Scottish mores, culture and charm. And whether he is writing about Botswana (his series The No.1 Ladies Detective Agency) or Scotland, he will firmly encourage you to explore life as a local. A wonderful way to imbibe locale and you will definitely want to schedule a visit to Edinburgh after reading any of the books in this series or in his Scotland Street Series.
Tina for the TripFiction Team
You can follow Alexander McCall Smith on Twitter and via his website.
Over at ELLE MAGAZINE BOOK CLUB we choose some more novels to evoke Edinburgh.
And you can connect with TripFiction on Social Media – Twitter, Facebook and Pinterest and when we have some interesting photos we can sometimes be found over on Instagram too.