Novel set in New York and Illinois (mother and daughter…)
6th August 2017
My Name is Lucy Barton by Elizabeth Strout, novel set in New York and Illinois.
For almost nine weeks in 1980, Lucy Barton, an aspiring writer, is incarcerated in a New York hospital bed, attempting to recover from a mysterious infection, following a routine operation. For five days, when she is at her weakest, she is visited by her estranged mother and they talk over memories of people they knew in fictional Amgash, Illinois. To say that they are estranged is something of an understatement – they haven't seen each other since Lucy's marriage and have only had phone contact when each of Lucy's girls were born but, during the time they spend together talking, they manage to reconnect on some level at least.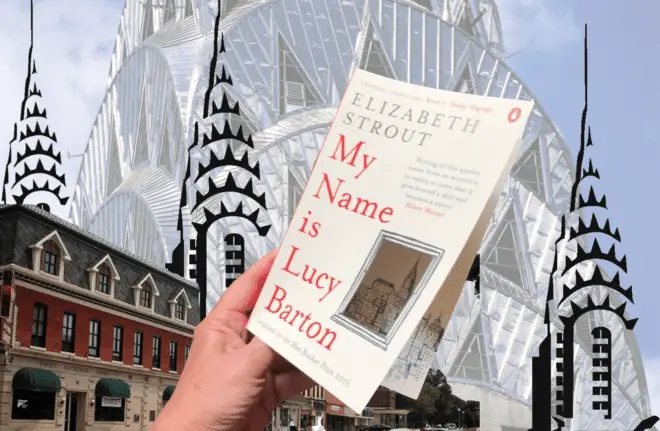 But this slim little novel, written in simple, almost fairy-tale-like language does so much more. It encompasses Lucy's marriage and her path to becoming a writer. Her husband is a shadowy figure in the novel – he is too busy with work and with running the house to visit Lucy and yet he instinctively knows that, at this point in her illness, the one thing that might pull her round is a visit from her mother. Strout subtly and skilfully describes this mother daughter relationship with its nuances, shades, gaps in memories. It is essentially a dysfunctional relationship – Lucy's mother has always been incapable of telling her daughter that she loves her except when she is asleep – and yet, in those five days, the pair edge themselves towards some kind of connection. They can't talk directly about feelings. When Lucy asks her mother how she comes to be at her bedside, her mother "wiggled her fingers and I knew that there was too much emotion for us." But we are left in no doubt that the feelings are there.
Lucy's nascent career as a writer is explained also, but obliquely as is so much in this novel. Lucy is told by her psychoanalyst friend, Jeremy, who has worked with many artists, that an artist is different from other people, a fact that Lucy strenuously denies. Later, on a creative writing course, she is told "You will only ever have one story … You'll write your story many ways." Neither of these comments make sense to Lucy but, as we read the novel, we know that they are true. Lucy has been isolated from others all her life and the story she will tell and retell is the story of her childhood and her upbringing.
And this is the most masterful element of this wonderful novel – the way Strout delineates Lucy's childhood and its long-term effects. She does this without sentimentality but it is heartbreakingly honest. Through the haze of Lucy's childhood memories, we learn about the hardship, deprivation, brutality and isolation of her upbringing. Strout also manages to convey the lasting effects of such a childhood, one of which is the adult survivor's complete inability to suffer hearing any child cry from desperation. Lucy tells us, "I feel almost, then, that I can hear within me the sound of my own heart breaking." For anyone who has known any of the hardships that Lucy has endured, this makes for painful reading – take heed.
And yet, despite this, My Name is Lucy Barton offers hope – hope for the future, hope that the effects of such a childhood can be overcome – for Lucy and her mother do manage to connect and share some humour and Lucy has gone on to be a very caring mother, one who constantly tells her girls that they are loved. Strout gives us the image of the shining Chrysler Building, which can be seen through Lucy's hospital window, in the first paragraph of the novel and it is there throughout, casting its light, reminding us that it is a "beacon … of the largest and best hopes or mankind and its aspirations and desire for beauty."
This is one of the most powerful, painful, truthful and hopeful books I have ever read. It shouldn't be missed.
Ellen for the TripFiction Team
Follow her on Twitter, Facebook and buy her book through TripFiction
And do come and join team TripFiction on Social Media:
Twitter (@TripFiction), Facebook (@TripFiction.Literarywanderlust), YouTube (TripFiction #Literarywanderlust), Instagram (@TripFiction) and Pinterest (@TripFiction)