Novel set in Sri Lanka
15th October 2021
A Passage North by Anuk Arudpragasam, novel set in Sri Lanka.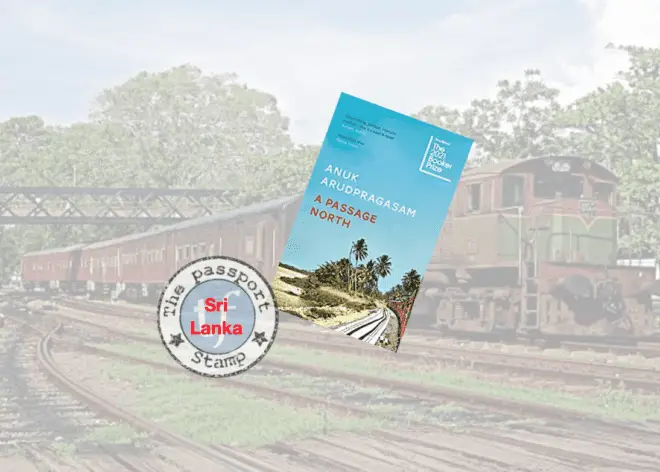 If an author sets a novel largely on a train, it becomes a vehicle in its own right for reflection and recollection. Thus it is that Krishan is travelling from Colombo in Sri Lanka, to the Northern part of the island where the ravages of war (1983-2009) are still evident, both physically and emotionally.
He has been living in the capital with his grandmother and her care-giver, Rani, who had returned home to the North some time ago. She was unwell and then finally – unexpectedly – passed away. She had been plucked from a psychiatric hospital  where she was dealing with the loss of much of her family in the civil war, which lasted from 1983 – 2009, a fight between the Tamil Tigers and the government. She was a great companion to his grandmother and proved to be quite a loss when she was no longer there. He is returning for her funeral.
Krishan is anticipatory about meeting her family and ponders what her cremation will be like (we learn a great deal about the process). He looks back on his experiences with Anjum, with whom he was in a relationship whilst living in Delhi. He moves seamlessly from the intimacies of longing and lovemaking, pondering how the war permeated their discussions, stimulated by film, and moves on to more detailed accounts of how the war affected so many. He considers the fighters who willingly gave up their lives, knowing the date of their death because they were suicide killers, and he brings details of one person in particular – Kuttimani – into the frame, who was one of the people behind the uprising.
The clickety-clack of the rails is mirrored in the revolutions as the wheels of the story, a stream of consciousness going on and on in a monotone reverie, as location switches between Delhi, Colombo and the North of the Island.
It is in many ways mesmerising, informative certainly and stylishly written, and it is shortlisted for the Booker Prize 2021. This is definitely a novel to pick up in anticipation of a trip to Sri Lanka, as it will beautifully and poignantly set the scene.
Tina for the TripFiction Team
Join Team TripFiction on Social Media:
Twitter (@TripFiction), Facebook (@TripFiction.Literarywanderlust), YouTube (TripFiction #Literarywanderlust), Instagram (@TripFiction) and Pinterest (@TripFiction)