Psychological thriller set in PROVENCE
24th June 2022
Sun Damage by Sabine Durrant, psychological thriller set in Provence.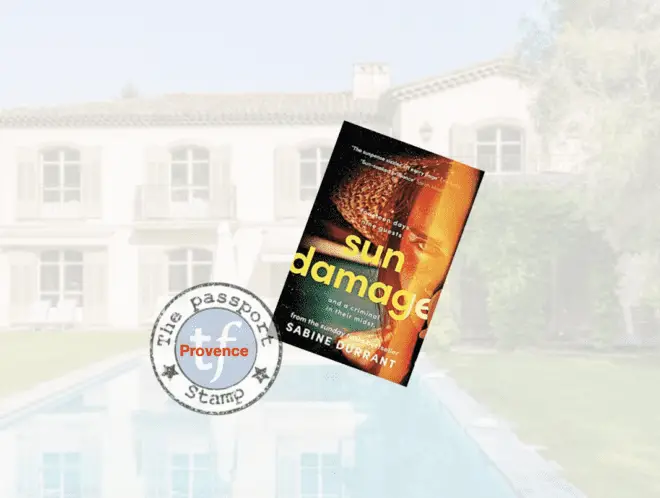 The novel opens in Sainte-Cécile, a fictional seaside town on the western fringes of the French Riviera. It then moves inland to a luxurious holiday home, with pool and staff accommodation.
Ali and Sean are grifters, getting through life by conning their marks. They happen to be on the beach in Sainte-Cécile and espy a young woman, who is clearly called Lulu because she is wearing a necklace with her name. Her luggage tag on her bag adds further vital information for this conniving duo. They work on the young woman and then she accompanies them on a boat trip and it all goes horribly wrong.
Ali flees and finds herself working as a cook for a British family, on holiday in the lush French countryside. How she gets there is well worked and credible but she spends her time fearing that Sean will come looking for her. She has absconded with several thousand Euros that belong to him. Will he really let her go? Or will he act true to form and start baiting her. She spends much of her time on edge, observing the group of people for whom she is working with a very acute eye. She can spot errant behaviour a mile off and learns all kinds of things about the host family and starts to fall for one of the guests. However, she is not who she says she is and she waits to be unmasked…
There is a lot going on in this novel and the author handles the construct well. It bowls along, tautly tense, as the narrative moves forward to the conclusion.
The sense of France is very good, it's hot and sultry, which makes a perfect backdrop for the story. There are lots of food descriptions and lazing by a pool and that is probably, as a reader, the perfect place to enjoy this novel.
I have always wondered about people with their names suspended on a piece of jewellery around their neck and similarly people who have Don or Bob or Sue as part of their personalised car number plate…. aren't they giving just a bit too much personalised information away? As soon as a ne'er do well has a name, they also have a proverbial foot in the door.
If you love a good pool side saga, with a nice twist or two, then another title that offers French flair and drama and tension is The Holiday by T M Logan, set in the Hérault, which has a similar Brits abroad theme with good plotting.
Tina for the TripFiction Team
Catch Sabine on Twitter and Insta
Join Team TripFiction on Social Media:
Twitter (@TripFiction), Facebook (@TripFiction.Literarywanderlust), YouTube (TripFiction #Literarywanderlust), Instagram (@TripFiction) and Pinterest (@TripFiction)