Psychological thriller set in The Lake District (plus location piece by the author)
23rd June 2017
Exquisite by Sarah Stovell, psychological thriller set in The Lake District.
I took this novel to read whilst staying in The Lake District. Sitting high on the Fells, overlooking the vast panorama of richly coloured hills, I would look up from my reading, engrossed as I was, as the story unfolded. I would see walkers. I would imagine the characters transported from the pages straight into the vista in front of me. I would imbibe the scenery and take that visual imagery back to the words on the page An experience that enriched my reading of the novel. AND enriched my experience of being there. That is what TripFiction is all about.
I had recently been to a talk by Paula Hawkins about the way, she stated, that we can all lie. But perhaps it is more about how we interpret our own truth and understanding – how we see ourselves and events. Our understanding of life is governed by our own history and psychological experience. At what point can we, as growing children, assimilate damage, and at what point does damaging experience go into the core of our being and then go on to inform and govern our conscious and unconscious drives? This is the core of Exquisite.
The book opens with the italicised words of a woman detained at Her Majesty's Prison for Women in Yorkshire. Someone who is adaptive and rational, and biding her time until her release.
And then comes the story of Bo Luxton, luminary and influential author who is teaching a writing course in Northumberland. In Alice Dark she discovers a nascent writing talent, which, she knows, needs nurture; which in fact needs more than nurture, it needs her singular input. She can see the potential for Alice to blossom on so many levels.
A particular bond between the two women unfolds, they have both experienced difficult relationships with their mothers. Abuse and violence, too. In Bo this manifests as a longing to take in waifs and strays, as Gus, her husband, keeps pointing out: "Bo can pick the unmothered out in a crowd". Alice swings between being an adaptive child and a free child, somehow never managing to really grow up and join her contemporaries who have jobs and families and maybe even children. Thus, they have the perfect unconscious fit, which soon blossoms into a mutual attachment – they interpret their connection as a burgeoning and close friendship which gradually becomes all consuming.
Bo has it all. A beautiful house in the Lake District above Grasmere, 2 daughters, a geriatric cat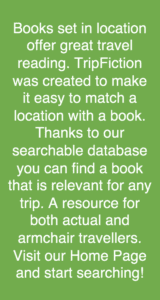 and a husband, who has a tendency to be on the gruff side, perhaps even somewhat controlling. His distance, when Alice is invited to visit, throws the women further together. Alice, meanwhile back in Brighton, is sharing accommodation with her rather feckless boyfriend, who is loving of her in his own way, but will never be the successful artist which he feels is his destiny. She certainly cannot flourish in this grubby environment.
It is clear that a woman – in all likelihood one of the two female characters – is in prison. But which woman is it? Whoever it is, is someone who has  enough psychcological trauma to trigger sociopathic tendencies.
I liked the writing style, and the author skillfully handles the perspectives of the two women – actually a construct that requires careful management to ensure clarity for the reader. The Lake District is the perfect bucolic setting for human machinations. Well-rounded and excellently written. (Do by the way take a good look at the cover, a very subtle interpretation which works so well).
So, what is left other than to say go and buy it! Which you can do on this link!
Tina for the TripFiction Team
Over to Sarah for our #TalkingLocationWith… feature and why she chose The Lake District as setting…
In 2009, when I was eleven weeks' pregnant with my first child, my partner and I set off on the Coast-to-Coast walk. It's 198 miles across England, taking in the Lake District, the Yorkshire Dales and the North York Moors. I had never been walking in the Lake District before this, and from the moment we set off, I was aware that something was happening to me that had never happened to me before: I was being deeply affected by the landscape in a way I find difficult to describe. There is real peace that comes from walking in scenery so magnificent and beautiful. I hesitate to say I am in love with the Lake District because I hope I hesitate over anything that makes me sound like a total wanker, but it is sort of true. I am at my happiest while there, and I pine for it if I'm away too long. (I am lucky to only live an hour from the nearest lake.)
Before writing Exquisite, I wrote a different novel – a biographical novel based on life of Dorothy Wordsworth, sister of the more famous William. I set this in Grasmere and at first, I really shied away from describing the Lake District. I was too aware of the weight of all those Lakes writers who came before me. But when I read my first draft, I found my characters were constantly saying things like, 'It's so beautiful here,' but no one reading it could see that beauty because I hadn't described it.
So I took a deep breath and set about fixing it. I went for a weekend walking all over Grasmere and Langdale, then I came home and started the book again, making sure the setting was as important as the main characters themselves. Eventually, a million years or so later, I finished the book. It wasn't very good. I sent it to the woman who was then my agent. She agreed that it wasn't very good. It was a January evening and I sat at my desk thinking, 'I have just slogged away at a book that isn't very good and I don't know how to make it better.' For about five minutes, I thought of sending it to more agents to see if someone thought it showed any potential. Then I just thought, 'Bugger the poets. Write a thriller. Write some sex and some violence. You know it sells.'

So I did. I wrote 'Exquisite' in six weeks. I was by then very attached to my Lake District descriptions, so I decided to make this a Lake District Thriller. I cut and pasted all the paragraphs from the Dorothy Wordsworth book and plonked them in 'Exquisite.'
And that was how it happened.
Thanks to Sarah for all insight into locale and how cut and paste is an essential tool! You can follow her on Twitter and of course buy her book here
And do come and join team TripFiction on Social Media:
Twitter (@TripFiction), Facebook (@TripFiction.Literarywanderlust), YouTube (TripFiction #Literarywanderlust), Instagram (@TripFiction) and Pinterest (@TripFiction)
For more books to transport you to The Lake District, just click here!