Quarantine. Italian style (Coronavirus)
28th February 2020
Quarantine. Italian style. Author Tom Benjamin reports from Bologna.
Before setting off in the car to collect my mother-in-law, who had been advised by her doctor not to use public transport due to the coronavirus, I popped in to my local bar for a swift coffee (most coffees in Italy are swift and taken standing up, just like we used to smoke cigarettes) where Eros, the cameriere, recounted with relish how 'a young French family has just been in and hadn't realised we were quarantined!'
All museums, galleries, theatres and libraries in Bologna, indeed all of Emilia Romagna, have been closed, along with nurseries, schools and universities. The part of the city centre I am fortunate enough to live in, which is usually buzzing with students on a week day, is as deserted as an outtake from 28 Days Later but at least the (albeit rather second rate) supermarkets are still full – friends have been sharing images from the suburbs of shelves stripped bare. The mostly youthful clients of my local Coop however probably see the free time not as an opportunity to panic buy pasta and toilet roll but lay in bed, preferably with someone else (although those six-litre plastic containers stacked by the shopping trolleys you can fill with wine direct from the vineyard look like they may have taken a hit).
Actually, Bologna has not, yet, been officially 'quarantined' as Eros (an odd name for an Italian, although he swears its common) puts it but nonetheless its citizens have taken the restrictive measures in their stride, just as other parts of northern Italy subject to far more draconian measures – whole towns have been sealed off in Lombardy – have submitted with a passivity that might make Britons bristle.
This is partly because Italians are accustomed to a centralised state, although some people might substitute 'centralised' for 'police'. There has never been a time when the state has not comported itself, and been commonly viewed, as a kind of, albeit occasionally benevolent, occupying power. Ours is a society where you have to inform the Comune every time you move and a police officer will call at your new home to check you're telling the truth, everyone is required to carry ID, and not just the various branches of law and order, but even the security guards at my local library, are armed.
Despite the rush on the shops (and I confess our cat Louis has at least two months supply of hideously expensive organic cuisine) northern Italians are also, on the whole, a phlegmatic lot – don't expect the cliché of the excitable Latin to apply here. You are more likely to see Bolognese pedestrians lined patiently at a set of traffic lights waiting to cross a deserted street as if they are (albeit better dressed) Norwegians.
Then there is Bologna itself – a city constructed to a wagon wheel design very much with crises in mind. Medieval defenders could fall back through a ring of inner walls for a final stand, and all these fortifications can't help giving you a sense of security, the feeling that, while health scares may come and go, this is a place that has seen it all before. And despite its currently sparse street life, Bologna remains a very much living city, yet to be hollowed out by mass tourism. Most of our established local bars and restaurants are not dependent on the tourist dollar, pound, euro or yen, and Eros and his colleagues can afford to make light of the current drop in business – his clients are mainly locals, and he knows, virus or not, we won't be going anywhere.
Meanwhile the French, Eros explained, had decamped to Rimini, 'where they plan to enjoy the winter seaside.'
We all had a good laugh at that.
Tom Benjamin's debut novel A Quiet Death in Italy featuring Bologna-based detective Daniel Leicester, is due out this May.
Follow Tom at @tombenjaminsays on Instagram, Twitter and Facebook
We can't end without giving you a little insight into Ben's feline household. Click on the photo of Louis, their rather gorgeous and well-fed cat, and you will be royally entertained by a video! ⬇️⬇️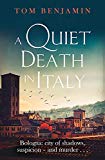 Join team TripFiction on Social Media:
Twitter (@TripFiction), Facebook (@TripFiction.Literarywanderlust), (TripFiction #Literarywanderlust), Instagram (@TripFiction) and Pinterest (@TripFiction)
And you can of course pre-order A Quiet death in Italy (out mid May 2020) through the TripFiction database!