Romance novel set in Rajasthan of the 1930s ('a beautifully rendered backdrop…')
6th March 2017
Before the Rains by Dinah Jefferies, romance novel set in Rajasthan of the 1930s. Plus talking research with the author…
I have always enjoyed this author's books and this is no exception. I felt transported back to Rajasthan of the 1930s (Rajputana as it then was) when the British were still very much in charge of the country, but rumblings of revolt and dissent were brewing. It is evocative, colourful with wonderful period detail.
Eliza spent her childhood in India until her father was murdered, whereupon she and her mother returned to England. But once  grown up – following a rocky marriage, which ended with her husband's untimely death – she is drawn back to the country of her early years. She is absolutely determined to become a photographer and indeed finds herself a job recording daily life in and around fictional Juraipur, both at court and charting the brutally poor lives of those outside the palace walls.
Anish is the Maharaja, governing with the support of those around him who have their own agendas. His younger brother Jayant Singh Rathore, with his kind, amber eyes, is the handsome member of the family, a man with a more moral eye than others. He sees the utter poverty beyond his palace and knows that he has to do something to alleviate the situation.
Eliza and he soon find themselves spending quite some time together and discover a growing attraction to each other. She however is not deemed a suitable partner for him because she is divorced. A divorced woman is a shameful thing, bringing ill-luck to those around  (and indeed the practice of Suttee, whereby a widow is expected to throw herself on the funeral pyre alongside her dead husband was still being practised; it was technically outlawed by British rule). Of course Eliza is also white, traditionally the ruling princes would find suitable matches amongst their own.
Intrigue at court, tradition and Eliza's ailing, alcoholic mother back home in England soon put paid to this burgeoning romance. Neither Eliza nor Jay, however, can quite let go. As the heat ramps up, the cooling effect of the monsoon rains are keenly awaited… will their ardour cool? To find out how this romance ends, you will need to buy the book.
This is a touching love story, set against a beautifully rendered backdrop. If you have visited Rajasthan, you will gain from this book a little more understanding about the period and about how the country has become what it is today. Highly recommended.
Tina for the TripFiction Team
Dinah has been talking to us about her research for the book:
India, where I went to research Before The Rains, was a shock. They say people either fall in love with India or they hate it, but neither was completely true for me. I'll start with the negatives and for me that was Delhi, where the traffic, noise and pollution gave me a three day migraine. I'm sure there are better experiences to be found there, but as I was trying to find the India that existed in 1930, it wasn't the best start for me.
My favourite was Shahpura Bagh deep in the countryside. Not only was this our most upmarket stop, it was also the place that inspired the plot of Before The Rains. In the early 1900's, Rajadhiraj Nahar Singh of Shahpura mortgaged the family's private property and jewels to bring water to his people. The Shahpura family is famous for their warmth and hospitality and we were upgraded to a 'royal' suite, almost as large as my house in England. The entire place was surrounded by luscious gardens and lakes that fill up during the monsoon and form the heart of a wetland refuge. If you feel like splashing out there's nowhere better. It's a genuine paradise and the inspiration for Jay's palace in the book. In the nearby village we met friendly open people living a life little changed for a century or more. This picturesque, tranquil rural side of Rajasthan was the part I fell in love with: the women dressed in amazing colourful clothes, the huge skies and the beauty of the simple villages made it for me.
Chandeleo Garh came next and this was a gem of a small fortress right on the edge of a village. Our morning walk consisted of sauntering along the honey coloured walls, while watching flocks of green parakeets fluttering from tree to tree. At night we ate like kings sitting on a roof terrace beneath the stars – more inspiration for Before The Rains. I had an Ayurvedic massage here from a man who came from Kerala – the home of Ayurvedic in India. Afterwards I floated on air. The people were lovely, just as they were at Shahpura. We went on safari, and in a nearby village watched a woman adorned with gold bangles and wearing a beautiful sari preparing clay for the potter, while another was mixing mortar for mud bricks, yet they both still looked incredibly elegant. The women carry everything on their heads and have the most amazing upright posture as they glide along the streets
Next we went to Jodhpur where the bazaars are packed with people but also goats, camels and cows. Cows, in fact, are everywhere, often lying asleep in the middle of the road, even in Delhi. The fabric shops in Jodhpur are fabulous and I have to admit to a fair bit of shopping while I was there. We stayed at the Pal Havelli, in one of their larger rooms, and it was cool and peaceful. Dining was on the roof again and I loved the food.
The best thing about Jaipur for me was our trip out to the Amber (Amer) Fort, 11 kilometres away. This was breath-taking and I loved it and its location, with views across the Aravalli Hills. Numerous chapters of the book take place in a castle and this and the palace at Jodhpur were what lay behind my castle in the fictional state of Juraipur. Jaipur, known as the pink city, must have once been an amazing place. It still is, though there was constant hassle from shopkeepers and I found it hard to wander in a relaxed way.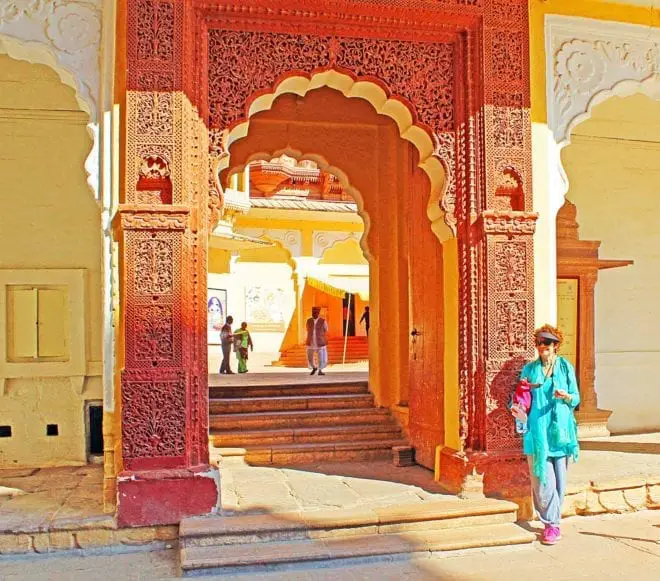 For my book I had to imagine India without the tourism and the ubiquitous motor bikes. I wish I could have seen it as it once was, but I think if you choose the more out of the way places the old timeless India can still be found as it was at Shahpura and Chandeleo. I would love to go there again one day and really go further off the beaten track.
Thank you to Dinah for sharing her wonderful memories of India, and there are definitely some ace recommendations for anyone planning their trip to India.
You can follow Dinah on Twitter, Facebook and via her website
You can buy here book here!
Connect with Team TripFiction via Twitter (@tripfiction), Facebook (TripFiction), Instagram (TripFiction) and Pinterest (TripFiction)… and now YouTube…
Photos © Dinah Jefferies