Secret London – unusual bars & restaurants
10th December 2018
'Written by local experts, our Secret Guides are intended both for local inhabitants and curious travellers.The places included in our guides are unusual and unfamiliar, allowing the reader to step off the beaten track. You will find in our books the places that other guides don't mention, places that are secret and unknown.'
So say Jonglez Publishing, publishers of the new edition of 'Secret London – Unusual bars and restaurants.'
TripFiction were delighted to be invited to the launch party, held in the Museum of Comedy in the Undercroft of Bloomsbury's St. George's Church and one of the 140 quirky venues listed in this brilliant book.
Co-author Hannah Robinson was there, delivering an entertaining insight into some of her favourite venues, the most – erm – eccentric hosts and some places that didn't make the cut.
The book is beautifully presented in a handy pocket guide, crammed full of must-hunt-out places usefully sub-divided by area, and all summarised with engaging, witty commentary. Here are just a few examples…..
Westminster to Camden
Indian YMCA – curry favour
Youth hostels aren't places I'd normally associate wuth good food. If YMCA brings to mind Village People rather than hot dinners, you'll be surprised by this odd little anachronism in Fitzrovia.
Fine dining, this ain't. It's self-service. Vats of mutton, fish and chicken curry look fairly indistinguishable, but they're all tasty and freshly made. A mound of pilau rice, hot spiced cabbage and lentil curry, onion bhajis, and saucers of chutney and raita will set you back less than a tenner.
Temple to Angel
Cellardoor – louche loos
Kohler's underground bar takes its WC postcode very literally. Formrly the Wellington Street gents, this public convenience was allegedly frequented by celebrity cruisers Oscar Wilde, John Gielgud and John Hurt.
Kohler persuaded Westminster Council to grant him a late licence as long as he staged live entertainment. Since the tiny space only holds 60 people, Kohler plumped for cabaret. Every night is different, from burlesque shows to drag DJs, saucy comedy acts to singers belting out tunes from the Weimar Republic.
And this is probably the only place in London where you can do lines on the bar and nobody will bat an eyelid. They sell snuff in all manner of strange flavours, from apricot to absinthe, champagne to Red Bull.
Tower Bridge to Shoreditch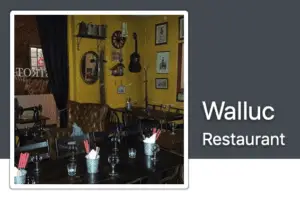 Walluc – an homage to fromage
Arriving at Walluc is like walking into an Aki Kaurismaki film set: a small front room filled with scruffy chairs, guitars, fishing nets, two or three motorbikes, and staffed by a couple of rockabillies in turn-up jeans.
The hours are unreliable; the heating, lighting or coffee machine may be on the blink. Sometimes sheets of kitchen paper serve as napkins. The menu is short. It's basically melted cheese – fondue or raclette; charcuterie to start, a salad to accompany.
By the time we've reached the golden crust at the bottom of the Le Creuset, it's a satisfying dead heat (a feta compli, if you will).
You get the drift. 'Secret London – Unusual bars and restaurants ' will take you – whimsically – to places in our amazing capital city that you never knew existed, allow you to impress friends with how cool you must be to know of a Mexican restaurant in a sex shop, and sort out your Christmas present list.
Heading somewhere else? Check out the Jonglez website for other 'Secret' guides around the world.
So thanks again to Hannah, to Jonglez Publishing and their awesome sales and distribution team at Marco Polo and to the Museum of Comedy for a cracking launch party. Now where's that clandestine Korean karaoke club….?
Know anywhere else that might make the 'Secret London' cut? Get involved!
Andrew for the TripFiction team
Read our review of SECRET LONDON and find hidden gems across the city!
Follow Jonglez Publishing on Twitter and Facebook/Facbook
Hannah is on twitter at Hannah Robinson & Palindromicals
And do come and join team TripFiction on Social Media:
Twitter (@TripFiction), Facebook (@TripFiction.Literarywanderlust), YouTube (TripFiction #Literarywanderlust), Instagram (@TripFiction) and Pinterest (@TripFiction)