Talking Location With author Heidi Amsinck – COPENHAGEN
30th August 2021
#TalkingLocationWith … Heidi Amsinck, Author of My Name is Jensen (Jensen Thriller Book 1)
Copenhagen is the city of my dreams, literally. I was born there, but still a pre-schooler when my family moved to Jutland. This cast the capital in an almost mythical glow which it has retained for me to this day. Copenhagen is the source of my earliest and most vibrant memories and the place to which my writing returns again and again, including my debut crime novel My Name is Jensen (Muswell Press), the first in a series of Jensen thrillers.
For years, I spent my school holidays in my grandmother's rambling Copenhagen home, lost in my imagination. Later, I trained as a journalist in the city, then left Denmark altogether, setting up home in London as a news correspondent, like Jensen, my fictional reporter sleuth. Unlike Jensen, however, I never moved back.
The Copenhagen of my fiction is not an attempt at social realism, nor is it entirely made up. Rather, it exists somewhere in between, in a place of twilight and shadows populated by characters who live on the city's periphery, looking in. My long period of separation from Copenhagen means I can see it now as a foreigner might, noticing its idiosyncrasies through Jensen's eyes. Writing in my second language, English, helps with that too.
Basically, I want to take you by the hand and show you all my favourite places. I want you to book a flight and go there as soon as you can.
I love the ever-present water in Copenhagen. Like the sky, it is moody and constantly changing, from the majestic urban Lakes to the harbour and canals, and Øresund, the stretch of water separating Denmark from Sweden. My Name is Jensen begins in Christianshavn, a neighbourhood of houseboats and old pastel-coloured apartment blocks. Less crowded than the iconic Nyhavn, it is a fabulous place to hang out in bars and cafés – and, luckily, there is a lot of that going on in Copenhagen.  Just a short bike ride or walk from the centre, it is my favourite place to stay in the city.
Not far from Christianshavn is Magstræde, one of Copenhagen's oldest streets, a twisted, cobbled lane dating back to
the late Middle Ages, with leaning red and yellow townhouses. I love walking through Magstræde and its neighbouring streets. They are quieter than the nearby shopping precinct Strøget, with its international chain stores, and allow you to commune more easily with the past. In my novel, Jensen discovers the snow-covered body of a young man there – eventually putting her own life on the line to find the killer, racing against her married lover, DI Henrik Jungersen.
One of the many beauties of Copenhagen is its compact size. You can walk or cycle anywhere and the metro system is fabulous. One of the journeys made by Jensen is from her fictional newspaper office on City Hall Square to 'Borgen' (Christiansborg), made famous by the eponymous TV series, starring Sidse Babett Knudsen as Denmark's Prime Minister. On the way, she crosses the marble bridge to the riding grounds that flank the parliament building. This is one of my favourite places in the city.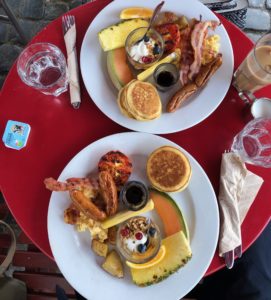 Like Jensen, I love food and never waste an opportunity to sample what Copenhagen has to offer – from its street-corner hot dog stands to subliminal haute cuisine. The city's sensational food scene is reason enough to visit and, if you do, don't miss going out for brunch in a neighbourhood coffee shop where families and friends congregate on the weekend. On a cold afternoon, I know of no better way to span the gap between lunch and dinner than 150-year-old patisserie La Glace in the city centre. The place is often mobbed – with good reason – but I don't mind queueing when what's on offer is hot chocolate with whipped cream and the sort of dreamy cakes that send me back to my childhood in a mouthful.
There is a fairy-tale quality to Copenhagen, which goes beyond the bijou Rosenborg Castle and the city centre funfair Tivoli and any advertising slogan that might be dreamed up by Visit Copenhagen. It sits in contrast to the rougher edges of the city and the undertow of darkness I like to explore in my stories. Copenhagen is a principal character and constant presence in my work, including my ghostly short stories for Radio 4, published in the collection Last Train to Helsingør (Muswell Press).
It is, probably, the best little city on Earth,
Heidi Amsinck
Catch Heidi on Twitter and Insta
Join Team TripFiction on Social Media:
Twitter (@TripFiction), Facebook (@TripFiction.Literarywanderlust), YouTube (TripFiction #Literarywanderlust), Instagram (@TripFiction) and Pinterest (@TripFiction)