Talking Location with author Richard Aronowitz – New York and Germany
25th April 2017
#TalkingLocationWith…. author Richard Aronowitz, author of An American Decade, set 1930s NEW YORK and WUPPERTAL, Germany
As the glamour and polish of the Upper East Side slowly begins to give way to a very slightly grittier milieu – streets with builder's sand swept off the sidewalks but not cleaned away, the odd piece of litter blowing around here and there – you know that you are entering Yorkville. During the 1930s, this area of New York City had a high German immigrant and German-American population and it is where An American Decade is largely set. I went there first many years ago to see first-hand where my protagonist, German-born Christoph Rittersmann, lived when he arrived in America and to soak in some of the atmosphere of the neighbourhood so that I could write about it, evoke a sense of place, as authentically as possible.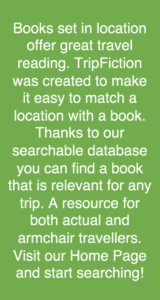 Away from Yorkville, everyone in the world knows or knows of Broadway, that vastly long, curving avenue of theatres and shows and dreams that transects Manhattan. Christoph is a singer of popular tunes and his life away from home in Yorkville is spent up on stage at the Palace Theatre on Broadway, and I have walked up and down Broadway over the years to witness some of the life and razzle-dazzle of that world-famous street. Go anywhere there in the theatre district and take in the view, the bustle, the crowds and the neon lights. Of course, I was not there in the 1930s, but the wonders of the internet allow us to see what Broadway was like in its heyday, before theatres lost ground to the silver screen and then movie theatres lost audiences to television. Ah, New York City: it draws me back still twice a year for work and for pleasure. It is a matchless place. Go and find a bench somewhere overlooking the East River and watch the boats and barges go by – here's an article in the New York Times describing the area now.
Christoph Rittersmann came to America in 1930 from the other side of the Atlantic, from a working-class town on the edge of the soot and industry of the Ruhr Valley: a far darker place than the bright lights of New York City, in what would become its darkest era: Wuppertal-Elberfeld in Germany. I have been there, too. Allied bombardment during the Second World War and post-war rebuilding have left Wuppertal-Elberfeld a shell of what it once was and it has little to recommend it now architecturally. But it was where my mother was born and where her own mother, her aunts and uncles, spent their childhoods after leaving Poland in 1910. I visited the town for the first time in January 2013, the whole place blanketed in deep snow, and went up the Weinberg to the Jewish cemetery where my mother's family are buried and to stand outside the apartment building that she called home as a small child. It felt as if I was trespassing in some way, although it was the place where my family had lived for almost thirty years before the latter half of the 1930s saw their deaths from old age or drove them away or to extinction. I felt as if I was a ghost haunting a life that had never been ours. A highlight, away from the darkness of history, is the marvellous Von der Heydt-Museum in Wuppertal.
Thank you so much to Richard for sharing a personal and thought provoking piece with us.  You can him follow on Facebook, Twitter and connect via his website. And of course you can buy his book  form the TripFiction website here!
Catch up with Team TripFiction on Social Media: Twitter (@TripFiction), Facebook (@TripFiction.Literarywanderlust), YouTube (TripFiction #Literarywanderlust), Instagram (@TripFiction) and Pinterest (@TripFiction)
For more books to transport you to NEW YORK, just click here!