Ten Great Books set in Antarctica
11th April 2021
Antarctica is the latest location for us to visit in our Great Books series. Ten Great Books set in Antarctica. It is the southernmost continent and site of the South Pole, is a virtually uninhabited, ice-covered landmass. Most cruises to the continent visit the Antarctic Peninsula, which stretches toward South America. It's known for the Lemaire Channel and Paradise Harbor, striking, iceberg-flanked passageways, and Port Lockroy, a former British research station turned museum. The peninsula's isolated terrain also shelters rich wildlife, including many penguins.
'Antarctica is otherworldly, like nothing I have ever seen before. Stark, cold, beautiful desolation' – Mark Hoppus
Veronica McCreedy is about to have the journey of a lifetime . . .
Veronica McCreedy lives in a mansion by the sea. She loves a nice cup of Darjeeling tea whilst watching a good wildlife documentary. And she's never seen without her ruby-red lipstick.
Although these days Veronica is rarely seen by anyone because, at 85, her days are spent mostly at home, alone.
She can be found either collecting litter from the beach ('people who litter the countryside should be shot'), trying to locate her glasses ('someone must have moved them') or shouting
instructions to her assistant, Eileen ('Eileen, door!').
Veronica doesn't have family or friends nearby. Not that she knows about, anyway . . . And she has no idea where she's going to leave her considerable wealth when she dies.
But today . . . today Veronica is going to make a decision that will change all of this.
A fictional recounting of the little-known true story of the first woman to ever set foot on Antarctica, and her extraordinary fight to get there. It s the early 1930s. Antarctic open-sea whaling is booming and a territorial race for the mysterious continent between Norwegian and British-Australian interests is in full swing. Aboard a ship setting sail from Cape Town carrying the Norwegian whaling magnate Lars Christensen are three women: Lillemor Rachlew, who tricked her way on to the ship and will stop at nothing to be the first woman to land on Antarctica; Mathilde Wegger, a grieving widow who s been forced to join the trip by her calculating parents-in-law; and Lars s wife, Ingrid Christensen, who has longed to travel to Antarctica since she was a girl and has made a daunting bargain with Lars to convince him to take her. Loyalties shift and melt and conflicts increase as they pass through the Southern Ocean and reach the whaling grounds. None of the women is prepared for the reality of meeting the whaling fleet and experiencing firsthand the brutality of the icy world. As they head for the continent itself, the race is on for the first woman to land on Antarctica. None of them expect the outcome and none of them know how they will be changed by their arrival.
While at an archaeology dig in Afghanistan, evolutionary anthropologist Rachel St. Claire discovers a pendant with strange shifting symbols. Not long after, she receives an urgent call from her colleague, Dr. Grace McAllister, insisting Rachel come to Antarctica to examine an unusual body with ethereal properties found in an ice cave. Before Rachel can respond, bandits storm the desert dig site. Just as they are about to seize Rachel, a helicopter appears with Trevor Brookenridge, a handsome polar geophysicist sent by his Aunt Grace to bring Rachel to Antarctica. Sparks fly, but Rachel already has a fiancé. Rachel must decide who she can trust when a group of bioterrorists engaged in secret genetic experiments in an abandoned World War II Nazi base under the Antarctic ice sheet come after the pendant–and her. For it seems everyone knows a secret Rachel does not, one which will change her life forever.
Clarissa has been together with Kieran for eight years. On the night she believes he is going to propose, he actually breaks off the relationship. With nothing to keep her, she decides to head for Antarctica with 2 friends.
Whiteout by Greg Rucka & Steve Lieber
U.S. Marshal Carrie Stetko has made Antarctica her home. In the vastness of The Ice, she found peace… Or at least that's what she thought, until someone commits a murder in her jurisdiction and the lawwoman is forced to use her detective skills once more or become another victim to this mysterious killer.
What would it feel like to be out there alone in that empty vastness? Just before midnight on 24 November 2011, Felicity is left completely alone on the coast of Antarctica. The isolation is instant and devastating. Only three people in the world have crossed Antarctica alone. The first two were men and both Norwegian. At the age of 34, British woman Felicity Aston became the third. Unlike her predecessors, she didn't use kites or parasails to assist her. Within days, frozen into her facemask and reflecting on what had drawn her to such a place, she was battling desperate weather as she towed her heavy sledges. Every morning she wakes believing she cannot face another day as the expedition becomes a race against time to reach the coast before the last flight out. This gripping and inspirational account of personal endurance shows what you can achieve when you grit your teeth and decide just to get through today in one piece.
When an Antarctic research expedition goes wrong, the consequences are far-reaching – for the men involved and for their families back home.
Robert 'Doc' Wright, a veteran of Antarctic field work, holds the clues to what happened, but he is no longer able to communicate them. While Anna, his wife, navigates the sharp contours of her new life as a carer, Robert is forced to learn a whole new way to be in the world.
Award-winning novelist Jon McGregor returns with a stunning novel that mesmerizingly and tenderly unpicks the notion of heroism and explores the indomitable human impulse to tell our stories – even when words fail us.  A meditation on the line between sacrifice and selfishness this is a story of the undervalued, unrecognised courage it can take just to get through the day.
Anders Nordvelt, last-minute replacement as head of security, has no time to integrate himself into the crew before an act of sabotage threatens the project. He must untangle a complex web of relationships from his position as prime suspect.
Then a body is found in the ice. Systems fail as the long night falls. Now Anders must do more than find a murderer: he must find a way to survive.
Will anyone endure the night shift, or will ice and frozen corpses be all that remains?
Origin by J T Brannan
For millennia it has lain there undiscovered. Now the time has come…
Research scientist Evelyn Edwards always knew the Antarctic held deep secrets but the discovery of a 40,000 year old body buried under the ice caps surpasses even her wildest expectations. But just as her team begins extracting the body the dream turns into a horrific nightmare as they are targeted for death by someone who wants to keep this secret buried. Evelyn barely escapes with her life…
On the run, alone and desperate, she turns to her ex-husband Matt Adams, a former member of an elite government unit, for help. Soon, they find themselves caught up in a frantic race against time, which takes them from Area 51 to the Large Hadron Collider in Geneva, as they try to uncover the biggest conspiracy of all time before it's too late for everyone…
If mankind thought it knew its origins, the time has come to think again because its every belief is about to be challenged…
Most people have problems. Some people literally goto the end of the Earth to avoid them. Do you have digestion problems due to stress? Do you have problems with authority? How many alcoholic drinks do you consume a week? Would you rather be a florist or a truck driver? These are the questions that decide who has what it takes to live at South Pole Station, a place with an average temperature of -54degreeF and no sunlight for six months a year. Cooper Gosling has just answered five hundred of them. Her results indicate she is strange enough for Polar life. Cooper's not sure if this is an achievement, but she knows she has nothing to lose. Unmoored by a recent family tragedy, she's adrift at thirty and – despite her early promise as a painter – on the verge of sinking her career. So she accepts her place in the National Science Foundation's Artists & Writers Program and flees to Antarctica – where she encounters a group of misfits motivated by desires as ambiguous as her own.
BONUS BOOK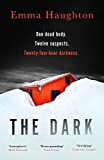 The Dark by Emma Haughton
In the most inhospitable environment – cut off from the rest of the world – there's a killer on the loose.
A&E doctor Kate North has been knocked out of her orbit by a personal tragedy. So when she's offered the opportunity to be an emergency replacement at the UN research station in Antarctica, she jumps at the chance. The previous doctor, Jean-Luc, died in a tragic accident while out on the ice.
The move seems an ideal solution for Kate: no one knows about her past; no one is checking up on her. But as total darkness descends for the winter, she begins to suspect that Jean-Luc's death wasn't accidental at all.
And the more questions she asks, the more dangerous it becomes . . .
Enjoy your virtual trip to Antarctica!  Any titles we've missed, add them in Comments below…
Tony for the TripFiction team
Join Team TripFiction on Social Media:
Twitter (@TripFiction), Facebook (@TripFiction.Literarywanderlust), YouTube (TripFiction #Literarywanderlust), Instagram (@TripFiction) and Pinterest (@TripFiction)