Ten Great Books set in Cult Communities
9th November 2021
Ten great books set in Cult Communities. Living in a cult community can provide ample material for a good storyline, so we have chosen several novels that delve deep into the attractions and then oftentimes the chill of being caught up in a cult.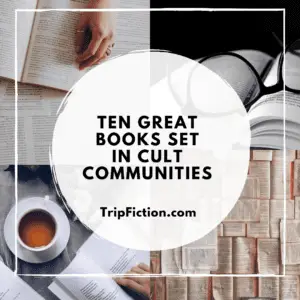 Fog Island by Mariette Lindstein
The deadliest trap is the one you don't see…
Sofia has just finished university and ended a troubled relationship when she attends a lecture about a New Age movement, Via Terra. Its leader is Franz Oswald, young, good-looking, urbane and mesmerizing.
When Sofia meets Franz Oswald, the handsome, charming leader of a mysterious New Age movement, she's dazzled and intrigued. Visiting his headquarters on Fog Island, Sofia's struck by the beautiful mansion overlooking the sea, the gardens, the sense of peace and the purposefulness of the people who live there. And she can't ignore the attraction she feels for Franz.
So she agrees to stay, just for a while. But as summer gives way to winter, and the dense fog from which the island draws its name sets in, it becomes clear that Franz rules the island with an iron fist. No phones or computers are allowed. Contact with the mainland is severed. Electric fences surround the grounds. And Sofia begins to realize how very alone she is and that no one ever leaves Fog Island… (This is the first book of a trilogy)
Cassy smiled, blew them a kiss.
'See you in September,' she said.
It was a throwaway line. Just words uttered casually by a young woman in a hurry. And then she'd gone.

It was supposed to be a short trip – a break in New Zealand before her best friend's wedding. But when Cassy waved goodbye to her parents, they never dreamed that it would be years before they'd see her again.
Having broken up with her boyfriend, Cassy accepts an invitation to stay in an idyllic farming collective. Overcome by the peace and beauty of the valley and swept up in the charisma of Justin, the community's leader, Cassy becomes convinced that she has to stay.
As Cassy becomes more and more entrenched in the group's rituals and beliefs, her frantic parents fight to bring her home – before Justin's prophesied Last Day can come to pass.
A powerful story of family, faith and finding yourself, See You in September is an unputdownable new novel from this hugely compelling author.
Evie Boyd is desperate to be noticed. In the summer of 1969, empty days stretch out under the California sun. The smell of honeysuckle thickens the air and the sidewalks radiate heat.
Until she sees them. The snatch of cold laughter. Hair, long and uncombed. Dirty dresses skimming the tops of thighs. Cheap rings like a second set of knuckles. The girls.
And at the centre, Russell. Russell and the ranch, down a long dirt track and deep in the hills. Incense and clumsily strummed chords. Rumours of sex, frenzied gatherings, teen runaways.
Was there a warning, a sign of things to come? Or is Evie already too enthralled by the girls to see that her life is about to be changed forever?
When Caitlin left London for New York, she thought she'd left her problems behind: her alcoholic father, her dead mother, the unrelenting pressure to succeed. But now, down to her last dollar in a strange city, she is desperately lonely.
Then she finds Jake. Handsome, smart, slightly damaged Jake. And he wants her to meet his family.
He takes her to a lake house in the middle of the woods – in the middle of nowhere. The community there live off-grid. They believe in regular exercise and group therapy. And they're friendly. Really friendly.
Turns out they're not Jake's real family – but isn't family exactly what she's running from?
But as the days drift by, Caitlin starts to feel uneasy. Now that she's no longer running, does she risk getting lost forever?
Married couple Jack and Ali Gardiner move to a self-sufficient spiritual commune in the English Fens, desperate for fresh start. The local village is known for the witches who once resided there and Rosalind House, where the commune has been established, is a former psychiatric home, with a disturbing history. When Jack and Ali arrive, a chain of unexpected and unexplained events is set off, and it becomes clear that they are not all that they seem.
As the residents become twitchy, and the villagers suspicious, events from the past come back to haunt them, and someone is seeking retribution…
At once an unnerving mystery, a chilling thriller and a dark and superbly wrought ghost story, The Lingering is an exceptionally plotted, terrifying and tantalisingly twisted novel by one of the most exciting authors in the genre.
Halcyon is the answer for anyone who wants to escape, but paradise isn't what it seems.
A self-sustaining community on a breathtakingly beautiful island, Halcyon is run for people who want to live without fear, crime or greed. Its leader has dedicated her life to the pursuit of Glam Moon, a place of eternal beauty and healing, and believes the pathway there can only be found at the end of pleasure.
On the heels of tragedy, Martin Lovegrove moves his family to Halcyon. A couple of months, he tells himself, to retreat from the chaos and grind. Yet he soon begins to suspect there is something beneath Halcyon's perfect veneer. As the founder captivates his young family, Martin sets out to discover the truth of the island, however terrible it might be, where something so perfect hides unimaginable darkness beneath…
Where Romy grew up, if someone died you never spoke of them again.
Now twenty-two, she has recently escaped the toxic confines of the cult she was raised in. But Romy is young, pregnant and completely alone – and if she is to keep herself safe in this new world, she has some important lessons to learn.
Like how there are some people you can trust, and some you must fear. And about who her family really is, and why her mother ran away from them all those years ago.
And that you can't walk away from a dark past without expecting it to catch up with you…
North of Normal (Memoir) by Cea Sunrise Person
In the late 1960s, riding the crest of the counterculture movement, Cea's family left a comfortable existence in California to live off the land in the Canadian wilderness. But unlike most commune dwellers of the time, the Persons weren't trying to build a new society–they wanted to escape civilization altogether. Led by Cea's grandfather Dick, they lived a pot-smoking, free-loving, clothing-optional life under a canvas tipi without running water, electricity, or heat for the bitter winters.
Nine suicides
One Cult
No leader
Nine people arrive one night on Chelsea Bridge. They've never met. But at the same time, they run, and leap to their deaths. Each of them received a letter in the post that morning, a pre-written suicide note, and a page containing only four words: Nothing important happened today.
That is how they knew they had been chosen to become a part of the People Of Choice: A mysterious suicide cult whose members have no knowledge of one another.
Thirty-two people on that train witness the event. Two of them will be next. By the morning, People Of Choice are appearing around the globe; it becomes a movement. A social media page that has lain dormant for four years suddenly has thousands of followers. The police are under pressure to find a link between the cult members, to locate a leader that does not seem to exist.
How do you stop a cult when nobody knows they are a member?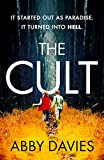 The Cult by Abby Davies
The gripping new thriller that will have you on the edge of your seat from the first page to the last!
'Such a clever plot; a sinister decades-old cult and a modern-day missing children mystery, brilliantly woven together' Jackie Kabler, author of The Perfect Couple
A hidden community…
Thirty years ago, in the English countryside, a commune was set up. Led by Uncle Saviour, it was supposed to be a place of love, peace and harmony. But what started out as paradise turned into hell.
A shocking abduction…
Now, two young children have vanished from their home in the middle of the night. Their parents are frantic, the police are at a loss.
A twisting case…
DI Ottoline is leading the search – her only clue a mask found in the woods. Could the key lie in events that took place decades ago, when a dream of a new way of life became something far more sinister?
\
BONUS BOOKS
Summer 1982. Deep in the Adirondack Mountains, over three hundred people live off-grid in a secret community. Atlas is a refuge for broken souls who long for a different life. Founded by the enigmatic Sol, the group now prepares for their final ceremony: the opening of the Golden Door. They believe they will cross to another world, to a new life where their past decisions never ended in tragedy.
James Morrow is a rookie New York City reporter intent on making his name with an exposé of the crazy cult in the woods. He secures an invitation to the camp on the condition he tell the world of its wonders, but James is a sceptic. He's sure there must be more to the mysterious leader and his endgame than his followers have signed up for.
James soon finds there is a darker side to the cult beyond the prayers and yellow robes. A group of children are treated like gods, there are iron strips embedded in the earth, and nobody talks about what's behind the gates of Sol's private sanctuary. As James learns the stories of the members and how they came to be there, he begins to understand the desperate nature of their beliefs – a desperation he knows all too well.
As the final ceremony draws near, James must ask himself: what will it cost them to reach this other life? And is that a price he's willing to pay?