Thriller set in Bremen and Hamburg
12th April 2020
Mexico Street by Simone Buchholz, thriller set in Bremen and Hamburg.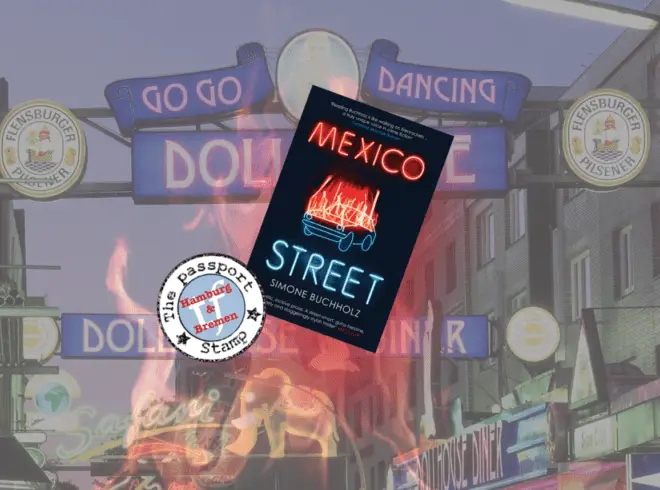 Mexico Street is the third in Simone's street-wise, hard hitting thriller series featuring Hamburg prosecutor, Chastity Riley. It is every bit as good as the first two. Chasity is as much at home with the low life of Hamburg as she is with the bureaucrats of the city for whom she works. Her partner, Inspector Stepanovic, is cut from the same non-conventional mode. They get on very well.
An estranged member of a Mhallami gang family from Bremen is found dead in a burned out car in Hamburg. The Mhallami are an Arab tribe from South Turkey. They moved to Beirut when they were persecuted, and then on to Europe (claiming to be refugees) during the Lebanese civil war. Many came to Germany, and many to Bremen. They form close knit families – both in a natural and a criminal sense. They are violent and they are humourless, engaging in all sorts of crime, from petty to much more serious offences.
Nouri Saroukhan, the murder victim, had years earlier formed a Romeo and Juliet relationship with Aliza Anteli in Bremen – they were from different 'families'. Aliza had eventually run away to escape the frequent beatings from her father. Nouri was distraught, and did not know where she had fled. .
But was Nouri's death in any way connected to the past? He had moved to Hamburg, studied to be a lawyer (but dropped out), and and ended up earning good money as an insurance salesman. He has lost touch with Bremen. Why had he been killed?
Chasity and Stepanovic suspect the family / Bremen connection, but meet a wall of silence (and some aggression) when they visit the city to investigate. There is no love lost either between the families themselves, or between the families and the police. Cooperation is non-existent.
They carry on their investigations in Hamburg, and the plot moves to a violent and bloody conclusion in a car park. No more for fear of a spoiler.
Mexico Street is a taut and tense triller. It is extremely well written (and well translated by Rachel Ward) in short staccato chapters that mirror the activity in the book. We are used to Simone's descriptions of the less savoury sides of Hamburg (she lives in St Pauli so knows the city really well…). But this time she adds Bremen as well to her repertoire, and it works. The book is a number one best seller in Germany.
A quick read (only took me three or four hours…), but very well worth it.
Tony for the TripFiction team
Catch Simone on Twitter
Join Team TripFiction on Social Media:
Twitter (@TripFiction), Facebook (@TripFiction.Literarywanderlust), YouTube (TripFiction #Literarywanderlust), Instagram (@TripFiction) and Pinterest (@TripFiction)